Dom Jean Leclercq on Mother Mectilde de Bar
March 28, 2017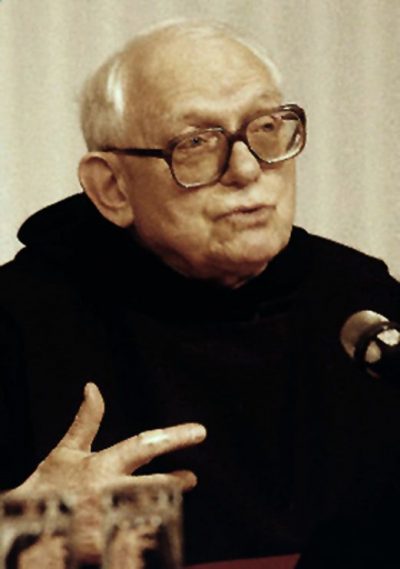 A Benedictine in her century: M. Mechtilde de Bar (1614-1698)
by Dom Jean Leclecq, OSB of the Abbey of Clervaux

From Catherine de Bar à l'écoute de Saint-Benoît, ed. by the Benedictines of the Blessed Sacrament, Rouen, 1979, Introduction.  Italian translation ed. by the Benedictines of the Most Blessed Sacrament of Ronco-Ghiffa, by kind concession of the author, printed in Deus Absconditus: Primo Centenario dell'Istituto delle Benedettine dell'Adorazione Perpetua del SS. Sacramento in Italia, 1880-1980, Supplement to Deus Absonditus 71 (1980), pp. 72-81.  English translation from the Italian by a Benedictine monk of Silverstream Priory.
A Benedictine in her century
Notwithstanding the particular conditioning of 17th-century France which is manifested in the general language of the time, Mechtilde formulates, with an inexorable lucidity, the fundamental demands of all Christian spirituality.
The stylistic archaisms proper to the era are found in Mother Mechtilde less frequently than one might expect, and certainly in a lesser proportion compared to other writings of the same time; rarely do they obscure her thought, rather, more often they add beauty to the exposition.  The presence of these archaisms confirms nonetheless that Mechtilde is really part of her era.
What confers on her teaching a permanent and universal value is the intensity of the personal experience which it manages to express.  Mechtilde is a nun, but, as she often repeats, the monastic life must first of all be Christian.  Like Dom Marmion and Dom Delatte, she loves to refer to the Pauline texts which speak of what is essential in our participation in the Paschal Mystery.
With this as background, she has the right to be "Benedictine" and she is stupendously so.  She refers incessantly to the Rule of St. Benedict: this could seem to be merely an artificial procedure, but instead one discovers in her a formation received from the entire monastic tradition of the West and from the same sources to which St. Benedict refers.  The points of contact, the parallels, the possible dependences (on the Benedictine Rule) can be indicated for numerous points of her teaching.  However, the closest similarities are those which exist between these and the teaching of the best masters of her time, which was in spirituality, as in other fields, a "great century."  Mechtilde thinks and writes in France—especially at Paris and in Normandy—and in Lorraine, in the regions where two Congregations, that of St. Maur and that of St. Vanne, issuing from the recent general reform of the Church, reached their full development and produced the most pure and living models of holiness and the best books.  She received much especially from the Maurists, of whom Dom Guéranger himself would strive to declare himself the heir.[1]
Mechtilde is also a contemporary of a prominent spiritual figure: Rancé, who had to carry out his own reform himself rather than gathering its mature fruits, but whose long-lasting influence attests that he was the bearer of a message of great value, notwithstanding the personal stamp by which it is characterized.  Happily, Mechtilde was not a person "converted," like Rancé: she has neither his complexes, nor his eccentricities.  She did not have to pass from a wordly existence to a very austere one; she has simply the features of a nun who became great in her own Christian life and in her religious vocation.  In this way, she is able to help other persons—nuns or not—to grow in the same way in peace, without violence, but also without weakness.  It is risky to introduce an order to her teaching, of which she herself did not indicate any part or plan; still, in reading her one notes right away that certain thoughts dominate her.  She returns to them with an insistence which leaves no doubt about those convictions that are her priority.  It is these which we must now seek to understand, while all the rest is purely their consequence and practical application.
Opening
Right from the beginning, Mechtilde perceived that the word "perfection" is a key term of St. Benedict's language, and that it expresses not a result which can be reached once and for all, but a goal towards which one must never cease to strive.  This effort implies that one relentlessly oppose every form of turning in on one's self*, especially by being content with "little things" and "little graces," doing "little actions."  How can we not call to mind Pascal in this regard?  "Do the little things like great ones, for the majesty of Jesus Christ who does them in us and who lives our life; and [do] the great things like little and easy things on account of His omnipotence."  How can we not also think of the young nun from Normandy, close to our own era, who would again bring to light the "little way"?  In Mechtilde as in Thérèse of Lisieux, all is "pure simplicity," "simple abandonment," work of the Holy Spirit, who "moves souls"; do not the Gospel and the liturgy call Him precisely the "Finger of God"?
With realism, Mechtilde starts from the experience which we have in our heart of flesh, of the "sinful depth which is in us" and of which temptation makes us aware.  From this point of view, temptation is useful, as all ancient and medieval monasticism also taught with an insistence that surprises us; all this is rich with the monastic spirit*, while remaining particularly proper to the 17th century.
Henry Brémond, if he had been able to get to know the manuscripts of Mechtilde, would surely have rejoiced in expressions like this one: "to be crushed and turned into juice"* so that only the love of God may come forth from us.  "To go out of oneself": this is the sign of the vocation of Abraham, which Cassian considered as the symbol of the monk's conversion, brought to its perfection.  "To tend always towards God" is the means for maintaining confidence and guarding perseverance.
Mechtilde is as optimistic as she is realistic.  In an already modern language which remains classical, she teaches us to "sacrifice this 'ourselves' (this "I," as we say today)* which is the only thing opposed to God."  This is the task of the "crosses."  Rarely will Mechtilde use this term "crosses" in the plural, even as it was becoming so frequent at the time.  What is important is the Cross: that of the Lord, which is the mystery of suffering and of victory to which we are associated, as "living members of Jesus Christ, incorporated into His deified Humanity, living from His life and His Spirit" by the grace of Baptism.  "It is no longer I who live, it is Jesus Christ who lives in me."  It is necessary only "to be faithful to the movement of grace which draws us out of our nothingness…Let yourselves fall into nothingness.*"  Then we will know the consolation of being "in this happy nothingness which frightens our nature": the all and the nothing coincide—todo y nada—the all of God fills our void.
At this point, Mechtilde rises to level of the highest mystics.  All is serious and demanding, adorned with a few archaisms and a few poetic touches.  All remains centered on Jesus and on His Spirit, Who leads us to the Father.  What Saint Benedict says about God is found stated with precision in Mechtilde and, one could say, personalized.  The Virgin Mary, too, is always turned towards her Son and orients us to Him and prays to Him for us.  The very idea, so traditional, of the fatherhood of Saint Benedict—a theme which also came to be applied to other founders of religious Orders—is put in relation not only with the Lord, but with the Eucharist.  Indeed, according to Saint Gregory, the "Legislator" expired at the foot of the Altar, "carried to Himself" by Jesus, in order to be lifted up to Heaven.  Adoration of the Most Holy Sacrament becomes in this regard the object of explicit mention, associated to the idea of "reparation," in which renowned theologians recognize today a profound significance.[2]  But no devotion is stressed in an exaggerated way.  We find ourselves in the presence of what Dom Vonier called "classic Christianity," and it is for this reason that such a message has value not only for the 17th century, for Benedictine nuns, but for Christians of all times and of our time.
The depth
One of Mechtilde's most living convictions makes her speak often of what she calls "the depth," "our depth," and to use the term "deep," "deeply."  This is an echo of what the Rheno-Flemish mystics—whose influence on the French School is well known—had called the Grund: that is, the center of ourselves, where our egoism is situated and which, emptied, purified, can become the place of the divine Presence.  In this way our depth is returned to its true nature, to which it is necessary to arrive: this is what Mechtilde calls "the return to the depth."  In this consists the "knowledge of ourselves," which occupies as much space in her doctrine as in that of Saint Bernard: "Let us return to our heart," she* had written more than once, citing a psalm, Redire ad cor, or the words about the prodigal son, ad se reversus, "returning to himself."  "Enter again into yourselves, into your inmost part, keeping yourselves at the feet of the majesty of God; it is there that you will find Him."*  All this is in no way theoretical.  Like Bernard, Mechtilde starts from "experience," she loves this term as well as that of "experiment."*  She knows our delights—Pascal calls them "our diversions."  She knows that the opposite of  "depth" is "elevation," "the sense of one's own excellence.  Pride makes us elevate ourselves.  We must descend."  And how?  Replacing in the depth of ourselves this pole of attraction which is self-love with the other pole which is Jesus Christ, "the divine center, where we must return."  To substitute His "kingdom," His "empire"—according to the vocabulary of the age of Louis XIV[3]—for the interest we have in ourselves.  "The spirit of Jesus Christ," "Our Lord and His divine Spirit" must establish themselves in us, and have dominion over all.  We must "desire this kingdom," then judge everything "in relation to Him."  Only once is there mention of the "Sacred Heart."  The style of Mechtilde, however, is different from that of Margaret Mary Alacoque, even if no less fervent.  Some pages, very Pauline, betray the obsession of one in love with Jesus Christ.
The return to the Father in Christ and by His Spirit is only an effect of grace, the grace of faith deposited in us as a seed in Baptism and which does not cease to guide us.  Hence the insistence on docility in everything to the movements—or more exactly, to the push—of grace: "God gives movement to the soul…pray under the impulse of grace."  "A tug of grace, of the mercy of God, the motion of the Holy Spirit…"  Doing everything "in faith": this leads first of all to prayer, conceived of as continual.  Before talking about certain interior activities—although it is nonetheless aided by them*—prayer is an attitude of presence to God, "of adherence to God."  Mechtilde loved this play on words: "to adore and to adhere."  One of her most dense pages can be summed up in three words*: "Wait upon God."  From this life of prayer flow spontaneously, simply, that is, without complications, the activities of prayer.  When Mechtilde speaks of these, she takes up the themes—and at times also the terminology—of the monastic tradition of the Fathers and of the Middle Ages and perhaps above all of the 17th century.  This is what happens when she describes as "mute preachers" the texts which form the object of lectio divina;[4] when she describes the Divine Office as integral prayer, which involves our whole being, beginning from the senses; or when she shows in perpetual adoration a way of continuing the laus perennis.  It is so above all when she comments in exquisite terms on the little which Saint Benedict said about "prayer" (oratio).  To practice "simple prayer," "leave the different methods…Avoid that way of praying which brings on a headache…"  Prayer is like a mystical desert "where we meet with the Bridegroom."  One must remain faithful to the "remembrance of God," to which P. Hausser* consecrated so many pages; one must preserve "the sweet habit of acting in a love which is not sensible, but in faith."  This teaching of hers is always in relation with the feasts and the mysteries which the liturgy celebrates.  It reaches even to prayers in the form of aspirations, brief but frequent, as recommended by Saint Benedict, whose thought* finds in this phrase its pleasant equivalent: "Make a little loving return…", "the spirit casts a glance towards God…"  The pages which Mechtilde writes on prayer are without doubt the most beautiful of her work.  She speaks of it as a specialist.  Her competence is guaranteed especially by her own experience, but also by her conformity to the most ancient and constant spiritual tradition of the Church.
The way of littleness
To treat of humility, Mechtilde found a Gospel language which anticipates that of Thérèse of Lisieux.  The vocabulary she prefers is that of littleness and all the shades to which this term lends itself.  Like Saint Gregory and the holy Fathers, she knows of "compunction."  But for this Latin-sounding word she prefers to use terms of her own time, very expressive for the 17th century and for our own: "Let yourself be consumed, remain before the Blessed Sacrament, be engulfed in the abyss of God*"; and the image of the abyss recalls that of the "depth."  To be "in a complete, continual detachment."  Only once does she use the term "holy indifference," but she speaks especially of a "simple glance" at God, and consequently without "seeking for oneself."  With Saint Paul she says, "to die to ourselves and to live to God."  "To disappropriate oneself" without a secret self-complacency; to live as in exile, in a foreign land, in poverty: to expect and desire everything from God, even when He remains silent.  "If your depth is crucified…", "be a capacity for God," "He who loves the little souls, humble, low, brought to nothing," and "profound littleness."  "Do not be possessors of anything, possess nothing with attachment."  Even more: "be a nothing*" (Saint Bernard would say annullari), "lose all," in view of union, of presence to God, of "the possession of God."  Live "in a childlike simplicity," so as to know the truth about oneself.  Once again there is an impressive point of contact with the treatise of Saint Bernard on the Degrees of humility: remaining in "profound littleness," and there, at the deepest depth, tasting God, His mercy… Being "invested with God even to an inexpressible penetration."*  Mary's Magnificat is the song of her abasement and of her exaltation.  This mosaic of vigorous formulas could be widely extended.  All these citations receive their fullest meaning from their context: a mysticism of "being made nothing*," characterized by patience and tranquility.
Patience, of which Jesus is the model and the wellspring, is a form of this "spirit of childhood," which the 17th-century French devotion to the "Infant King" favored and expressed.[5]  Mechtilde not only utilizes the formula "spirit of childhood," but she associates the idea with Jesus, in a way which is not very habitual for us, although it has antecedents in the Patristic tradition and in the Rule of Saint Benedict: "Go to Our Lord like a little child.  He is your Father who loves you in all truth."  It has always been proper to correct Christology to attribute to the Son of God the sentiments of a father who awaits the return of his sons.[6]  Immediately after, Mechtilde shows that she possesses an exact vision of the Paschal mystery when she speaks of "being completely clothed with the Spirit of Jesus Christ, because completely annihilated in Him."
Compared to these depths, the sufferings of every day are, so to speak, only superficial incidents, not because they are not really felt, but because they are never sought for their own sake or provoked.*  In a certain commentary on the Rule, composed in the Baroque era in the form of "emblems," each surmounted by a brief legend, the wounded heart is one of the most frequent symbols: one sees it crushed by an anvil and hammer, pierced by an arrow, crowned with thorns, afflicted in all possible ways.[7]  [But] in Mechtilde there is no delight in suffering, but acceptance, silence, obedience and, as a result of this*, tranquility, affability, sweetness, joy, consolation, thanksgiving, happiness of the soul which "hurls itself towards God."  Being present to God, rather than voluntarism; and yet no trace of quietism, but a serene acceptance of all that God wants.  Penance cannot be anything other than a participation in "the abandonment of Jesus" in His Passion.  When one is "established in God" in a "generous dispossessing," one can preserve in every circumstance the peace of the Risen Christ.  "God is tranquil and makes all things tranquil," Saint Bernard had declared.  And Mechtilde, regarding "the soul who possesses this tranquility," can write: "God contemplates Himself in the depth this soul.* * He imprints there His divine perfections."
Practical spirituality
Two fundamental observances form the object of insistent, if not frequent, admonitions: silence and obedience.
About the first, Mechtilde underlines above all, as she always does in any case*, its "deep" meaning: it is a participation in the silence of Jesus, which He maintained in the womb of Mary, and then in the Passion.  Like Bossuet she cites the phrase of the Gospel, "And Jesus was silent: Jesus autem tacebat."  Regarding the concept of obedience, this can raise today a problem which did not present itself at all back then.  However, one must understand well what is meant by the formula of "blind obedience," and a number of her texts help us.  According to the teaching of Saint Benedict, taken up by Mechtilde, obedience is a gift of God: "It is God who gives you the strength to submit yourself."  Now, to submit oneself by an immediate suppression of one's will** is an activity, not a passivity.  When Mechtilde declares, "I no longer have a will," the entire context proves on the contrary that she possesses much will; but by this Mechtilde means that her will acts now only "in relation to Jesus Christ."  The observances—she goes on to say—are "bearers of grace" not in themselves, but if they are practiced "in view of Jesus Christ."  The expressions of Mechtilde which praise "total liberty" are as energetic as those which incite to obedience.  Mechtilde's consideration is directed to the deep significance of the observances rather than to their superficial exactness.
Never neglect "the least reproof of your conscience": this opens you to grace.  "Make your intentions right."  In this work there are no limits to the demands of God and of her who counsels you in His sight.*  Then let all the rest be done with moderation.
Mechtilde is frank and energetic in speaking when she finds herself faced with a lack of abnegation, to call to mind not only the goodness and mercy of God, but also His justice and His truth; she is equally ready to preach joy, security, and peace and to liberate her nuns and her friends from all excessive preoccupation with austerity.  She has a sense for physical infirmity: "Do not deprive yourself of fruits, you need a little refreshment.  Take also some wine with the water.  Eat and keep yourself cheerful, because to serve God one needs a holy freedom, which proceed from a detached heart…"  And she writes to a superior, regarding another religious: "Consult the doctors to see if the sister can bear the austerities of Lent: I don't think her strength will permit it to her."
Hand in hand with moderation goes mercy, indulgence, compassion: "Be tender faced with the suffering of your neighbor," and again, "You will not win except in always yielding."  This acute sense of the limits of everyone and everything makes Mechtilde find a stupendous translation for the multorum servire moribus of Saint Benedict: "to adapt oneself to the humors" of each and all.
Her practical sense, her desire to serve appears in the effort which she undertook to eliminate dowries, at that time an indispensable condition for admitting a choir nun.  She had a lively awareness that to deliver the Church from this unpleasant tradition "can only be a grace of God."  A grace now obtained, at least almost everywhere.  Mechtilde had foreseen it three centuries before.
An invitation
The large extracts of Mechtilde's texts are worthy—at times—to figure in the Apophthegms which have been left to us not only by the Desert Fathers but also in the Middle Ages by Saint Bernard,[8] and later by the Maurists.
Mechtilde alludes at times to the texts of the Fathers which were read in Community and in the Office; let us not forget that underlying her writings one finds the erudition of the Maurists.[9]  Rarely does she cite Saint Augustine and Condren, but she knew other Maurists, both by direct contact and by means of those who frequented the monastic circles of her time.  Among the biblical models she turns first of all to those to whom the tradition had ascribed a special significance for monks and nuns: Abraham, Saint John, Saint Paul, the Magdalene.
In spiritual direction, which, like so many other female figures, she exercised in the Church, she excels in giving very practical counsels, full of psychological penetration and good sense.
But in her writings is revealed something much more than this: a profound spiritual teaching.  What distinguishes her could be characterized in very few words: a mysticism of continual presence to God, owing to poverty of heart.  Mechtilde possesses this style, not as something proper to her, but in common with the greatest figures of spiritual theology.  To speak of it, however, she finds an accent of faith so intense that it makes her message useful to her contemporaries and at the same time valid for us.  Her faith goes even to the point of "congratulating" a deceased person finally arrived: "having reached the Fatherland" as Saint Benedict says in the last sentence* of his Rule.  This is the goal aimed at by the "conversion of manners," which so many interpreters of the Rule have striven to explain in a comprehensible way.  Mechtilde says with simplicity that Saint Benedict, especially in ch. IV, "On the instruments of good works," teaches us to restrain our manners with the virtues.  And regarding the last chapter of the Rule, she will bring together once again, in a magnificent synthesis, all the great realities which should penetrate our life: the Incarnation, the Gospel, the Spirit, the Church, the Eucharist (n. 2636).
"All want to be spiritual and of the most perfect spirituality."  Mechtilde attributes to this old term of Christian language its authentic meaning, according to which it designates that which is opposed, not to matter or to the "physical" (we have seen that Mechtilde has special care for health), but to life according to the flesh, that is, to nature insofar as it is inclined to sin.  In the 17th century, at times, there was abuse of the terms "spirituality," "mysticism," "love," to the point that some authors thought themselves obliged to have them preceded by qualifiers: "pure love," "true mysticism."  Mechtilde smiles discreetly at this fashion, aware of the danger of such a way of expressing herself, and she almost never uses this vocabulary.*
For Mechtilde, "perfect spirituality," consists in living according to the Spirit of Christ: this is what she demands from one end to the other of her texts, with a simplicity that leaves no doubts about the type of experience which her messages presupposes—no rhetoric: "humility does not consist in having humble thoughts, but in enduring the weight of the truth, which is the abyss of our extreme misery, when it please God to make it known to us…" This is Mechtilde's true charism: "God has given me a tenderness and a particular inclination for souls tried and afflicted, such that I have them always present to my spirit…It seems to me that God has created me for these souls…"  Is it not perhaps for this reason that we feel her even today so close to us?
[1] For the historical context in which Mother Mechtilde writes, for certain sources, and for other references to which it is not possible to refer here, I refer the reader to the article "Une école de spiritualité bénédictine datant du XVII siècle: les Bénédictines de l'Adoration Perpétuelle," in Studia Monastica 18 (1977), pp. 433-53, and "Lumières nouvelles sur Catherine de Bar," in Studia Monastica 20 (1978), pp. 397-409.
[2] For example, A Chapelle, S.J., "L'adoration eucharistique et la reparation," in Vie consacrée 46 (1974), pp. 338-54.
[3] I have cited texts in the article "La royalité du Christ dans la spiritualité française du XVIIe siècle," in the review La vie spirituelle, Supplement, I (1947), pp. 216-29 and 291-307.
[4] Cf. L. Gougaud, "Muta Praedicatio," in Revue Bénédictine 42 (1930), pp. 170-71.
[5] Cf. "La royauté du Christ," loc. cit.
[6] This has been highlighted by A. Borias, "Le Christ dans le Règle de Saint Benoît," in Revue Bénédictine 82 (1972), pp. 109-132.
[7] B. Gallner, Regula emblematica S. Benedicti (Vienna, 1780).
[8] B. Ward, Apophetegemata Bernardi, in The influence of St. Bernard (Oxford, 1976), pp. 134-43, and J. Leclerq in Collectanea Cisterciensia 40 (1978), pp. 147-49.
[9] Dom Martène, La vie des Justes in Archives de la France Monastique, vols. XXVII-XXX (Ligugé, 1924-26).