Vestition of Mikkel Rahbek Pedersen
November 22, 2016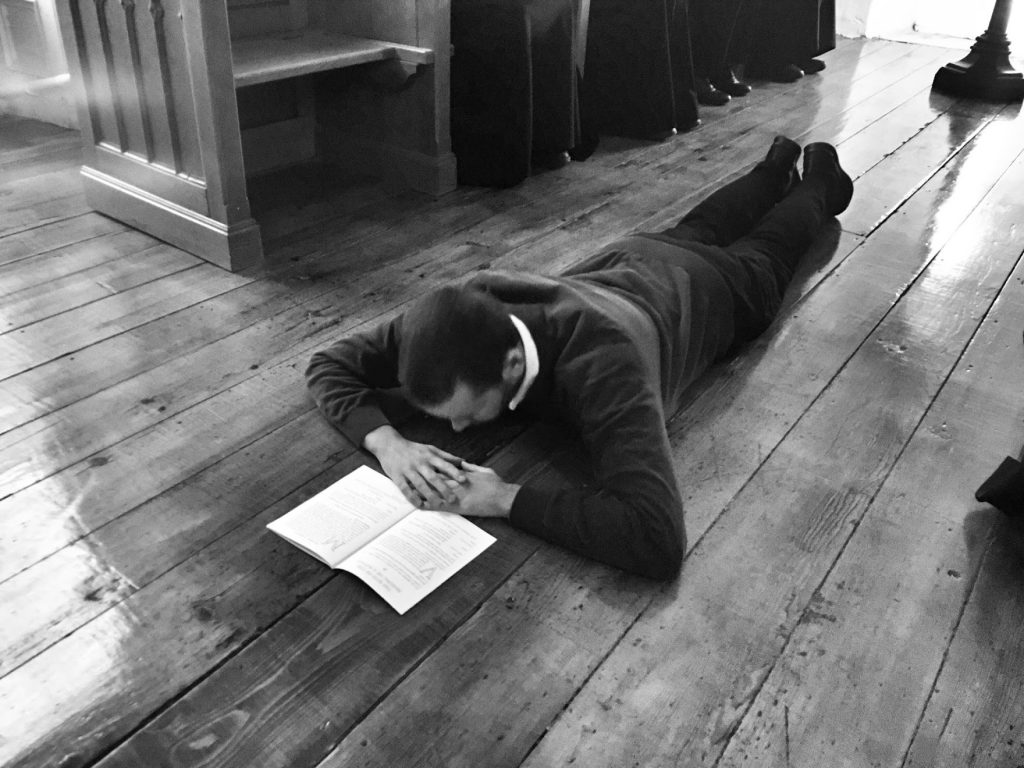 Yesterday, on the feast of the Presentation of Our Lady, Mikkel Rahbek Pedersen, a native of Denmark, was received as a novice of Silverstream Priory and clothed in the monastic habit. Mikkel's monastic name is Br Ignatius Maria; his new patron is Saint Ignatius of Antioch. Father Prior delivered the following sermon in Chapter: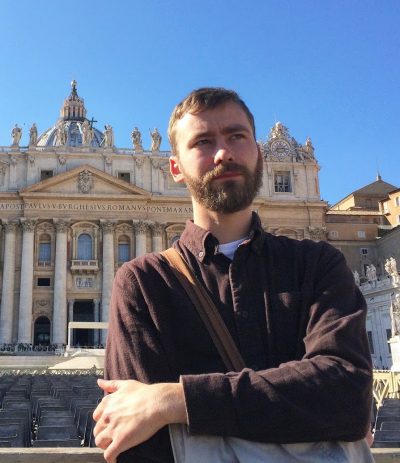 Mikkel–Gabriel, my dear son, more than four years ago, shortly after our arrival here at Silverstream, a young American and his girlfriend visited us and, with great warmth and enthusiasm, spoke to us of a Danish man who, in their estimation, had all the makings of a monk. «There is», they said, «but one little problem». «What,» asked I, «is that»? «He», said they, «is not baptized». Admittedly, a problem. I was intrigued by this unbaptized Dane who was, according to the report, monachus naturaliter.
Grace builds on nature. Divine Providence was at work mysteriously and mightily. And, so, the monachus naturaliter, assisted by a «great cloud of witnesses» (Hebrews 12:1), was, on March 30th, 2013, Holy Saturday, washed clean of sin; made a true son of God; flooded with divine grace; joined to the Body of Christ, the Church; clothed in a white robe; sealed with the gift of the Holy Ghost; and nourished with the life–giving mysteries of the Body and Blood of Christ. Saint Ignatius of Antioch says, «The Christian is not the result of persuasion, but of power». In your story, dear Mikkel, those who know you see compelling evidence of the power of God and of the work of divine grace.
It is most unusual that the witnesses of a man's clothing in the white robe of Baptism should also be the witnesses of his clothing in the monastic habit. On that Holy Saturday, three years ago in Saint Kevin's, Harrington Street, Father Deighan and Father Nevin were present, as were D. Elijah, D. Finnian, D. Benedict, and I. Today, you will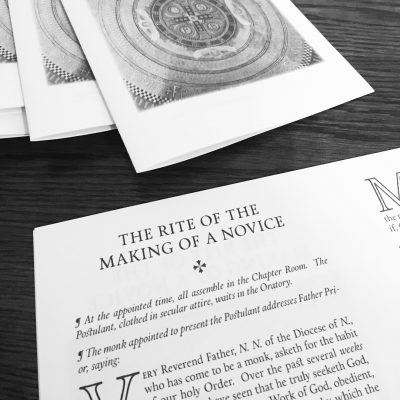 be clothed in the habit of a son of Saint Benedict. The baptismal clothing, of course, made this second one possible; and this second clothing is, I think, the outward manifestation of a divine plan for your life that, wondrously, is just beginning to unfold.
We have the custom of washing the feet of a man before giving him the monastic habit. The rite implies that a man arrives at the monastery after a long journey. He is weary, and his feet are soiled and bruised. The ancient gesture, consecrated by Our Lord Himself in the Cenacle on the night before He suffered, becomes here, today, the expression of a welcoming home. The significance of the gesture is especially poignant, given your own spiritual odyssey and your relentless quest for the Truth. You, Mikkel, might make the words of Saint Ignatius of Antioch your own: «There is within me a water that liveth and speaketh, saying to me inwardly, Come to the Father». All the while you were searching for God, the Father was searching for you, using every occasion to meet your gaze, lying in wait for you at every turn. I am reminded of the poet's words:
Halts by me that footfall:
Is my gloom, after all,
Shade of His hand, outstretched caressingly?
'Ah, fondest, blindest, weakest,
I am He Whom thou seekest!
Thou dravest love from thee, who dravest Me'.
(Francis Thompson, The Hound of Heaven)
You have journeyed long and far, dear Mikkel, but you have not journeyed alone. The Blessed Virgin Mary has accompanied you every step of the way, and at Silverstream you are in a house that is all hers. Your presence here today, on the feast of her Presentation in the Temple, is, I think, the effect of a particular intervention of the Mother of God, for on August 5th last, you gave yourself into her keeping in a special way, saying, in the words of Saint Maximilian Kolbe, «Do what you will with me, with all the faculties of my soul and my body, with my whole life, with my death and my eternity . . . for all graces come to us from the Sacred Heart of Jesus only through your hands».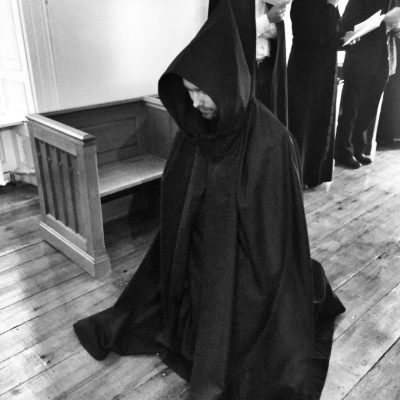 There have been other saints in your life as well and, undoubtedly, there will be more. I am thinking of Saint Anschar, the Apostle of the Danes, who, being himself a son of Saint Benedict, is surely looking upon you today with delight. The holy Angels are here today, with Saint Michael at their head. The great Benedictine prophetess of the Rhineland, Saint Hildegard of Bingen, is here. So too are Saint Louis Grignion de Montfort, Saints Gabriel of the Sorrowful Virgin and Saint Gemma Galgani, Blessed Columba Marmion, and a host of other saints.
You are beginning your noviceship here today, not only in the company of your heavenly friends and intercessors, but also in a company of men who love you as a son and a brother.  The words of Saint Ignatius of Antioch speak to the daily Benedictine experience of life together:
Toil together one with another, struggle together, run together, suffer together, lie down together, rise up together, as God's stewards and assessors and ministers. Please the Captain in whose army ye serve, from whom also ye will receive your pay. Let none of you be found a deserter. Let your baptism abide with you as you shield; your faith as your helmet; your love as your spear; your patience as your body armour. Let your works be your deposits, that ye may receive your assets due to you. Be ye therefore long-suffering one with another in gentleness, as God is with you. May I have joy of you always. (Ignatius to Polycarp, VI)
I know of no better commentary on Chapter LXXII of the Holy Rule than these words of Saint Ignatius of Antioch. While today may seem to you, dear Mikkel, like a point of arrival—and it is that—it is also a point of departure and, in the eyes of the world, a kind of disappearance. Saint Ignatius of Antioch speaks of his martyrdom as a disappearance; in this too the monastic life is like martyrdom.
For if I be truly found [a Christian], I may also be called one, and be then deemed faithful, when I shall no longer appear to the world. Nothing visible is eternal. (Ignatius to the Romans, III)
I shall clothe you, then, dear son, in the habit of those who choose to disappear. I ask for you, today, the singularly Eucharistic grace of hiddenness, a participation in the hiddenness of the Host, of the latens Deitas. Persevere, then, in «seeking the things that are above; where Christ is sitting at the right hand of God. Mind the things that are above, not the things that are upon the earth. For you are dead; and your life is hid with Christ in God. When Christ shall appear, who is your life, then you also shall appear with him in glory» (Colossians 3:1–4)