Zelo zelatus sum
July 20, 2016
Introit
With zeal have I been zealous for the Lord God of hosts: because the children of Israel have forsaken thy covenant: they have destroyed thy altars, they have slain thy prophets with the sword, and I alone am left, and they seek my life to take it away. (III Kings 19:14) V. I will extol thee, O Lord, for thou hast upheld me: and hast not made my enemies to rejoice over me. (Psalm 29:2)
On this feast of the Holy Prophet Elias, we are offering Holy Mass for you, dear Dom Elijah. The texts of today's Mass are, from beginning to end, a program of monastic life. Elias is the prophet of fire, zealous with a blazing zeal for the Lord God of Hosts. Elias, the message–bearer of the one true God, remained faithful even in a terrible solitude, surrounded by threats of death. "I alone am left, and they seek my life to take it away" (III Kings 19:14)
Your monastic vocation, dear son, is a prophetic one. Let yourself be set ablaze with a consuming zeal. Spurn lukewarmness, half–measures, and facile compromises. Remain faithful, even when loneliness seems to wrap you round like a cold damp shroud, and when the deadly darts of temptation come at you from every side. With Saint Elias, you too shall sing — and this in every mode — "I will extol thee, O Lord, for thou hast upheld me: and hast not made my enemies to rejoice over me" (Psalm 29:2).
Collect
Grant, we beseech Thee, almighty God, that as Thou didst, before a common death, raise aloft to heaven in a fiery chariot blessed Elias, Thy Prophet [and our Father]; so too, Thou wouldst, by his intercession, make us live always, even now, raised aloft in spirit from earthly things to those of heaven, and rejoice together with him in the resurrection of the just.
The Collect of Saint Elias describes his miraculous heavenly transport — a chariot of fire — carrying him aloft into the presence of the One whose passage he experienced, on Horeb, not in the great and strong wind of destruction, nor in the earthquake, nor in the fire, but in the murmur of a gentle breeze. The holy prophet would not have been able to hear the murmur of the breath of God, had he not been utterly silent and still. This, too, is your vocation, dear Dom Elijah: to love silence and to study to be still, lest you miss the fleeting passages of God and the mysterious visitations of His grace. The Collect asks for us the very thing Saint Paul enjoins in Colossians 3: "If you be risen with Christ, seek the things that are above; where Christ is sitting at the right hand of God: Mind the things that are above, not the things that are upon the earth. For you are dead; and your life is hid with Christ in God" (Colossians 3:1–3).
Lesson (Ecclesiasticus 48:1–10)
And Elias the prophet stood up, as a fire, and his word burnt like a torch. He brought a famine upon them, and they that provoked him in their envy, were reduced to a small number, for they could not endure the commandments of the Lord. By the word of the Lord he shut up the heaven, and he brought down fire from heaven thrice. Thus was Elias magnified in his wondrous works. And who can glory like to thee? Who raisedst up a dead man from below, from the lot of death, by the word of the Lord God. Who broughtest down kings to destruction, and brokest easily their power in pieces, and the glorious from their bed. Who heardest judgment in Sina, and in Horeb the judgments of vengeance. Who anointedst kings to penance, and madest prophets successors after thee. Who wast taken up in a whirlwind of fire, in a chariot of fiery horses. Who art registered in the judgments of times to appease the wrath of the Lord, to reconcile the heart of the father to the son, and to restore the tribes of Jacob.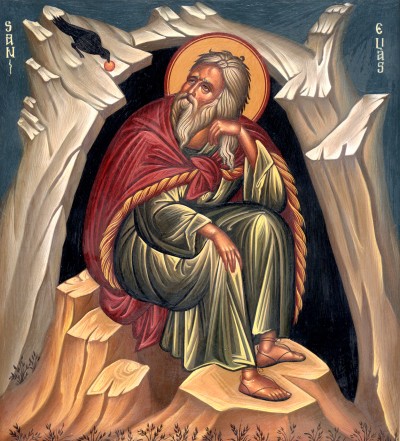 Elias stood up as a fire and his word burnt like a torch. The Word of God is for us monks, no less than for the Prophet Elias, incendiary and incandescent. This the disciples on the road to Emmaus experienced: "Was not our heart burning within us, whilst he spoke in this way, and opened to us the scriptures?" (Luke 24:32). Be the man of the Word of God: the word given you in choir and in lectio divina, the word held in the heart, the spark capable of setting you ablaze when, all around you, things appear dark and feel cold.
Gradual (III Kings 18:42–45)
Elias went up to the top of Carmel, and casting himself down upon the earth put his face between his knees, And he said to his servant: Go up, and look toward the sea. And he went up, and looked, and said: There is nothing. And again he said to him: Return seven times.
V. And at the seventh time, behold, a little cloud arose out of the sea like a man' s foot. And he said: Go up and say to Achab: Prepare thy chariot and go down, lest the rain prevent thee, and there fell a great rain.
The Gradual describes the mysterious little cloud that Tradition sees as an image of the Blessed Virgin Mary. Elias had to pray while his servant returned seven times to see if his master's prayer was answered. Persevere in prayer, then, and wait for the little cloud that is the promise of the advent of rain from heaven and the presence of Mary, the Mediatrix of all graces, the Cause of Our Joy.
Alleluia (Ecclesiasticus 48:5–9)
Alleluia, alleluia. V. Who can glory like to thee? Who raisedst up a dead man from below, from the lot of death; who wast taken up in a whirlwind of fire, in a chariot of fiery horses.
Elias did great things in the power of the Holy Ghost. His human infirmities and weaknesses — we know he had them, for he was sore discouraged under the juniper tree when he "requested for his soul that he might die, and said: It is enough for me, Lord, take away my soul: for I am no better than my fathers" (III Kings 19:4). Elias partook of the food and drink delivered him by angel, and his discouragement disappeared in an infusion of divine grace.
Do you fear your weakness, your inconstancy, your powerlessness? Are you sometimes like Elias under the juniper tree? Hear what the Apostle says:
"There was given me a sting of my flesh, an angel of Satan, to buffet me. For which thing thrice I besought the Lord, that it might depart from me. And he said to me: My grace is sufficient for thee; for power is made perfect in infirmity. Gladly therefore will I glory in my infirmities, that the power of Christ may dwell in me. For which cause I please myself in my infirmities, in reproaches, in necessities, in persecutions, in distresses, for Christ. For when I am weak, then am I powerful" (2 Corinthians 12:7–10).
Gospel (Luke 9:28–36)
And it came to pass about eight days after these words, that he took Peter, and James, and John, and went up into a mountain to pray. And whilst he prayed, the shape of his countenance was altered, and his raiment became white and glittering. And behold two men were talking with him. And they were Moses and Elias, appearing in majesty. And they spoke of his decease that he should accomplish in Jerusalem. But Peter and they that were with him were heavy with sleep. And waking, they saw his glory, and the two men that stood with him. And it came to pass, that as they were departing from him, Peter saith to Jesus: Master, it is good for us to be here; and let us make three tabernacles, one for thee, and one for Moses, and one for Elias; not knowing what he said. And as he spoke these things, there came a cloud, and overshadowed them; and they were afraid, when they entered into the cloud. And a voice came out of the cloud, saying: This is my beloved Son; hear him. And whilst the voice was uttered, Jesus was found alone. And they held their peace, and told no man in those days any of these things which they had seen.
About the Holy Gospel, I shall say only one thing. Take to heart the very words of the Eternal Father that Elias heard on the holy mountain, and repeat them to yourself at very hour and in every season: "This is my beloved Son; hear him". Obey the command of the Father by listening always to the voice of the Son. "If any one love me", says Our Lord, "he will keep my word, and my Father will love him, and we will come to him, and will make our abode with him" (John 14:23).
Offertory (James 5:17–18)
Elias was a man passible like unto us: and with prayer he prayed that it might not rain upon the earth, and it rained not for three years and six months. And he prayed again: and the heaven gave rain, and the earth brought forth her fruit.
The prayer of Elias was powerful over the heart of God. Your prayer too is powerful, not because it rises from your heart and comes to flower on your lips, but because, through the sacred liturgy, it is Christ, our all–powerful Mediator and Eternal High Priest, who prays in you and who, even now, is heard by the Father in the heavenly sanctuary , for his reverence. Exauditus est pro sua reverentia (Hebrews 5:7).
Secret
We offer unto Thee, O Lord, the victim of praise in honour of Holy Elias, Thy Prophet [and our Father]: and as Thou was present at his holocaust, so too deign Thou to take up our sacrifice, that by it we may come at length to eternal joy. Through our Lord.
Preface
It is truly right and just, our duty and our salvation, always and everywhere to give Thee thanks, Lord, holy Father,almighty and eternal God, and in this solemnity (commemoration) of blessed Elias, Thy Prophet [and our Father] to praise Thee, bless Thee, and proclaim Thee with exultant souls. For he, upon Thy word, did rise up like fire, contain the heavens, bring the dead back to life, strike tyrants dead, put an end to sacrilege, and establish the foundations of the monastic life. Refreshed by the bread and drink served him by an angel, he walked in the strength of this food even to thy holy mountain. Ravished aloft in an engine of fire, he is the precursor of the second advent of Jesus Christ our Lord. Through whom Angels and Archangels, Cherubim and Seraphim praise Thy majesty, these never cease to acclaim Thee, day after day, with one voice, saying:
Vere dignum et justum est, aequum et salutare, nos tibi semper et ubique gratias agere: Domine sancte, Pater omnipotens, aeterne Deus: et te in solemnitate (commemoratione) beati Eliae, Prophetae tui et Patris nostri, exsultantibus animis laudare, benedicere et praedicare. Qui in verbo tuo surrexit quasi ignis, caelum continuit, mortuos excitavit, tyrannos percussit, sacrilegos necavit, vitaeque monasticae fundamenta constituit. Qui pane ac potu angelico ministerio refectus, in fortitudine cibi illius usque ad montem sanctum ambulavit. Qui raptus in turbine ignis. Praecursor est venturus secundi adventus Iesu Christi Domini nostri. Per quem maiestatem tuam laudant Angeli atque Archangeli, Cherubim quoque ac Seraphim: qui non cessant clamare quotidie voce dicentes:
Communion (Malachy 4:5–6)
Behold I will send you Elias the prophet, before the coming of the great and dreadful day of the Lord. And he shall turn the heart of the fathers to the children, and the heart of the children to their fathers.
Postcommunion
O God, who by thy holy Angel didst give food and drink unto blessed Elias Thy Prophet [and our Father]; grant us, at his intercession, that what we have received from the heavenly banquet–table, we may keep spotless with sincere minds. Through our Lord.
I could say much more to you, dear son, drawing upon the marvelous proper texts of today's feast, but I shall leave it to you to hear, and repeat in your heart, and turn to prayer what I am not able to address here. Not for nothing did I name you Elijah. Discover in your holy patron an intercessor, a model, a companion, a defender, a teacher, and a father in God. And may it be given you, nourished by the Bread of Angels, to walk in the strength of that food even unto the mountain of God. "And he arose, and ate, and drank, and walked in the strength of that food forty days and forty nights, unto the mount of God, Horeb" (III Kings 19:8).