Some of them came from afar off
June 26, 2016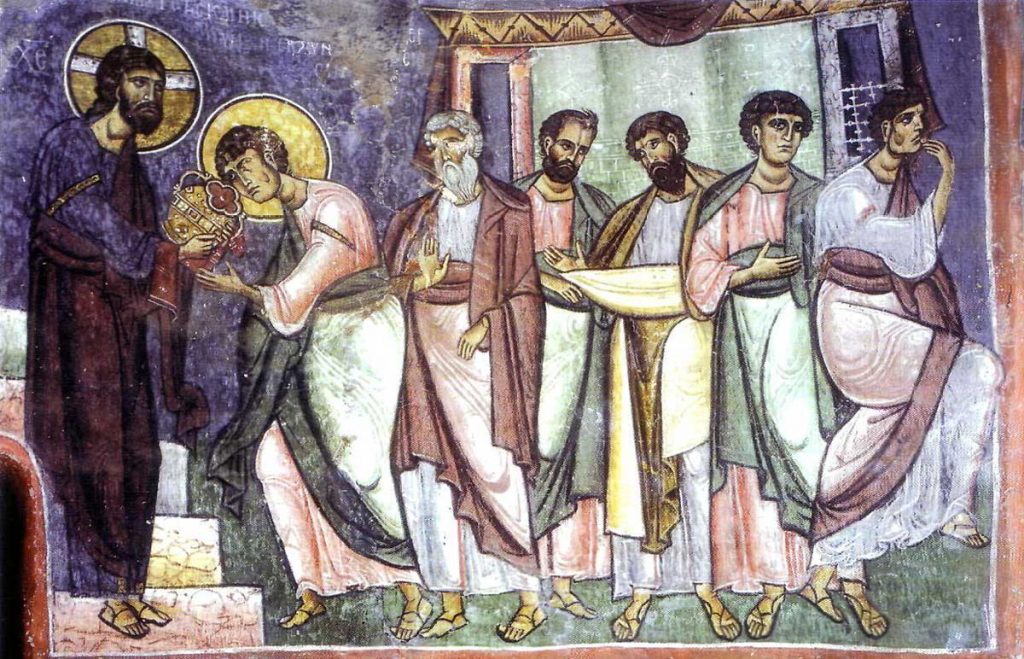 Sixth Sunday After Pentecost
Newness of Life
Again, today, it is David who occupies the liturgical foreground. It is David who, by example and word, guides us into repentance so that, "as Christ is risen from the dead by the glory of the Father, so we also may walk in newness of life" (Romans 6:4).
David's Sin
The lessons of the First Nocturn at Matins relate how David, inflamed with an adulterous lust at the sight of the beautiful woman Bethsabee, took her for himself. The rabbis of old relate that Bethsabee was bathing behind a wicker screen, and that David, distracted by Satan disguised as a beautiful bird, shot an arrow at the bird and, in so doing, split the wicker screen that concealed Bathsabee's nakedness. Then, seeing Bethsabee's beauty, David had her brought into him. Bethsabee conceived, and David, wanting to conceal his fatherhood of the child, tried to induce Urias to sleep with Bethsabee. When this failed, David arranged that Urias, the husband of Bethsabee, should be sent into the front lines of battle, there to meet a certain death. Blinded by lust, and overcome by a kind of madness born of disordered passion, David committed the grievous sins of adultery and murder. After the death of Urias, David brought Bethsabee into his house, and she became his wife.
The Miserere
God sent the prophet Nathan to call David to repentance. Nathan spoke a parable to convict David of his sin, and David's eyes were opened to the horror of what he had done. The child born of Bethsabee fell ill and, after a few days, died. Mysteriously, the death of the innocent child was the occasion of David's repentance and of his own rebirth to newness of life. David then prayed the great psalm of penitence, the Miserere (Psalm 50), that, through the liturgy of the Church, has passed into the minds and hearts of generations of Christians, becoming for them, together with the other penitential psalms, a most eloquent act of contrition and the pledge of divine pardon.
Introit
The Introit of today's Holy Mass is taken from Psalm 27. In this psalm, we hear David praying for himself:
To thee, my Lord, my refuge, I cry aloud, do not leave my cry unanswered; listen to me, or I am no better than a dead man, sinking to the grave.
While the psalm begins in sentiments of desolation, it ends on a note of triumph: the triumph of mercy over sin, the triumph of grace over weakness, the triumph of life over death:
Blessed be the Lord, for he hath heard the voice of my supplication. The Lord is my helper and my protector: in him hath my heart confided, and I have been helped. And my flesh hath flourished again, and with my will I will give praise to him.
Compunction, Confession, and Penitence
Saint Ambrose, preaching on this episode in the life of David, remarks that this "strong and great King would not suffer the acknowledgment of his iniquity to remain, even for a moment, hidden in his own heart. With eager confession and bitter sorrow, he admitted that he had sinned against the Lord" (Fourth Lesson at Matins). David — so like us in his weakness, and duplicity, and lust, and abuse of power, and in so many other sins — thus becomes, for all time, the model of heartfelt compunction, of confession without delay, and of sincere penitence.
The Offertory
The Offertory Antiphon, taken from Psalm 16, is the perfect prayer of one who, having turned away from sin, casts himself on God alone lest, in a moment of weakness, or confusion, or distraction, he should fall away from grace:
Perfect thou my goings in thy paths: that my footsteps be not moved. I have cried to thee, for thou, O God, hast heard me: O incline thy ear unto me, and hear my words. Shew forth thy wonderful mercies; thou who savest them that trust in thee. (Psalm 16:5–7)
Make Yourselves Over to God
In the light of David's sin, of his repentance, his contrition, and his resurrection to newness of life, we understand why today's Epistle is given us. Saint Paul would have us be done with sin once and for all. He would have us renounce even breathing the residual toxic fumes of sin, lest we catch so much as a whiff of the old life that is no life at all, but that is death.
Does it follow that we ought to go on sinning, to give still more occasion for grace? God forbid. We have died, once for all, to sin; can we breathe its air again? (Romans 6:1–2).
And in the same chapter of the Epistle to the Romans, the Apostle goes on to say:
Make yourselves over to God, as men who have been dead and come to life again; make your bodily powers over to God, to be the instruments of right-doing. (Romans 6:13)
I especially like Monsignor Knox's rendering of Saint Paul's words as, "make yourselves over to God", and again, "make your bodily powers over to God".  Monsignor Knox brings out the liturgical and profoundly Eucharistic sense of what Saint Paul is saying, that is, something along the lines of, offer yourselves to God as victims laid out upon the altar,  and again, immolate your bodily powers by uniting them to the sacrifice of the Lamb.
The Holy Sacrifice of the Mass
The identification with the Victim offered from the altar of the Cross, and with the Host offered from this our own humble altar, this being made over to God, becomes complete when we partake of the Body of Christ, foreshadowed in the Gospel by the miraculous multiplication of the loaves (Mark 8:1–9).
The Most Holy Eucharist is, at once, the remedy by which we are cured of sin and the food by which we are strengthened and built up. Our Lord's words in the Gospel are words for today, and they concern each of us: "If I shall send them away fasting to their home, they will faint in the way; for some of them came from afar off" (Mark 8:3). Each of us has, in his own way, come "from afar off".
Without the Most Holy Eucharist, we shall surely faint in the way, that is, in the way of holiness, in the way that is Christ Himself, who said, "I am the way" (John 14:6). Without the Sacred Body of Christ to sustain us, we shall grow weary and disconsolate. Heaviness of heart, sorrow, and weakness shall overtake us, and we shall perish in the wilderness of our sins. Life without the Holy Sacrifice of the Mass is inconceivably joyless.
The Most Holy Eucharist is an infusion of divine joy. Sin cannot co–exist with joy. I speak here of Eucharistic joy, of the joy that comes from God and lifts one up to God. "Ask, and you shall receive; that your joy may be full" (John 16:24). Joy banishes sin, and sin banishes joy.
Consecration with Christ
Christ Jesus sends no man away. For every weariness, He offers a divine refreshment. For every illness, He offers a divine remedy. For every hunger, He offers the food that alone can satisfy the deepest cravings of the heart. To approach Holy Communion without repentance is sacrilege. To approach Holy Communion with repentance is consecration, that is, union with Him who, on the night before He suffered, prayed, saying: "For them do I sanctify myself (i.e. consecrate myself, make myself a victim), that they also may be sanctified (i.e. consecrated, made victims with me) in truth" (John 17:19). Herein is the secret of that "newness of life" (Romans 6:4) that we see today announced in the repentance of David, manifested in the resurrection of Christ Jesus, and preached by His Apostle Paul.
And you, too, must think of yourselves as dead to sin, and alive with a life that looks towards God, through Christ Jesus our Lord. (Romans 6:11)