Saint Mark
April 25, 2016
Hastening to the Cross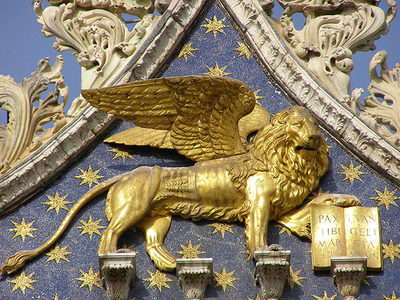 Saint Mark's Gospel has been described as a "hastening to the Cross." It is Saint Mark who gives us the confession of faith of the centurion Saint Longinus, while Saint John tells us that the same centurion opened the side of Jesus with a lance. A link with the mystery of the Pierced Heart!
Mark and Peter
Tradition calls Saint Mark the interpreter of Saint Peter; clearly the relationship between Peter and Mark was both strong and tender. Saint Peter calls Mark "his son"; (1 Peter 5:13), suggesting the gift and mystery of the Fisherman's spiritual fatherhood in Christ. Mark was a son to Peter. Mark laboured at Peter's side, preaching the Gospel in Rome before carrying it to Venice and then to Alexandria where he gave his life for Christ. To this day the Churches of Rome, Venice, and Alexandria rejoice in the protection of Saint Mark and seek his intercession.
A Litany of Patrons
My parents christened me Mark Daniel, thereby giving me the patronage of both an evangelist and a prophet. At Confirmation I put myself under the protection of Saint Michael,the glorious Archangel and heavenly protector of the Onoratelli family. My monastic patrons are the Blessed Virgin Mary, Saint John the Evangelist, and Blessed Columba Marmion. As far as I can determine, I am the first Mark in the family while being one of a very long line of Daniels.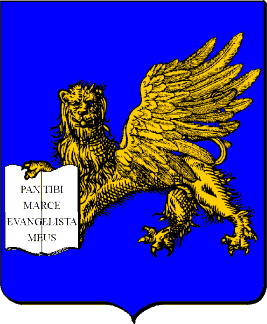 Be Not in Doubt for I am with Thee
Some of you may remember the coat of arms of Blessed John XXIII as Patriarch of Venice. It bore the inscription: Pax tibi, Marce, evangelista meus, "Peace to you, Mark, my evangelist!" I have always taken comfort in these words. They are personal, a kind of message to the heart.
My great-great-grandmother, Donna Edvige Maierotti Onoratelli, was Venetian and would have known this motto well; to this day it is displayed with Saint Mark's lion on the coat of arms and flag of Venice, La Serenissima. The text is not found in Sacred Scripture; it comes rather from the ancient Passion of Saint Mark, the account of his martyrdom. The story goes that on the day of Pascha, after singing Mass, Saint Mark was seized, a rope was attached to his neck, and he was dragged through the city of Alexandria until his blood ran upon the stones. After this, he was imprisoned. An angel came to comfort him, and after the angel, the Lord Jesus himself came to visit and comfort Mark, saying, "Peace be to thee, Mark, my evangelist! Be not in doubt for I am with thee and shall deliver thee". The following day Mark was put to death, thanking God, and repeating the words of the Crucified: "Into thy hands, Lord, I commend my spirit" (cf. Lk 23:46).