Look at My face and at the wound in My side
April 16, 2016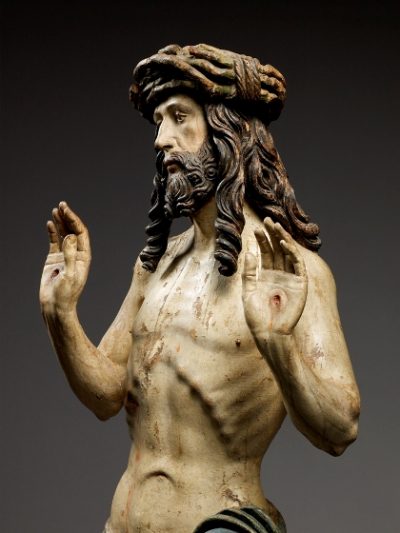 You came to Me wanting to discuss your sins, but your sins are of no interest to Me. Look not at your sins; look, rather, at My face and at the wound in My side. Look at the wounds in My hands and in My feet, and receive from them the streams of grace that will heal the wounds of sin, and purify them, and cause them to become signs of the triumph of My mercy in you.
I do not deny sin. I know it in all its ugliness and horror. I know sin from having borne the consequences of it in My flesh and from having allowed to disfigure My face, making Me an object of scorn from which men turned away their gaze.
My Immaculate Mother also knew sin in all its ugliness and horror. She saw all that sin wrought upon my Body, the very Body she bore in her virginal womb and, in seeing the ravages of sin on My Body and on My face, her heart was pierced by a sword of sorrow in fulfilment of Simeon's prophecy.
We know sin and, because we know it for what it is, we ask the friends of our Hearts to turn away from sin in its ugliness and horror and to look instead at the divine radiance that illumines My face hidden in the Sacrament of My Love and at the gentle countenance that so perfectly reflects this divine radiance, the countenance of My Mother.
Too few are the souls that fix their gaze upon us. A single glance at My Eucharistic Face, a single lifting of one's eyes to My Mother is enough to cure a soul of the ills that darken and disfigure it. This is the grace of the Holy Rosary. It is a long, sustained exchange of looks. It is the encounter of our gaze with the gaze of souls who consider our Mysteries, and cry out to us with a prayer that is persevering and humble.
For this reason, the rosary has become a medicinal prayer for souls devastated by the effects of sin. It is the application of a divine remedy to all that disfigures souls created in My image and likeness. Make use of this humble prayer in struggling with the sins that cause you such distress, and you will find in it the remedy and the defence that you need and that you seek.

(From In Sinu Iesu, The Journal of a Priest)