Stop upsetting yourself
March 4, 2016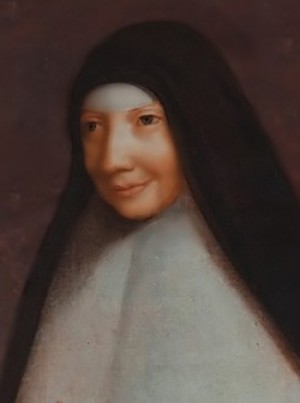 In this letter of spiritual direction, written on 5 July 1667, Mother Mectilde writes to a religious of Toul who appears to be suffering from worry and also distressed over certain experiences in prayer; these may have been emotional or even physical sensations. This religious seems to focus too much on herself and dwells on her misery. Mother Mectilde counsels her to accept her fundamental misery and even to see it as a throne made ready for Jesus.
One sees in this letter, as in so many others, that Mectilde of the Blessed Sacrament articulates the message of trust, abandonment, and the humble acceptance of one's weakness that would later characterise Saint Thérèse of the Child Jesus and of the Holy Face.

When Mother Mectilde uses the word "corruption", she is referring to Saint Paul's understanding of the effect of original sin: the "sinful principle" in oneself by which one feels a pull to things contrary to the plan of God. Mother Mectilde would be full of sympathy for Saint Paul who writes in Romans 7:
15 My own actions bewilder me; what I do is not what I wish to do, but something which I hate. 16 Why then, if what I do is something I have no wish to do, I thereby admit that the law is worthy of all honour; 17 meanwhile, my action does not come from me, but from the sinful principle that dwells in me. 18 Of this I am certain, that no principle of good dwells in me, that is, in my natural self; praiseworthy intentions are always ready to hand, but I cannot find my way to the performance of them; 19 it is not the good my will prefers, but the evil my will disapproves, that I find myself doing. 20 And if what I do is something I have not the will to do, it cannot be I that bring it about, it must be the sinful principle that dwells in me. 21 This, then, is what I find about the law, that evil is close at my side, when my will is to do what is praiseworthy. 22 Inwardly, I applaud God's disposition, 23 but I observe another disposition in my lower self, which raises war against the disposition of my conscience, and so I am handed over as a captive to that disposition towards sin which my lower self contains. 24 Pitiable creature that I am, who is to set me free from a nature thus doomed to death? 25 Nothing else than the grace of God, through Jesus Christ our Lord. If I am left to myself, my conscience is at God's disposition, but my natural powers are at the disposition of sin.
Here is my translation of the letter:
Abide always in a holy abandonment with regard to talk of news, be it concerning war or anything else. You would offend God in you, He who treats you with such goodness, if you were to worry about anything.
As for the effects of the presence of God in you, [those experiences] by which you possess God in so intimate a manner: such things will happen from time to time. Nevertheless, accustom yourself, with all the mercies of God, to bear with your own misery and corruption without thinking of delivering yourself totally from them.
We must have patience with the depth of vice that is in us, and make it the subject of our humiliation, but we must, in no way, follow the disordered movements that it produces. It is this that would be sin, and not the awareness of the depth of wickedness that is in us. One must bear with this without being perturbed [by it] because it serves as a throne for Jesus Christ, and He delights in a soul that accepts and feels its own corruption in this way.
Do not inhibit your spirit by constraint, but gently follow the interior movement that brings you the peace of the Holy Ghost. If [in your prayer,] there is something that you find difficult, make nothing of it; it is a desire of God who, purposefully, wants to make you feel something divine.
I see what Our Lord is doing for His glory in you. Take heart. It will be good for you, from time to time, to write a little to me in this way. Be faithful, and avoid falling out with anyone. Be loyal to your superiors and hold yourself inwardly separated from all the troubles of life and the noisy talk of creatures. Do not, however, leave off carrying out your obligations. Stop upsetting yourself over the state you are in: all will go well if you do what I say.
I recommend Sister N. to you. I fear that she is a little depressed. She is in a difficult state. God is crucifying her mightily, but He also wants to make a saint of her, and this cannot happen without suffering. Encourage her and pray for me, both of you. From my inmost heart, I love and cherish you in Jesus. Farewell.
I must tell you again that, with regard to what is happening inside you to trouble the peace of your soul, you are to pay no attention to it nor allow it to upset you.