Brigid's Bright Burning Chastity
February 1, 2016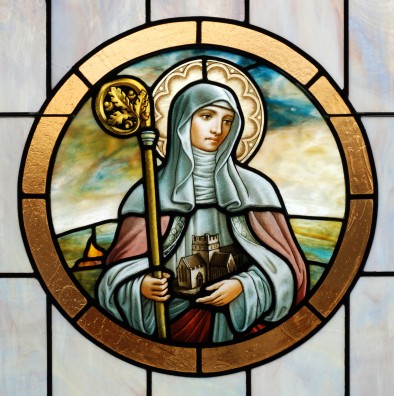 The Mary of the Gael
Today is the feast of Saint Brigid, the Mary of the Gael, born just north of Silverstream in Faughart, County Louth. Saint Brigid is co–patroness of Éire together with Saint Patrick and Saint Columba. My own paternal grandmother's surname Gilbride (Mac GiollaBhrighde) means, in fact, servant or devotee of Saint Brigid.
There are any number of lives of Saint Brigid, such as this one, available to readers. The liturgy of Saint Brigid's feast, drawn for the most part from the Common of Virgins, is very restrained, not indulging in fanciful details, nor embroidering upon legends. It is the Collect of Saint Brigid that merits special attention today; one who prays it with the Church will, in one way or another, experience her glorious intercession.
O God, Who givest us joy by the power of the intercession of Blessed Brigid the Virgin, graciously grant that we may be assisted by her merits by the example of whose chastity we are enlightened. Through our Lord Jesus Christ thy Son, who liveth and reigneth with Thee, in the unity of the Holy Ghost, one God, forever and ever. Amen.
What does this Collect say?  First of all, it says that our God, the Father of Our Lord Jesus Christ (Ephesians 1:3), the Father of Lights (James 1:17) from whom descends every good and perfect gift, gives us joy by the intercession of Saint Brigid.  Ours is a joy–giving God. How often do Christians forget that God irradiates joy in souls and in the Church! Blessed Abbot Marmion says it often: "Joy is the infallible sign of the presence of God." Gloomy Christians bear witness not to the Gospel, but to the insidious machinations of "the father of lies" (John 8:44) who wants nothing more than to pull souls into everlasting unhappiness where there is naught but "wailing and gnashing of teeth" (Matthew 13:42).
Brigid, Blameless in the Sight of God
Blessed be that God, that Father of our Lord Jesus Christ, who has blessed us, in Christ, with every spiritual blessing, higher than heaven itself. He has chosen us out, in Christ, before the foundation of the world, to be saints, to be blameless in his sight, for love of him. (Ephesians 1:3)
One can easily apply this text of the Apostle to Saint Brigid herself:
Blessed be that God, that Father of our Lord Jesus Christ, who has blessed Brigid, in Christ, with every spiritual blessing, higher than heaven itself. He chose her out, in Christ, before the foundation of the world, to be a saint, to be blameless in his sight, for love of him.
A Woman of the Sacred Veil
Saint Brigid received one of God's most precious and luminous gifts: the grace of consecrated virginity, marked by the reception of the sacred veil, the ancient and ever–eloquent sign of the woman made over entirely to God.
Whatever gifts are worth having, whatever endowments are perfect of their kind, these come to us from above; they are sent down by the Father of all that gives light, with whom there can be no change, no swerving from his course; and it was his will to give us birth, through his true word, meaning us to be the first-fruits, as it were, of all his creation. (James 1:17–18)
The Brightness of Chastity
The Collect further says that the example of Saint Brigid's chastity is illuminating. Chastity is a bright virtue.  Chastity is possessed of a certain gentle radiance. Chastity is a light amidst the shadows and darkness of this valley of tears. Those who practice chastity spread light abroad wherever they go. Our Lord Himself, in speaking of His virgin cousin, Saint John the Baptist, says: Ille erat lucerna ardens et lucens, "He was a lamp shining and burning" (cf John 5:35).
The Glow of the Chaste
One understands why Saint Benedict says only one thing concerning chastity in the Holy Rule, and this in Chapter IV, On the Instruments of Good Works: Castitatem amare, To love chastity. One who loves chastity loves the light.  One who loves chastity feels no compulsion to live under cover of darkness.  One who loves chastity will glow with an inner radiance. This is why the world so hates chastity and mocks those who love it: the radiance of chastity unmasks the deceit and emptiness of illicit sexual pleasure.
Unchastity's Nasty Daughters
Saint Thomas Aquinas teaches that unchastity brings about a darkening of the mind: this in turn subjects one's life to a reign of chaos.  Saint Thomas recognizes eight effects (or daughters) of unchastity: 1) blindness of mind; 2) rashness; 3) thoughtlessness; 4) inconstancy; 5) inordinate self–love; 6) hatred of God; 7) excessive love of this world; and 8) despair.
Chastity's Lovely Offspring
What then are the fruits of chastity? They too are eight in number: 1) spiritual clearsightedness; 2) prudence; 3) reflectiveness; 4) constancy; 5) self–sacrificing love; 6) affection for God; 7) detachment from this passing world; and 8) hope.
One sees, then, why the Collect for the feast of Saint Brigid speaks of the illuminating radiance of her chastity. The world is, if anything, more in need today of the illuminating radiance of chastity than in ages past, as a new paganism spreads abroads its darkness, gloom, and despair. May it please God to grant us joy in that same light.