His holy grace is enough for you
January 19, 2016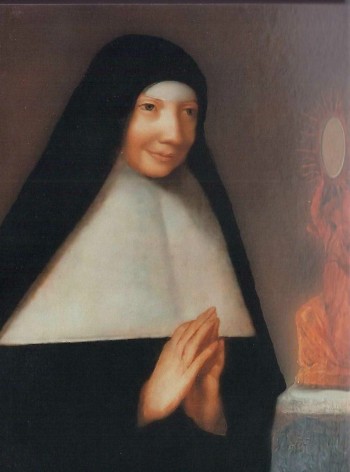 At Silverstream Priory, we are seeking the intercession of Catherine Mectilde de Bar for a special intention. To our prayers, I shall attempt to join each day a little work of love: the translation of a page or, at least, of a few lines of Mother Mectilde's writings. The text offered today, dated 1678, is from one of Mother Mectilde's letter to a religious of the monastery of Toul. Mother Mectilde was 64 years old when she wrote it. It is a mature expression of her thought. The motifs running through this letter characterise Mother Mectilde's own spiritual journey: abandonment; trust in Divine Providence; confidence in Our Lady; detachment from all things; submission to the Will of God; the casting of oneself into nothingness before God; the loss of everything; reliance on God alone; the sufficiency of divine grace; the secret operations of the Holy Ghost; and God alone. The great Benedictine mystic of the 17th century is worthily paired with Saint John of the Cross. Their spiritual doctrines, though expressed differently, converge in a sober awareness of the nothingness of all things and in a consuming passion for God alone.

Mother Mectilde de Bar to a Religious of the Monastery of Toul, 1678 (Part I)
I abandon myself to God's good pleasure and I adore His counsels upon your soul, as well as His holy conduct over all your holy community. I give you over to his divine Providence, trusting that His goodness will care for you always and protect you, just as He has done until now.
I abandon you to the power of the Father, to the adorable wisdom of the Son, and to the fulness of divine of love, the Holy Ghost. I invoke upon you all the blessings of heaven through Jesus Christ, and I beg the most holy Mother of God to be your guide. I leave you all to this blessed Mother, giving her to you as your most worthy Superior. She will look after your comings and goings in holy perfection and will obtain from her Son the holiness that I desire for you.
I counsel you to abandon everything to God and to believe that He is in no wise attached to objects. His judgments are deep, and very often our lights exist only in the piety of our thoughts. But the hand of God is powerful; He does His works as He sees fit, drawing our sanctification out of the things that seem to be our ruin. The crosses of Providence have an unction sweeter than all others; they are visits of our divine Master. One must adore them and submit to them. It is true that we are in a realm of annihilation. I pray Our Lord to give us the grace to annihilate ourselves in the love of God's good pleasure for time and for eternity.
Your spiritual necessity consists only in being very faithful and unshakable in the way that His divine mercy has shown you. Whatsoever doubt may come upon you or temptation come against you, do not give up. Lean upon the obedience that enjoins it. Do not become upset because you are deprived of a creature powerless to help you and to sanctify you. God alone — but entirely alone — is enough for you. Allow the means to be annihilated so as to remain closely united to the End. I know well that the greatest happiness in the interior life — after the possession of grace — is to find a person  who understands one's dispositions and who, with the Holy Ghost, may serve one as a guide. But, alas, my dear N., I am of no use to your soul. God knows the impurity and ignorance of mine. It belongs only to Him to sanctify his chosen ones and to make them arrive, through frightful tempests, into a happy port.
Take heart; His holy grace is enough for you. One must lose everything in order to find God. God cannot be found except by leaving behind all creatures and oneself. Remain entirely tranquil in pure annihilation, without worrying so much about your salvation. Remember what Our Lord says in His Gospel: "He that will save his life, shall lose it: and he that shall lose his life for my sake, shall find it" (Matthew 16:25). Let us, then, lose ourselves, my dear Mother, and abide in pure abandonment. Leaving to God the conduct of your soul, you will not lack the Holy Ghost.