Ten Years Ago Pope Benedict XVI said . . .
December 22, 2015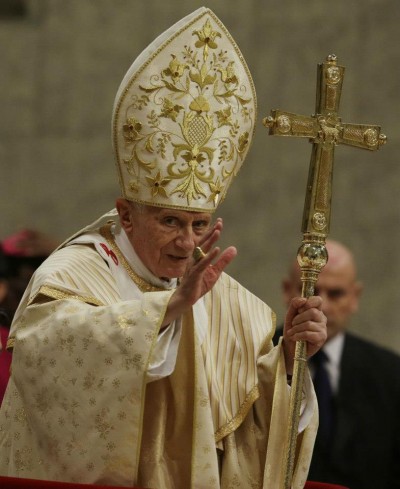 Today is the 10th anniversary of Pope Benedict XVI's epoch–making hermeneutic of continuity address to the Roman Curia. How can one forget Pope Benedict's quintessentially Benedictine affirmation of the primacy of worship? It was Pope Benedict's way of saying to the whole Church what the Patriarch Saint Benedict says in Chapter XLIII of the Holy Rule: "Let nothing, then, be preferred to the Work of God".
Prima di ogni attività e di ogni mutamento del mondo deve esserci l'adorazione. Solo essa ci rende veramente liberi; essa soltanto ci dà i criteri per il nostro agire. Proprio in un mondo in cui progressivamente vengono meno i criteri di orientamento ed esiste la minaccia che ognuno faccia di se stesso il proprio criterio, è fondamentale sottolineare l'adorazione.
Before any activity, before the world can change there must be adoration. This alone sets us truly free; this alone gives us the criteria for our action. Precisely in a world in which guiding criteria are absent and the threat exists that each person will be a law unto himself, it is fundamentally necessary to stress adoration.
In the same address, the Pope of Divine Worship went on to speak of adoration of the Most Holy Sacrament of the Altar. Rightly then do we, monks of Silverstream, acknowledge Pope Benedict XVI as having given to our nascent community the defining elements that still characterise it today.
It is moving for me to see how everywhere in the Church the joy of Eucharistic adoration is reawakening and being fruitful. In the period of liturgical reform, Mass and adoration outside it were often seen as in opposition to one another: It was thought that the Eucharistic Bread had not been given to us to be contemplated, but to be eaten, as a widespread objection claimed at that time. The experience of the prayer of the Church has already shown how nonsensical this antithesis was. Augustine had formerly said: "nemo autem illam carnem manducat, nisi prius adoraverit; peccemus non adorando'—No one should eat this flesh without first adoring It; we should sin were we not to adore It" (cf. Enarr. in Ps 98: 9 CCL XXXIX 1385).
Indeed, we do not merely receive something in the Eucharist. It is the encounter and unification of persons; the person, however, who comes to meet us and desires to unite himself to us is the Son of God. Such unification can only be brought about by means of adoration.
Receiving the Eucharist means adoring the One whom we receive. Precisely in this way and only in this way do we become one with him. Therefore, the development of Eucharistic adoration, as it took shape during the Middle Ages, was the most consistent consequence of the Eucharistic mystery itself: Only in adoration can profound and true acceptance develop. And it is precisely this personal act of encounter with the Lord that develops the social mission which is contained in the Eucharist and desires to break down barriers, not only the barriers between the Lord and us but also and above all those that separate us from one another.