Tacere et adorare
December 24, 2015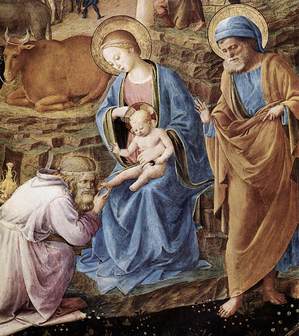 This beautiful text of Mother Mectilde de Bar is the first part of a conference she gave on the Vigil of Christmas 1694. She insists that silence alone is a worthy homage of the adorable mystery of the Incarnation, which mystery is, in the end, prolonged in the Most Holy Eucharist.
One would have to be a seraph to speak of this mystery; it is so deep, and so surpasses every thought of ours, that not even a seraph would be capable of it. How can this be? That a God supremely happy in Himself, infinite in all His divine perfections — He alone being capable of knowing Himself with that knowledge that is the only spring of His felicity — as well as that of all the blessed — this infinite God, I say, of whom we cannot grasp the grandeurs, comes to earth and makes Himself a little child so as to dwell among us; He empties Himself so as to make us pass into Him. What an abyss! Who could ever understand it?
Let all creatures fall silent. In fact, all that they should be able to say will never come near even to the minimal part of the reality. We can honour this mystery in no better way than by keeping a respectful silence, filled with awe and with admiration. The Eternal Word who keeps this silence gives us the example.
All the mysteries, but in particular this one, enclose things so prodigious and incomprehensible for the human spirit, that everything one can find in books and everything that one say will always fall short of the reality. Let human reason, then, fall silent: it is not capable of laying hold of the mystery we celebrate today. This only faith can do.

Mother Mectilde de Bar, Conference for the Vigil of Christmas 1694