Hasten that which is hindered by our sins
December 20, 2015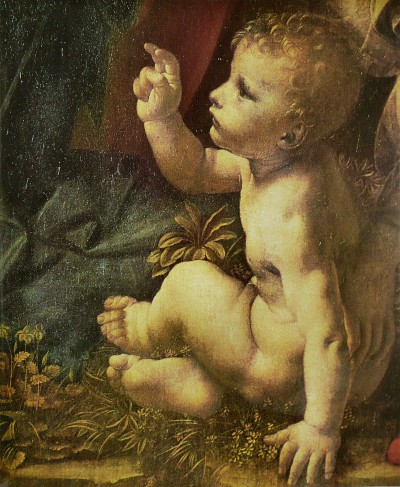 Praying the Collect
The Collect for this Fourth Sunday of Advent — we will pray it at the end of Vespers as we have already prayed it this morning at Holy Mass, and again through the Hours of the day — is at once alarming and consoling. Let us look at it phrase by phrase:
Excita, quaesumus Domine, potentiam tuam, et veni, et magna nobis virtute succurre; ut per auxilium gratiae tuae, quod nostra peccata praepediunt, indulgentia tuae propitiationibus acceleret.
O Lord, we beseech Thee, stir up Thy power, and come, and with great might succour us: that by the help of Thy grace that which is hindered by our sins may be hastened by Thy merciful forgiveness.
Addressing the Son
Whereas most liturgical prayers are addressed to God the Father, this Collect is addressed to Our Lord Jesus Christ, the Child of Mary, the One who came in the humility, obscurity, and silence of Bethlehem; the One who comes even now in the humility, obscurity, and silence of the Most Holy Eucharist; the One who will come in glory at the end of time to judge the living and the dead. We read in the opening chapter of the Apocalypse of Saint John:
Behold, he comes with clouds about him, seen by every eye, seen by those who wounded him, and he shall bring lamentation to all the tribes of earth. So it must be, Amen. (Apocalypse 1:7)
The Urgency of Prayer
Quaesumus, a verb that often occurs in the Collects of the Church, means "we beseech". To beseech is more than to ask; it is to implore intensely, to entreat, to supplicate, to beg insistently. By using this particular verb, the Church wants us to understand that prayer is always urgent. Prayer is not a hobby for devout souls with time to spare. Prayer is a cry of the heart.
The Right Prayer at the Right Time
The splendid thing about liturgical prayer — the prayer of the Church — is that it provides us with exactly the right prayer at the right time and, moreover, makes us ask for precisely the right thing, the very thing that God, in His providence, wants to give us. This is why we can pray the Collect of the day with total confidence and with the absolute certainty of being heard. It is always the right prayer, asking for the right thing, at the right time, in accord with the Will of the Father. I shall never tire of repeating that the Collect given us by the Church is the articulation of those "groans beyond all utterance" of which Saint Paul speaks in the 8th chapter of the Epistle to the Romans:
The Spirit comes to the aid of our weakness; when we do not know what prayer to offer, to pray as we ought, the Spirit himself intercedes for us, with groans beyond all utterance: and God, who can read our hearts, knows well what the Spirit's intent is; for indeed it is according to the mind of God that he makes intercession for the saints. (Romans 8:26–27)
For what, then, do we ask in today's Collect. We make a very bold demand. We ask three things of God or, if you prefer, we ask of Him one thing in three movements.
1. Stir up thy power;
2. Come;
3. With great might succour us.
Stir Up Thy Power
We beseech Our Lord to stir up His power, that is, to activate it. Now, this is a curious demand because the power of God never lies dormant. In God being and doing are not separated. God is as He does, and He does as He is. God can no more stop doing than He can stop being. And because God is omnipotent — all–powerful — He is this all the time and His omnipotence never falls into abeyance. God is not like a computer that goes into "sleep" mode when activity is not required. Saint Thomas says that God is in omnibus per potentiam, in all things by his power (Summa I, art. 8, q. 3). Were God's power to somehow lapse into inactivity, everything in the universe would cease to exist.
Why, then, do we ask God to stir up His power? We are, in effect, asking Him to give us evidence of His power, to show His power, to demonstrate His power in such a way that we, poor finite creatures, may perceive it at work in our lives and so give Him glory. This is a very good prayer. It corresponds to what Our Lady says in her Magnificat: "He who is mighty, he whose name is holy, has wrought for me his wonders" (Luke 1:49). Our Lady experienced the power of God in the wonders that He wrought for her.
Come
We ask Our Lord Jesus to come. Et veni, says the Collect. If God is everywhere present, how can we ask Him to come, since He is already here, or there, or anywhere? When the liturgy makes us say Veni! — Come! — we are asking Our Lord to come into our here and now by a new fresh inbreaking of His grace. Saint Thomas, in speaking of the "missions" of the Son explains in what sense we can ask the Son to come to us:
Augustine plainly says (De Trin. iv, 20): "The Son is sent, whenever He is known and perceived by anyone". Now perception implies a certain experimental knowledge; and this is properly called wisdom [sapientia], as it were a sweet knowledge [sapida scientia], according to Ecclus. 6:23: "The wisdom of doctrine is according to her name".  (Summa I, art. 43, q.5)
Saint Bernard spoke of being visited by the Word, the Second Person of the Holy Trinity:
Although he has come to me, I have never been conscious of the moment of his coming. I perceived his presence, I remembered afterwards that he had been with me; sometimes I had a presentiment that he would come, but I was never conscious of his coming or of his going. And where he comes from when he visits my soul, and where he goes, and by what means he enters and goes out, I admit that I do not know even now . . . . As soon as he enters in, he awakens my slumbering soul; he stirs and soothes and pierces my heart, for before it was hard as stone, and diseased. So he has begun to pluck out and destroy, to build up and to plant, to water dry places and illuminate dark ones, to open what was closed and to warm what was cold; to make the crooked straight and the rough places smooth, so that my soul may bless the Lord, and all that is within me may praise his holy name. (On the Song of Songs, Sermon 74)
Succour Us
The Collect goes on to ask: "and with great might succour us". To succour is to rescue; it is to take charge of a catastrophic situation, bringing relief and deliverance. This is the mission of the Son.
God so loved the world, that he gave up his only-begotten Son, so that those who believe in him may not perish, but have eternal life. When God sent his Son into the world, it was not to reject the world, but so that the world might find salvation through him. (John 3:16–17)
We shall sing about this mission of the Son in just moment in the hymn:
Thou, grieving that the ancient curse
should doom to death a universe,
hast found the medicine, full of grace,
to save and heal a ruined race.

Thou camest, the Bridegroom of the Bride,
as drew the world to evening tide,
proceeding from a virgin shrine,
the spotless Victim all divine.
Getting to the Point
Finally, we come to the ut clause of the Collect. The little Latin word ut means so that or in order that. In the Collects of the Mass and Divine Office the whole prayer is directed towards the ut clause. We say to God, "Do thou this thing and this other thing, so that . . . ." We might say that here the Collect really gets to the point of the prayer: "that by the help of Thy grace that which is hindered by our sins may be hastened by Thy merciful forgiveness".
I admit that I find this last part of the Collect daunting and, also, a little frightening in its implications. The prayer says plainly that our sins get in the way of God's action. It says that we, by our sins, hinder what God would do in us and for us: "that by the help of Thy grace that which is hindered by our sins may be hastened by Thy merciful forgiveness". I can hear your objections: "If God is sovereign, how can anything human hinder what He would do?" God, in his sovereignty, respects us as He created us: as free persons capable of consenting to His divine action or of resisting it.
Essentially, in this prayer, we are asking God, by the help of His grace, to grant us so powerful an infusion of His merciful forgiveness, as to sweep away all our resistances to His action in us. This is a prayer that one prays at one's own risk. If one doesn't want to change or to be changed; if one is attached to one's comfortable little sins and doesn't want them to be swept away to make room for the mighty deployment of God's grace, then one should not respond "Amen" to this prayer.
All That Thou Wouldst Do in Me
This Collect, coming but a few days before Christmas, is a kind of desperate appeal. "I have, Thou knowest, O Lord, done my best this Advent, but my best is pitifully little, my resolutions have borne paltry fruit. Where Thou willest to cross my life with fine, straight roads, I persist in making complicated, twisting ones. Where thou hast willed to level the mountains, I persist in heaping up the rubble of my sins. Come, then, and sweep away all my resistances to Thy grace. I am altogether tired of impeding Thy grace in my life. Bend Thou the freedom Thou has given me to all that Thou wouldst do in me". John Donne (1572–1631) understood the drama behind this sort of prayer, didn't he?
Batter my heart, three-person'd God, for you

As yet but knock, breathe, shine, and seek to mend;

That I may rise and stand, o'erthrow me, and bend

Your force to break, blow, burn, and make me new.

I, like an usurp'd town to another due,

Labor to admit you, but oh, to no end;

Reason, your viceroy in me, me should defend,

But is captiv'd, and proves weak or untrue.

Yet dearly I love you, and would be lov'd fain,

But am betroth'd unto your enemy;

Divorce me, untie or break that knot again,

Take me to you, imprison me, for I,

Except you enthrall me, never shall be free,

Nor ever chaste, except you ravish me. (Holy Sonnet 14)
This sermon was preached at Vespers in Silverstream Priory on the Fourth Sunday of Advent, 20–12–2015.