Mary Always Present in the Church
November 22, 2015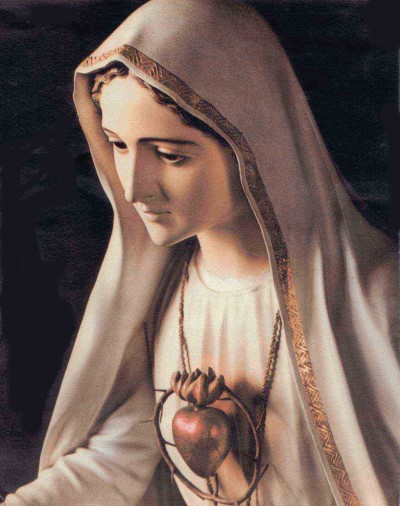 Again and Again
It seems to me that with every passing year, the Gospel of the First Sunday of Advent (Luke 14:26–33) becomes more actual, more compelling, more sobering. (The effect of the great Gospels of the usus antiquior lies precisely in their yearly repetition. The more rationalistic "French" conceptions — Dom Adrien Nocent's own withering indictment — that determined the reformed lectionary took no account even of the anthropological principles of ritual, according to which repetition linked to the yearly rhythm of the seasons, is integral to an incarnational liturgy. One would look in vain for a three–year rhythm in nature. This argument stands quite apart from those made from a purely liturgiological point of view in favour of the traditional one year cycle of lessons at Holy Mass.)
At that time Jesus said to His disciples: There shall be signs in the sun, and in the moon, and in the stars; and upon the earth distress of nations, by reason of the confusion of the roaring of the sea and of the waves: men withering away for fear and expectations of what shall come upon the whole world. For the powers of heaven shall be moved. And then they shall see the Son of Man coming in a cloud with great power and majesty. But when these things begin to come to pass, look up and lift up your heads, because your redemption is at hand. And He spoke to them a similitude: See the fig tree and all the trees: when they now shoot forth their fruit, you know that summer is nigh. So you also, when you shall see these things come to pass, know that the kingdom of God is at hand. Amen, I say to you, this generation shall not pass away till all things be fulfilled. Heaven and earth shall pass away: but My words shall not pass away. (Luke 14:26–33)
Blessed Paul VI
Already in 1968, Blessed Paul VI shared with Jean Guitton his anxiety over the de–Catholicisation that seemed to be spreading throughout the Church. Blessed Pope Montini lamented the strange silence of bishops when confronted with books "in which the faith is diminished on important points". If there was, as Blessed Paul VI states, great unrest in the Church in 1968, that unrest has not be quelled with the passage of time. If anything, it continues to swell, rocking the fragile bark of Peter in stormy waters.
There is great unrest at this time among people of the church, and what they are questioning is the faith. It happens now that I repeat to myself the obscure phrase of  Jesus in the Gospel of Saint Luke: "When the son of man returns, will he still find faith upon the earth?" It happens that books are coming out in which the faith is diminished on important points, that the episcopates say nothing, that they do not find these books strange. This, in my opinion, is strange. I sometimes re-read the Gospel of the end times, and I see that, in this moment, some signs of this are emerging. Are we near to the end?  This we shall ever know. We must hold ourselves ready, but all may still go on for a long time. What strikes me, when I consider the Catholic world is that, within Catholicism, there seems at times to predominate a thinking of a non-Catholic type, and it may happen that this non-Catholic thinking within Catholicism may tomorrow become the stronger. but this shall never represent the thinking of the Church. A small flock must survive, no matter how small it may be". (The Pope Speaks: Dialogues of Paul VI with Jean Guitton, Meredith Press, 1968)
Saint John Paul II
Saint John Paul II reflected in words close to those of Blessed Paul VI: "Christians today in large measure feel lost, confused, perplexed and even disappointed". These feelings have not been allayed. Are we entering into the age of the "small flock" of which Saint John Paul II speaks, the same "small flock" that Cardinal Ratzinger foresaw in his 1985 interview with Vittorio Messori?
We must admit realistically and with feelings of deep pain, that Christians today in large measure feel lost, confused, perplexed and even disappointed; ideas opposed to the truth which has been revealed and always taught are being scattered abroad in abundance; heresies, in the full and proper sense of the word, have been spread in the area of dogma and morals, creating doubts, confusions and rebellion; the liturgy has been tampered with; immersed in an intellectual and moral relativism and therefore in permissiveness, Christians are tempted by atheism, agnosticism, vaguely moral enlightenment and by a sociological Christianity devoid of defined dogmas or an objective morality". (Saint John Paul II, L'Osservatore
Romano, February 7, 1981)
Pope Benedict XVI
Less than a month before being elected to the Chair of Peter, Joseph Cardinal Ratzinger, preaching the Via Crucis in the Colosseum, meditated on the presence of Our Lady in the Passion of her Son. The Son of Man will, he asserts, find faith on earth when He comes, and He will find it in the maternal and sorrowful Heart of His Mother, because she will remain faithful in the heart of the Church, even when all should fall away, including theologians, prelates, hierarchs, and clergy of every rank. Advent is, according to Blessed Paul VI, writing in Marialis Cultus, the Church's privileged Marian season. This affirmation must be linked, I think, to the Gospel of the First Sunday of Advent. Where Mary is, there too will be a faith shining amidst the encroaching shadows, giving light to those who dwell in darkness and in the shadow of death.
On Jesus' Way of the Cross, we also find Mary, his Mother. During his public life she had to step aside, to make place for the birth of Jesus' new family, the family of his disciples. She also had to hear the words: "Who is my mother and who are my brothers?… Whoever does the will of my Father in heaven is brother, and sister and mother" (Mt 12:48-50). Now we see her as the Mother of Jesus, not only physically, but also in her heart. Even before she conceived him bodily, through her obedience she conceived him in her heart. It was said to Mary: "And behold, you will conceive in your womb and bear a son. He will be great and the Lord God will give to him the throne of his father David" (Lk 1:31ff.). And she would hear from the mouth of the elderly Simeon: "A sword will pierce through your own soul" (Lk 2:35). She would then recall the words of the prophets, words like these: "He was oppressed, and he was afflicted, yet he opened not his mouth; he was like a lamb that is led to slaughter" (Is 54:7). Now it all takes place. In her heart she had kept the words of the angel, spoken to her in the beginning: "Do not be afraid, Mary" (Lk 1:30). The disciples fled, yet she did not flee. She stayed there, with a Mother's courage, a Mother's fidelity, a Mother's goodness, and a faith which did not waver in the hour of darkness: "Blessed is she who believed" (Lk 1:45). "Nevertheless, when the Son of man comes, will he find faith on earth?" (Lk 18:8). Yes, in this moment Jesus knows: he will find faith. In this hour, this is his great consolation. (Joseph Cardinal Ratzinger, Via Crucis, Good Friday 2005)
Our Era May Well Be Called the Marian Era
Blessed Paul VI was gifted with a number of prophetic insights. Most of these were articulated quietly and remain "buried" in the uninterrupted flow of documents, exhortations, and decrees that inundated the Church in the years immediately following the Second Vatican Council. It is perhaps time to sift through the magisterial texts of those turbulent years with a serene objectivity. Is the Church being driven into the desert? It is worth asking the question. At least some of the answers for which so many are searching now may remain buried, as it were, beneath the desert's shifting sands, waiting to be excavated.
The spiritual motherhood of Mary transcends space and time and belongs to the universal history of the Church, since she has always been present in the Church with her maternal assistance. Likewise the meaning of the affirmation appears clear, which is so often repeated: our era may well be called the Marian era. In fact, if it is true that, by an exalted grace of the Lord, the providential role of the most holy Mary in the history of salvation has been more deeply understood by the vast strata of the Christian people, this, however, should not lead us to believe that in past ages we had no intuition whatever of this truth or that future ones will ignore it. In truth, all periods of the Church's history have benefited and will benefit from the maternal presence of the Mother of God because she will remain always indissolubly joined to the mystery of the Mystical Body, of whose Head it was written: "Jesus Christ is the same, yesterday and today, yes, and forever." (Blessed Paul VI, Apostolic Exhortation, Signum Magnum, 13 May 1967)