The Secret of the Rosary
October 7, 2015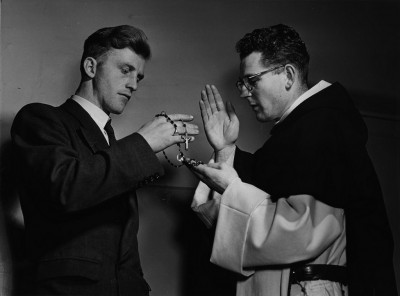 The photo shows Ireland's amazing Rosary Priest — not the famous Father Patrick Peyton, C.S.C. (1909–1992), but a youthful Dominican Father Gabriel Harty, now 93 years of age, still thriving and still preaching the Holy Rosary — a priest whom I  admire and esteem.
There is no problem or difficulty
 that cannot be solved or resolved
by faithful persevering recourse 
to my Mother's most holy Rosary.
The Rosary is my Mother's gift to the poor and to the simple,
to the little ones who alone are capable of hearing the Gospel
in all its purity and of responding to it with a generous heart.
It is to such as these
— the childlike and the weak, the poor and the trusting —
that the Rosary is given.
It is to such as these that the Rosary belongs.
There are no sufferings that cannot be borne peacefully
so long as a soul is praying the Rosary.
Through the Rosary all the grace and power of my mysteries
passes through my Mother's Immaculate Heart
into the hearts of the little ones who invoke her,
repeating the Angel's « Ave » over and over again.
There are illnesses that can be cured through the Rosary.
There are clouds of darkness and confusion
that only the Rosary can disperse,
and this because it is my Mother's favourite prayer,
a prayer that originated in the heights of heaven
and was carried to earth by my Archangel,
a prayer echoed and amplified in the Church through the ages,
a prayer loved by all my saints,
a prayer of disarming power and of immense depth.
There are those who find the Rosary difficult —
the difficulty lies not in the Rosary
but in the complexity of those who struggle to enter into its simplicity.
Invite souls to the prayer of the Rosary;
through it I will heal the sick of mind and body,
through it I will give peace where there is conflict,
through it I will make great saints out of great sinners,
through it I will sanctify my priests,
give joy to my consecrated ones,
and raise up new vocations in abundance.
Listen, then, to my Mother's plea in so many places.
Listen to her, take her plea to heart,
pray her Rosary and, for you, as for her,
my Father will do wondrous things.
(From In Sinu Iesu, The Journal of a Priest)