Soothe me with the beauty of Thy countenance
October 9, 2015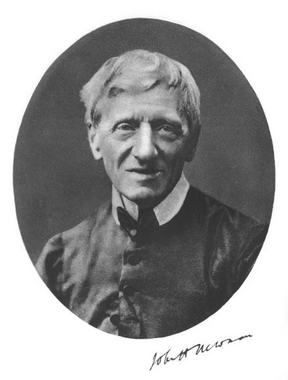 Some years ago a friend in Rome gave me a booklet by His Lordship, Dr. Philip Boyce, O.C.D., Bishop of Raphoe, entitled At Prayer with John Henry Newman. The booklet is available from the International Centre of Newman Friends. The Carmelite bishop calls prayer "the texture of Newman's life." He presents some of Blessed Newman's own magnificent prayers. All his life the famous Oxford convert sought to pray in spirit and in truth. When I pray using Cardinal Newman's words, I savour in them the same humility and confidence I taste in the prayers of Saint Aelred, William of St–Thierry, and Saint Claude La Colombière. I was struck in this prayer by the petition, "soothe me with the beauty of Thy countenance":
O mighty God, strengthen me with Thy strength,
console me with Thy everlasting peace,
soothe me with the beauty of Thy countenance;
enlighten me with Thy uncreated brightness;
purify me with the fragrance of Thy ineffable holiness.
Bathe me in Thyself, and give me to drink,
as far as mortal man may ask, of the rivers of grace which flow
from the Father and the Son,
the grace of Thy consubstantial, co–eternal Love.
And I find this one very close in spirit to Saint Claude La Colombière's Act of Confidence:
O my God, my whole life has been a course of mercies and blessings shown
to one who has been most unworthy of them.
I require no faith, for I have a long experience,
as to Thy providence towards me.
Year after year Thou hast carried me on —
removed dangers from my path —
recovered me, recruited me, refreshed me,
borne with me, directed me, sustained me.
O forsake me not when my strength faileth me.
And Thou never wilt forsake me.
I may securely repose upon Thee.
Sinner as I am, nevertheless, while I am true to Thee,
Thou wilt still and to the end,
be superabundantly true to me.
The booklet's sections on intercessory prayer, on Newman's love for the Roman Breviary, and on his devotion to the Rosary are enlightening and inspiring. In conclusion, Dr. Boyce explains the three kinds of divine presence in which Newman's prayer unfolded: the presence of the indwelling Trinity, the Real Presence of Christ in the Blessed Sacrament, and the presence of Christ in Sacred Scripture. The Bishop of Raphoe describes Newman's life of prayer as "a persevering effort in the weakness and darkness of our human condition." One recognizes there the intimate experience of the author of Lead, Kindly Light.