The Grain of Wheat in the Garden Enclosed
August 5, 2015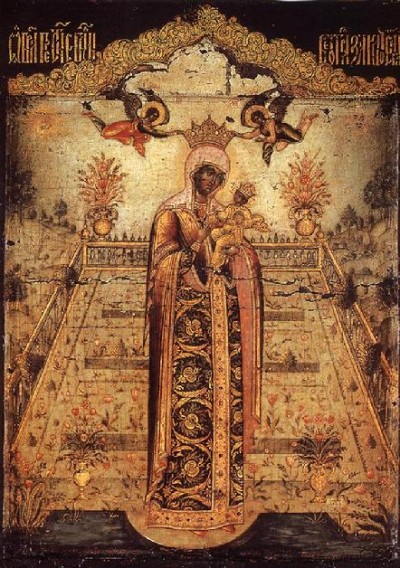 My dear Father Benedict, is it not providential that the day of your solemn profession and monastic consecration should be preceded by a feast of the holy Mother of God? The Blessed Virgin Mary is the guardian of every new beginning in Christ. Bernanos rightly called Our Lady "younger than sin". The Immaculate Virgin is the hortus conclusus in which the seed of your new life can be planted securely.
Your "being made a monk" tomorrow is a mystery of death and resurrection. By going under the black pall of death, you will become a seed cast deep into the ground, trusting that, out of death, the Holy Ghost will bring a new life.
Amen, amen I say to you, unless the grain of wheat falling into the ground die, itself remaineth alone. But if it die, it bringeth forth much fruit. He that loveth his life shall lose it; and he that hateth his life in this world, keepeth it unto life eternal. (John 12:24–25)
Like Saint Ignatius of Antioch, whom you invoke in your litany, you can say, Frumentum Christi sum: "I am the wheat of Christ". Like Saint Ignatius, you will die, not ground by the teeth of wild beasts, but by the slow martyrdom of a long fidelity to your conversatio morum, that is, to the daily dying to self apart from which, as Saint Benedict says in Chapter I of the Holy Rule, by one's tonsure one lies to God.
Each morning at the beginning of Lauds we sing in Psalm 66: Terra dedit fructum suum: benedicat nos Deus, Deus noster! (The earth hath yielded her fruit; may God, our God bless us). The Fathers tell us that this terra that yields her fruit is none other than the Virgin Mother giving birth to the blessed fruit of her womb, Jesus. Allow your life to be sown like a grain of wheat in the virginal earth of the hortus conclusus that is the Mother of God. Buried deep in that garden enclosed, the grain of wheat will surely sprout, and grow, and give a prodigious yield.
You came to the monastic life five years ago to die. You came, a grain of wheat full of the promise of vitality, to be buried deep in the earth, trusting that, somehow, by the quickening of the Holy Ghost, life would be brought out of death. You came to the monastic life, like Abraham, daring to risk your life for something the world judges folly. "By faith he that is called Abraham, obeyed to go out into a place which he was to receive for an inheritance; and he went out, not knowing whither he went" (Hebrews 11:8). Therein is the story of the last five years of your life.
You came to the monastic life to offer God a clean parchment, saying to Him, "Thou hast cast all my sins behind thy back (Isaias 38:17); now, in thy mercy, write Thou Thyself the rest of my life". And He answered you, saying, "To him that overcometh will I give to eat of the hidden manna, and will give him a white stone, and on the stone a new name written, which no man knoweth save he that receiveth it.'" (Apocalypse 2:17).
In the litany you composed for these days of preparation, you invoke the Mother of God three times. The titles you chose are magnificent evidence of the deeply theological devotion to Our Lady that you have long nurtured in your heart:
Holy Mary, thou Bride unwedded!
Mother of God, ladder upon whom God descended!
Virgin of Virgins, through whom Paradise hath been opened to us!
To the Bride unwedded, open the door. Ascend upon the ladder by which God descends to you. Enter through the door and, beyond the virginal threshold, find the claustral paradise. I have never known a monk without love for the Mother of God who has persevered in his vocation; and I have never known a monk, having love for the Mother of God, who has not persevered. On this the vigil of your mystic death and resurrection as a monk, give yourself anew to the Mother of God, dear Father Benedict. Today we celebrate the dedication of her church in Rome; tomorrow we shall celebrate the dedication, not of a church of stone, but of a man who, in accepting death and burial, chooses life, life hidden in God with Christ, and with her to whom we rightly sing:
Rejoice! Vine whence springs a never-withering branch:
Rejoice! Orchard of Pure Fruit.
Rejoice! For thou tendest the Husbandman who loves mankind:
Rejoice! For thou hast borne the Gardener who cultivates out life.
Rejoice! Earth yielding a rich harvest of compassion:
Rejoice! Table laden with mercy in abundance.
Rejoice! For through Thee the fields of Eden flower again:
Rejoice! For thou makest ready a Haven for our souls.
Rejoice! Acceptable incense of intercession:
Rejoice! Propitiation of the whole world.
Rejoice! Loving-kindness of God unto mortal man:
Rejoice! Freedom of the approach for mortals unto God.
Rejoice! O Unwedded Bride!