God Hid Amidst Thine Own
July 9, 2015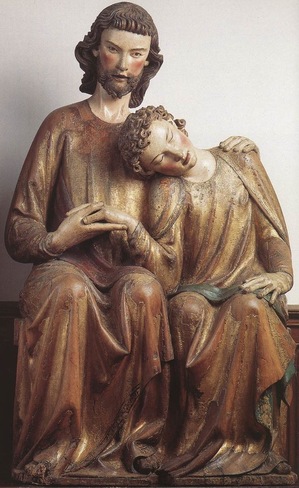 Ah! hath he so deserved?
At Silverstream Priory, we celebrate the Office and Votive Mass of Reparation, whenever the rubrics permit it, on the first Thursday of every month. Having heard several times, in recent weeks, of Sacred Hosts being found on the floor of churches and left, neglected, in a redundant pyx, the significance of this monthly Office and Mass of Reparation is all the more striking.
His Passion still unfolds
There is no question that, taken altogether, the widespread practice of Holy Communion distributed in the hand, a woefully deficient catechesis on the Most Holy Eucharist, and the loss of reverence at every level in the ars celebrandi, have contributed to a shocking rise in incidents of this sort. It is not the role of monks to catechise, nor to instruct the faithful directly, nor to raise the standards of liturgical celebration outside of the monastery. We can, however, do our part to affect change by demonstrating an approach to the sacred liturgy characterised by beauty, reverence, and care; and by persevering prayer for the Church, accompanied by tears. Saint Benedict says, "And let us remember that not for our much speaking, but for our purity of heart and tears of compunction shall we be heard" (Holy Rule, Chapter XX).
If any one of you ever happens to communicate with tears, whether you weep before the Liturgy or in the course of the Divine Liturgy, or at the very time that you receive the Divine Gifts, and does not desire to do this for the rest of his days and nights, it will avail him nothing to have wept merely once. It is not this alone that at once purifies us and makes us worthy; it is daily compunction that does not cease until death. (Saint Symeon the New Theologian)
Zeal for thy House
The Desert Fathers and those who transmitted their doctrine after them taught that it is not for monks to teach, but rather to weep. The tears shed in cloisters over the irreverence, neglect, and indifference that, in so many places, surround the Most Holy Sacrament of the Altar, are not shed in vain. Such tears act, mysteriously and silently, on the whole Mystical Body to cleanse, to heal, and to obtain the conversion of hearts.
The Matins hymn from the Office of Reparation given in the Mectildian Propers of the Benedictine breviary expresses the focus of our prayer today: "Thou Bread and Cup of Saints, receive our psalms and tears, O hidden God, O silent Word".
Hymn at Matins of the Office of Reparation
Nunc te flebilibus
[Anonymous, 17th c.–"What is there that I ought to do more to my vineyard, that I have not done to it? was it that I looked that it should bring forth grapes, and it hath brought forth wild grapes?"–Isaias 5]
1. O thou who art our Joy, our tender Grace and Rest,
God hid amidst thine own, the end of all our quest,
Thou Bread and Cup of Saints, receive our psalms and tears,
O hidden God, O silent Word.
2. Alas! while heaven outpours true Manna, living Bread,
The hearts of men grow cold, in shades amidst the dead,
No gratefulness, no praise to welcome thy descent,
O God, forsaken by thine own!
3. Ah! hath he so deserved? Hath he not given thee,
O thou his Vineyard dear, his love most tenderly?
For clustered grapes he looks, and lo! a tangle wild
Of bitter leaves and wood he finds!
4. Blasphemers circle 'round, with fangs of hatred bared,
To pierce with cruel words the Lamb in thorns ensnared,
Betrayed and sold again, his Passion still unfolds
In sacrilege and treachery.
5. Upon thine altars shine, O long desiréd King,
With radiance all divine and healing in thy wings;
O everlasting Love, reveal thy hidden Face,
That men may own thee, and adore.
6. Zeal for thy House profaned by men so wantonly,
Consumes our heart and soul, O gracious Trinity;
Open to us that House ne'er stained by evil's blight,
Where Saints with thee abide in light. Amen.