Suscipe me, Domine
July 31, 2015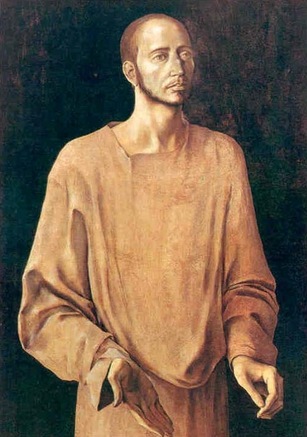 Thinking today of our friends of the Society of Jesus, especially of a brilliant young Jesuit from Poland who recently visited Silverstream. I have often thought that Saint Ignatius may have received the inspiration for his Suscipe prayer from our own Benedictine rite of monastic profession. Would Saint Iñigo not have witnessed such a rite at the great Benedictine abbey of Montserrat? I do not doubt that some learned Jesuit has already written a learned essay on the question.
Let him who is to be received make before all, in the Oratory, a promise of STABILITY, CONVERSION OF LIFE, and OBEDIENCE, in the presence of God and of His saints, so that, if he should ever act otherwise, he may know that he will be condemned by Him Whom he mocketh. Let him draw up this promise in writing, in the name of the saints whose relics are in the altar, and of the Abbot there present. And let him write it with his own hand; or at least, if he knoweth not how, let another write it at his request, and let the Novice put his mark to it, and place it with his own hand upon the altar. When he hath done this, let the Novice himself immediately begin this verse: Suscipe me, Domine, secundum eloquium tuum et vivam, et non confundas me ab expectatione mea. (Take me unto Thyself, O Lord, according to Thy Word, and I shall live: and let me not be confounded in my expectation.) And this verse let the whole community thrice repeat, adding thereto Gloria Patri. Then let the newly-received brother cast himself at the feet of all, that they may pray for him, and from that day let him be counted as one of the community. (Rule of Saint Benedict, Chapter LVIII)
And now, for this feast of Saint Iñigo of Loyola, here is a beautiful text of Pope Benedict XVI.
Self-Surrender
Romano Guardini relates in his autobiography how, at a critical moment on his journey, when the faith of his childhood was shaken, the fundamental decision of his entire life – his conversion – came to him through an encounter with the saying of Jesus that only the one who loses himself finds himself (cf. Mk 8:34ff.; Jn 12:25); without self-surrender, without self-loss, there can be no self-discovery or self-realization.
Falling into the Hands of God
But how should we lose ourselves? To whom do we give ourselves? It became clear to him that we can surrender ourselves completely only if by doing so we fall into the hands of God. Only in him, in the end, can we lose ourselves and only in him can we find ourselves.
Jesus and His Church
But then the question arose: Who is God? Where is God? Then he came to understand that the God to whom we can surrender ourselves can only be the God who became tangible and close to us in Jesus Christ. But once more the question arose: Where do I find Jesus Christ? How can I truly give myself to him? The answer Guardini found after much searching was this: Jesus is concretely present to us only in his Body, the Church.
Humble Obedience to the Church
As a result, obedience to God's will, obedience to Jesus Christ, must be, really and practically, humble obedience to the Church. This is something that calls us to a constant and deep examination of conscience. It is all summed up in the prayer of Saint Ignatius of Loyola – a prayer which always seems to me so overwhelming that I am almost afraid to say it, yet one which we should always repeat:
Saint Ignatius' Act of Surrender
"Take O Lord, and receive all my liberty,
my memory, my understanding and my entire will.
All that I have and all that I possess you have given me:
I surrender it all to you;
it is all yours, dispose of it according to your will.
Give me only your love and your grace;
with these I will be rich enough and will desire nothing more".
Pope Benedict XVI
Address to Priests and Religious
Mariazell, Austria
8 September 2007