Are you a victim?
January 12, 2015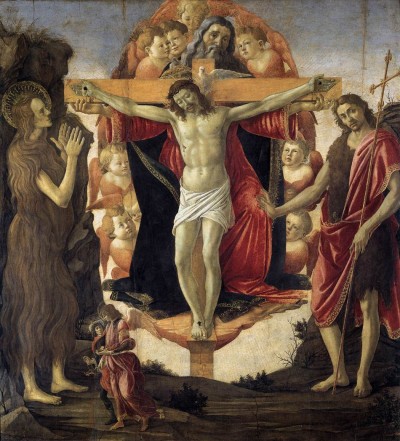 Katie's Questions
Recently, Katie, one of our Oblates, a wife and mother, wrote me: "The question of suffering is in my mind . . . Is suffering always and everywhere redemptive?  I assume only when it is offered up.  If a person does not know to offer up suffering, can the sacrifices of others through the grace of God help to obtain a redemptive quality to the particular suffering?" Since receiving Katie's question I have wanted to answer it, but I was waiting for the right opportunity to do so. The Epistle of yesterday's Mass (Sunday Within the Octave of the Epiphany) gave me that opportunity.
Obsecro itaque vos fratres per misericordiam Dei, ut exhibeatis corpora vestra hostiam viventem, sanctam, Deo placentem, rationabile obsequium vestrum.
I beseech you therefore, brethren, by the mercy of God, that you present your bodies a living sacrifice, holy, pleasing unto God, your reasonable service. (Romans 12:1).
Priesthood, Altar, and Victim
Saint Paul is addressing the Christians of Rome, people representative of every state of life. He entreats them by the mercy of God — for the mercy of God makes all good things possible — to place their very selves upon the altar (ut exhibeatis corpora vestra) as a victim made over to God, holy, and pleasing in His sight. In a single sentence, Saint Paul brings into play all the elements of the Jewish temple liturgy: the priesthood, the altar, and the sacrificial victim holy and pleasing to God. To these words and images familiar to himself and to all pious Jews of his time, the Apostle attributes a newness that only the mercy of God, revealed in Christ, can give them: rationabile obseqium vestrum, your reasonable service. With an eye to the original Greek text, we do well, I think, to render this phrase as "your divinely–inspired latria or your adoration in spirit and in truth".
Wholly Made Over to God
For Saint Paul, to be a Christian is to be a victim destined for the altar, that is, a sacrificial offering made over to God. Unfortunately, the current connotation of the word "victim" suggests that it refers only to a person to whom something bad has happened. It is not uncommon to read about or hear of victims of crime, victims of abuse, victims of cruelty, or victims of injustice. This use of the word "victim" creates no small confusion in the minds of Catholics who encounter the same word frequently in the Holy Scriptures, in the sacred liturgy, and in the writings of the saints. Let it be said clearly, then, that the Catholic meaning of the word "victim" refers not to a person to whom something bad has happened but, rather, to a person to whom something good has happened, to whom, in fact, the very best thing possible has happened: communion with Jesus Christ in the mystery of His self–offering to the Father.
Christ is the Victim prefigured in all the sacrifices of the Old Law. Thus does He say upon coming into the world:
Sacrifice and oblation thou wouldest not: but a body thou hast fitted to me: Holocausts for sin did not please thee. Then said I: Behold I come: in the head of the book it is written of me: that I should do thy will, O God. (Hebrews 10:5–7)
In Catholic theology a victim (hostia in Latin) is one wholly made over to God in a sacrificial oblation. Christ, the Lamb without blemish (1 Peter 1:19) is "the pure victim, the holy victim, the spotless victim" (Roman Canon) provided by God Himself according to Abraham's prophetic word to Isaac, "God Himself will provide the victim (Genesis 22:8). All who are united to Christ by baptism into His death and by partaking of Holy Communion become victims with Him or, rather, become one with the sacrificial Lamb "slain from the foundation of the world" (Apocalypse 13:8).
The Universal Sacrifice of the Great High Priest
Writing in The City of God, Saint Augustine makes this clear:
The whole redeemed city, that is to say, that is the congregation and fellowship of the saints, is offered to God as the universal sacrifice through the great High Priest, who in his Passion offered himself for us in the form of a servant, to the end that we might be the body of such a great head. For it was this servant form that He offered, and it was in this form that he was offered, because it is according to this form that he is the mediator, in this form that he is the priest, and in this form that he is the sacrifice. (The City of God, Book X, Chapter 6)
Father, Into Thy Hands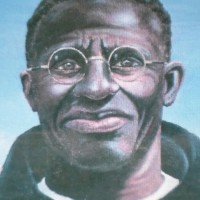 Blessed Michael Iwene Tansi, the Nigerian Cistercian monk and priest who died at Mount Saint Bernard's Abbey in England in 1964, put it simply: "If you are going to be a Christian at all, you might as well live entirely for God". A victim is one who lives — and dies — entirely for God. It follows, then, that the most perfect prayer of victimhood, one that can be repeated in all the circumstances of life, is the prayer of abandonment uttered by Our Lord from the Cross: "Father, into thy hands I commend my spirit" (Luke 23:46). The victim–soul, if we understand this term correctly, is one who, being united to Jesus Christ by Baptism and by partaking of His sacred Body and precious Blood, enters into the mystery of His "Yes" to the Father, the "Yes" signified when, upon the altar of the Cross, "bowing his head, gave up His spirit" (John 19:30). Saint Benedict places this victimal disposition at the summit of the twelve degrees of humility in Chapter VII of the Holy Rule:
The twelfth degree of humility is, that the monk, not only in his heart, but also in his very exterior, always shew his humility to all who see him: that is, in the work of God, in the oratory, in the monastery, in the garden, on the road, in the field or wherever he may be, whether sitting, walking or standing, with head always bent down.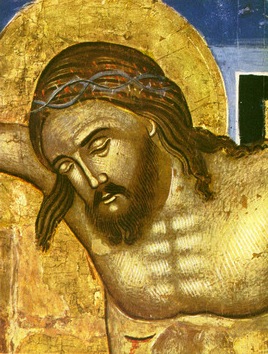 Saint Benedict's description of the  "head always bowed down" is an iconographic device. Readers of the Holy Rule familiar with John 19:30 immediately make the connection. The monk, having arrived at the twelfth degree of humility, is configured to Jesus in the free laying down of His life as a sacrificial victim made over to the Father in love.
Therefore doth the Father love me: because I lay down my life, that I may take it again. No man taketh it away from me: but I lay it down of myself, and I have power to lay it down: and I have power to take it up again.(John 10:17–18)
Victim: A Title Bestowed in Baptism
Writing in the 17th century, Catherine–Mectilde de Bar gave luminous expression to the victimal quality of the Christian life. Mother Mectilde presents victimhood in relationship to Baptism. One united to Christ by Baptism enters into the mystery of His immolation, becoming with Him a single victim made over to the Father.
Regarding the sacrifice of the altar, you know that it is the memorial of [the sacrifice of] the cross and a continuation of this most adorable sacrifice . . . no longer bloody, but remaining efficacious.  You were not present on Calvary to consent to your crucifixion; Our Lord, therefore, wants you to consent to that of the altar in order to accomplish what was lacking to His Passion, in such wise that, as His member, you are offered to the Father with Jesus Christ and through Jesus Christ. The priest holds you mystically in his hands and, in this manner, you are in the Host.
O the dignity of the state of the Christian: to be made one thing with Jesus Christ, to be crucified with Him and to be immolated every day upon the altar with Him!
This is the vocation of all Christians chosen to have the honour of the divine character which makes them children of God and consorts of Jesus Christ. They are destined, consequently, to possess the treasures of His grace, remaining united to Him not only as children of God, but as His members, forming but one body with Jesus Christ and, thus, one single host and victim, clothed in His adorable dispositions.
I invite you to double again your fidelities so as to make yourselves true victims; this is not a new quality. It is a title that Jesus Christ impressed upon us at Baptism, with the obligation of making it efficacious. (Letter to the community of Paris quoted in J. Daoust, Catherine de Bar, Mère Mectilde du Saint–Sacrement, Téqui, Paris 1979, pp. 57–58)
This [vow of victimhood] is not, properly speaking, a particular vow. By Baptism every Christian becomes a victim unto God, and this by virtue of relationship and union with Jesus Christ. The members are united to the Head and enlivened by Him, the divine Saviour, the victim of His divine Father. Christians, being members united to Him, cannot dispense themselves from entering into this state of victimhood. (Le véritable esprit quoted in J. Daoust, p. 58)
The Lex Orandi
The whole current of "victim spirituality" that was so popular in the 19th century and even into the 20th century, with its attendant literature written by or about so–called "victim souls" must be read through the clear lens of the liturgy if it is to be understood correctly. The Church prays, for example, in the Secret of the Votive Mass of Jesus Christ, Eternal High Priest:
May Jesus Christ, our Mediator,
render these offerings acceptable to Thee, O Lord,
and may He present us with Himself as victims agreeable to Thee.
Who being God, lives and reigns with You, in the unity of the Holy Spirit,
forever and ever.
He we are not in the realm of private revelations or of a sentimental devotionalism; this is the language of the Church at prayer establishing what we, as Catholics, believe, and calling us to live what, in the liturgy, we profess. Lex orandi, lex credendi, lex vivendi. Again, in the magnificent Gallican Preface of the Most Holy Eucharist, the priest sings of Christ the Victim and of the faithful who are invited to become a single Victim with Him:
In this mystery of Thy inscrutable wisdom and boundless charity, that very thing which He once accomplished on the Cross does not cease to be accomplished, He Himself both sacrificing and sacrificed. And He invites us, made a single Victim with Him, to the holy banquet, in which He Himself is taken up as our food, the memory of His Passion is renewed, the mind is filled with grace, and a pledge of future glory is given us.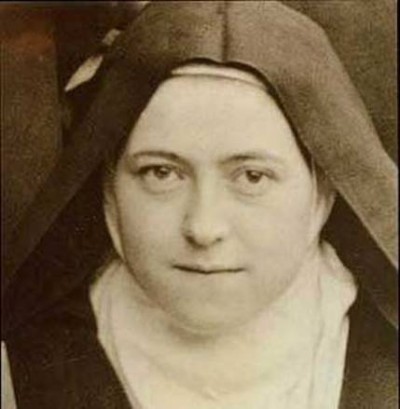 Saint Thérèse
From all of this it is evident that the Catholic understanding of victimhood is not the one evoked in the writings of certain souls bent on offering themselves to an angry God in search of someone upon whom to vent His outraged justice. Saint Thérèse of the Child Jesus and of the Holy Face, the youngest Doctor of the Church, unmasked the fascination with offering oneself as a victim to the Divine Justice that so attracted the spiritual elite of her own time:
I received the grace to understand more than ever before how much Jesus desires to be loved. I was thinking about the souls who offer themselves as victims of God's Justice in order to turn away the punishments reserved to sinners, drawing them upon themselves. This offering seemed great and very generous to me, but I was far from feeling attracted to making it. From the depths of my heart I cried out, "O my God! Will Your Justice alone find souls willing to immolate themselves as victims? Does not Your Merciful Love need them too? On every side this love is unknown, rejected; those hearts upon whom You would lavish it turn to creatures, seeking happiness from them with their miserable affection; they do this instead of throwing themselves into Your arms and of accepting Your infinite Love. O my God! Is your disdained Love going to remain closed up within Your Heart? It seems to me that if You were to find souls offering themselves as victims of holocaust to Your Love, You would consume them rapidly; it seems to me, too, that You would be happy not to hold back the waves of infinite tenderness within You. If Your Justice loves to release itself, this Justice which extends only over the earth, how much more does Your Merciful Love desire to set souls on fire since Your Mercy reaches to the heavens. O my Jesus, let me be this happy victim; consume Your holocaust within the fire of Your Divine Love. (The Story of a Soul, translated by John Clarke, O.C.D., ICS Publications, Washington, DC, 1996, p. )
Saint Thérèse, like Mectilde de Bar before her, directs her self–offering not to God the Father, but to God the Son. Implicitly, both Saint Thérèse and Mother Mectilde teach that by offering oneself as a victim to Jesus, one acknowledges His eternal priesthood and consents to become in His hands a sacrificial victim made over with Him, in Love, to the Father. This abandonment into the hands and heart of the Eternal High Priest, especially when it is made in a state of suffering, is the highest and most fruitful expression of victimhood because it is patterned after Jesus' own abandonment to the Father. "That the world may know, that I love the Father: and as the Father hath given me commandment, so do I" (John 14:31).
Is Suffering Always and Everywhere Redemptive? 
I return now to Katie's questions. Katie writes, "Is suffering always and everywhere redemptive?  I assume only when it is offered up". When a soul is united to Christ by Baptism and by means of Holy Communion — and this union with Christ is a question not of feeling but of a supernatural fact — all that soul's sufferings are the sufferings of Christ. Christ suffers in His members and all that He suffers He offers to His Father. The sufferings of Christ in His members are always redemptive, fruitful, and life–giving.
One need not make any particular psychological effort to offer up one's sufferings and one need not "feel" that one is offering them up. In illness, depression, and other debilitating afflictions, one can be quite incapable of praying and find it impossible to articulate any kind of act of offering. Such subjective expressions are not necessary. Christ has already said it all for us. His prayer in Gethsemani and on the Cross reaches the Father as our own prayer and in that prayer the Father is well–pleased. "Father, if thou wilt, remove this chalice from me: but yet not my will, but thine be done" (Luke 22:42). "Father, into thy hands I commend my spirit" (Luke 23:46). It is enough to be united to Jesus Christ.
The sufferings of the members of the Mystical Body are attributed to the Head, and the Passion of the Head is attributed to each of His members. "I am the vine: you the branches: he that abideth in me, and I in him, the same beareth much fruit: for without me you can do nothing" (John 15:5). This is Saint Paul's experience and teaching: "I rejoice in my sufferings for you, and fill up those things that are wanting of the sufferings of Christ, in my flesh, for his body, which is the Church" (Colossians 1:24).
This does not mean that prayers of self–offering have no value. The practice and teaching of the sacred liturgy itself and of saints and mystics through the ages give countless examples of such prayers, many of which are wonderfully inspired. Of all of these, the verse that Saint Benedict places on the lips of his sons at the hour of their monastic consecration is the perfect expression of one's desire and resolve to be united to the Victim Christ in His abandonment to the Father: Suscipe me, Domine, secundum eloquium tuum et vivam; et con confundas me ab expectatione mea. "Receive me, O Lord, according to Thy word and I shall live; let me not be confounded in my expectation" (Psalm 118:116).
Offering in the Name of Others
Katie also asks, "If a person does not know to offer up suffering, can the sacrifices of others through the grace of God help to obtain a redemptive quality to the particular suffering?" It is not a question of "knowing how". The essential matter is whether or not one is abiding in Christ and this, I emphasize, pertains not to feelings, nor to thoughts, nor to subjective impressions, but to a simple faith in the efficacy of the sacraments by which we are united to Christ and He to us ex opere operato, by the simple doing of the deed. I find this wonderfully comforting. I am a victim with the Victim Christ not because I think I am, nor because I say I am, nor because I feel that I am, but simply because in Him I am what I am. "For to me, to live is Christ" (Philippians 1:21). Even if a Christian should die alone and unconscious that Christian's sufferings and death are, in the eyes of the Father, the very sufferings and death of Christ for all that belongs to the member belongs to the Head and all that belongs to the Head belongs to the member.
This being said, one can articulate for another person the sentiments of self–offering, surrender, and willing victimhood that, for reasons of infirmity, fatigue, or mental confusion, that person is incapable of expressing or even thinking. To do this is to carry out  a powerful work of compassion and to collaborate with Christ in the exercise of His priesthood. The Mystical Body of Christ is so ordered by the Holy Ghost that while some bow their heads in suffering, entering into the victimhood of Jesus, others raise their eyes to the Father and enter into the mystery of His mediating priesthood. "But all these things one and the same Spirit worketh, dividing to every one according as he will. For as the body is one, and hath many members; and all the members of the body, whereas they are many, yet are one body, so also is Christ" (1 Corinthians 12:11–12).
This has been a lengthy response to Katie's questions. I thank Katie for asking what she did for she gave me an opportunity to reflect on the mystery of identification by grace with the Victim Christ. For one who abides in Jesus Christ no tear is forgotten and no suffering lost. Deep in the heart of all who belong to Christ, the Father reads the indelible inscription of His Son's victimhood in suffering: "Father, into thy hands I commend my spirit" (Luke 23:46).