Beuronese Art at Silverstream?
December 12, 2014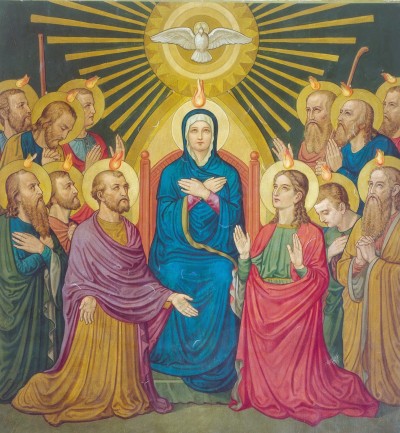 A Home for the Life of Our Lady in Murals
James Vogel has contacted Silverstream Priory to let us know the availability of an original set of 15 murals painted early in the 20th century. One of these murals depicts the title under which Silverstream Priory is dedicated: Our Lady of the Cenacle. These murals represented the work of the Benedictine school of art that flourished in the 19th century in the Abbey of Beuron in Germany. They belong in a Benedictine cloister. We would like to be that cloister! The Beuronese school of sacred art is, I believe, to the eye, what Gregorian Chant is to the ear.
These particular murals  were painted by Fr. Bonaventure Ostendarp from St. Vincent's Archabbey in Latrobe, Pennsylvania, for St. Mary's Church in McKeesport, PA. When St. Mary's was closed in the 1990's, the murals were sold to Our Lady of Fatima Chapel in Carnegie, PA. With the congregation of Our Lady of Fatima relocating to a new church, these murals are once again available for purchase. We do not have the means to purchase them, but would welcome them as Christmas gifts. Each mural can be dedicated to the memory of a loved one or family.
The common theme of the murals is the Life of the Blessed Virgin Mary — eminently suitable for a monastery dedicated to Our Lady such as ours.  In particular, they depict the Vision of King David and the Prophet Isaias, the Nativity of the Blessed Virgin, the Presentation, the Marriage of the Virgin, the Annunciation, the Visitation, the Nativity of Our Lord, the Adoration of the Magi, the Purification, the Flight to Egypt, Christ in the Temple, the Marriage Feast of Cana, the Meeting of Jesus and Mary at Calvary, the Descent of the Holy Ghost, and the Death of the Virgin.
They are all oil on canvas, approximately 82 by 73 inches, including the frames. Anyone interested in donating one or several panels to Silverstream Priory should telephone James Vogel (of Angelus Press in Kansas) on 412-330-9801 or email him: jvogel@angeluspress.org.