A plenitude of God and a plenitude of miseries
October 1, 2014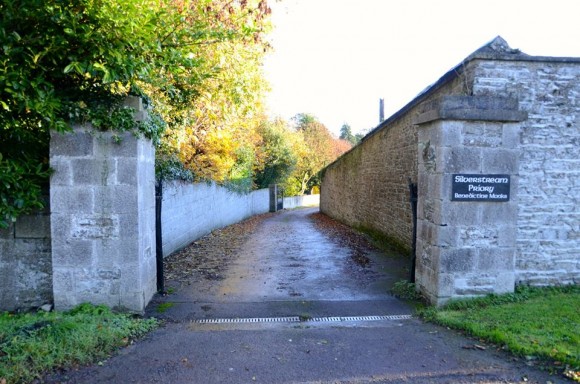 An Action Transcending Time and Space
In a letter to Monsieur de Bernières dated 23 June 1654, Mother Mectilde wrote:
I saw in an ineffable manner how Jesus Christ in the Most Holy Sacrament makes reparation to the glory of His Father. This was something vast, and I learned how we are to make the amende honorable [act of reparation] that, in this house, we are obliged to perform every day before the Most Holy Sacrament.
Here at Silverstream we make the amende honorable [act of reparation] every day after Mass. It is a solemn moment in itself, with one of us reading the prayer at the column in the middle of the choir and the rest of us lying prostrate on the floor, but the vastness, the immensity, the universal resonance of the gesture derives not from what we, poor sinful men do, but from the all–sufficient reparation of Christ to the Father, an action transcending time and space to which the Holy Ghost unites us: our bodies to His Body, our blood to His Blood, our souls to His Soul, our hearts to His Heart.
The Little Secret Path
Mother Mectilde also writes:
If there remains in me any will or desire, it is only to desire that God alone should be, and yet I am not faithful to this. It seems to me that I have a plenitude of God and a plenitude of miseries. In this you see a great contradiction; nonetheless it doesn't trouble me at all, and I am no longer upset about it at all, though formerly it caused me distress. My soul finds nothing a cross any more and almost nothing makes me suffer because, since finding this little secret path, my soul is no longer subject to trouble, and creatures mean much less to me. It is not that I am living a lofty life, because I see nothing so low nor so common and, in spite of this, my [inward] rest is so total that only rarely is it interrupted.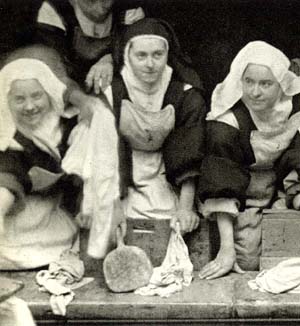 What is this "little secret path" that Mother Mectilde speaks of? Is not the itinerary of Saint Thérèse of the Child Jesus and of the Holy Face? Is it not an experience of her "little way" some two hundred years before she began to teach it? I, for one, take great comfort in Mother Mectilde's realism: "I have a plenitude of God and a plenitude of miseries." Thérèse could have said as much.
Is not Mother Mectilde's "little secret path" the same discovery that allowed Saint Thérèse to bear with a companion's nerve–racking habit of rattling her rosary beads during silent prayer, or with having dirty water splashed in her face while stooped over the laundry trough? "Creatures mean much less to me" — what does this mean if not that Mother Mectilde has learned to stop dramatising life's petty annoyances and to accept her neighbour's unpleasant foibles without inflating them?
Mother Mectilde came, over time, to accept her lot in life and to embrace it as her mission. She was, at least for a time, to be the humble prioress of a little monastery vowed to perpetual adoration of the Most Holy Sacrament. It was by fully accepting this that she allowed God to prepare her for the greater challenges that were to come.
No Ambition to Build a Showcase Monastery
The last letter of Mother Mectilde to Jean de Bernières is dated 26 January 1655. In it she confides in her friend, sharing with him her deep desire for a hidden life, and the vision of what God is asking of her:
At bottom I still have a distance [from everything] and I find only God alone as my one support. In Him I find the only thing I need. It seems to me also that I have absolutely no ambition to build a showcase monastery; on the contrary, I would want a very little place, a place in which one is not seen nor known by anyone. There are enough brilliant houses in Paris in which God is honoured in magnificence; I desire that this house should honour Him in silence and in nothingness, without, however, diminishing anything of what might contribute to the worship and honour of the Blessed Sacrament, that is, for the church and the altar of the Lord.