Wait on God with patience
June 16, 2014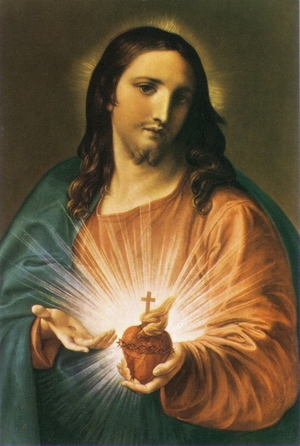 The Beginning of a Friendship
How did I first come to know Marie-Adèle Garnier? (See the previous entry for details about her life.) I was introduced to her by Blessed Columba Marmion! In order to reconstruct the genesis of our "friendship" — for one can have a friendship with the saints in heaven — I must return to my first exposure to monastic life in 1969.
Young Men and the Books They Read
I discovered Abbot Columba Marmion's writings when I was fifteen years old. I was visiting Saint Joseph's Abbey in Spencer, Massachusetts. Father Marius Granato, O.C.S.O., charged at that time with helping young men — even very young men — seek God, put Christ, the Ideal of the Monk into my hands. He even let me take the precious green-covered volume home with me. With all the ardour of my fifteen years I devoured it. No book had ever spoken to my heart in quite the same way.
My Spiritual Father
I read and re-read Christ, the Ideal of the Monk. At fifteen one is profoundly marked by what one reads. The impressions made on a soul at that age determine the course of one's life. As I pursued my desire to seek God, I relied on Dom Marmion. I chose him not only as my monastic patron, but also as my spiritual father, my intercessor, and my guide.
Dom Denis Huerre, O.S.B., in his biography of Père Muard, the founder of the Abbey of La-Pierre-Qui-Vire, discusses Père Muard's extraordinary spiritual kinship with Saint Margaret Mary Alacoque. (She is, in fact, the secondary patron of La-Pierre-Qui-Vire.) Dom Denis concludes that it is not we who choose the particular saints with whom we desire to cultivate a special friendship; it is, rather, these particular saints who choose us. This, I am convinced is part of God's plan for the holiness of each one.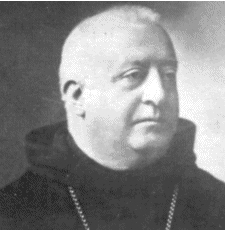 Spiritual Affinities
I became an avid reader of everything written by or about Abbot Marmion. In one of these books I encountered Marie-Adèle Garnier, Mother Mary of St. Peter, the foundress of the Adorers of the Sacred Heart of Tyburn, O.S.B. The little bit I read about her was very compelling: her focus on the Sacred Heart of Jesus and on adoration of the Most Holy Eucharist, her love of the Mass and the Divine Office, and her profound attachment to the Church. We were, without any doubt, united by a certain spiritual affinity.
Dom Marmion's Letters
Blessed Marmion's Letters of Spiritual Direction, edited by Dom Raymond Thibaut under the title Union With God, contain several pages of the Abbot's correspondance with Mother Mary of St. Peter. Among other things, Dom Marmion wrote:
"The very real imperfections which you confess to me do not make me doubt the reality of the grace you receive. God is the Supreme Master, and He leaves you these weaknesses in order that you may see that these great graces do not come from you, and are not granted to you on account of your virtues, but on account of your misery. You are a member of Jesus Christ, and the Father truly gives to His Son what He gives to His weak and miserable member. Do not be astonished, do not be discouraged when you fall into a fault, but draw from the Heart of your Spouse — for all His riches are yours — the grace and virtue that are wanting to you."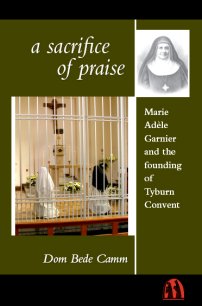 Saint Luke Kirby and Mother St. Thomas More Wakerley
In 1972, during my frightfully precocious initial experience of traditional Benedictine life, I wrote to the Tyburn Benedictines for the first time. (In photos from that period I am a very thin bespectacled 20 year old, looking rather like a young Pius XII in a Benedictine habit!) My purpose in writing to Tyburn was to learn more about Mother Mary of St. Peter, and also to request information on Saint Luke Kirby, one of the Tyburn martyrs whose surname I bear. I received a lovely reply written in what appeared to be a frail and trembling hand: a letter from Mother M. St. Thomas More Wakerley. Mother St. Thomas More sent me the information I had requested on Saint Luke Kirby as well as the red-covered biography of Mother Mary of St. Peter by Dom Bede Camm, O.S.B. The book was re-edited in 2006 by Saint Michael's Abbey Press.
Friends of the Sacred Heart
I read and re-read the book, finding that Marie-Adèle Garnier and I moved, so to speak, within the same constellation of mysteries: the Heart of Jesus, the Eucharist, the Sacred Liturgy, the Priesthood, and the Church. Blessed Abbot Marmion's writings continued to nourish me, as did those of Saint Gertrude the Great and other Benedictine and Cistercian friends of the Sacred Heart. Dom Ursmer de Berlière's book (in the "Pax" Collection) on the Sacred Heart within the monastic tradition added kindling to the fire. At about the same time, I read the life of other Benedictine mystics of the Sacred Heart: among them were Père Jean-Baptiste Muard, founder of La-Pierre-Qui-Vire, Mère Jeanne Deleloë, and Blessed Giovanna Bonomo.
Stability in the Heart of Jesus


In 1975, having wisely taken time out from the cloister, I made a pilgrimage to the cradle of Benedictine life at Subiaco. There I met Dom Nathanaël, a wise old monk who had been Master of Novices at La-Pierre-Qui-Vire. When I asked him for counsel concerning my monastic journey, he said to me, "Frère, tu dois faire ta stabilité dans le Coeur de Jésus — Brother, you must make your stability in the Heart of Jesus." These words were to sustain me in the years ahead. I know that Marie-Adèle Garnier would have understood them perfectly.
The Open Heart of Jesus Crucified
On August 4, 1979, together with Father Jacob, now a Dominican, and another brother, now a Franciscan, I went on pilgrimage to Montmartre in Paris. There, in the crypt of the Basilica of the Sacred Heart, at the altar of the Compassion of the Blessed Virgin Mary, and trusting in her intercession, we consecrated ourselves to the Heart of Jesus and to His designs on our life. Within me the desire was growing for a simple Benedictine life, characterized by the worthy celebration of the Divine Office and by adoration of the Most Holy Eucharist. The wounded Side of Our Lord exercised a supernatural power of attraction over me. The text of our Act of Consecration was printed on a leaflet with a drawing depicting a monk being drawn to the open Heart of Jesus Crucified. The attraction to the pierced Heart of Jesus and to His Holy Face was constant and undeniable.
Humble Thy Heart and Endure
I often recalled the text from the second chapter of Ecclesiasticus read at a Mass celebrated by a Dominican friend when first I set out on my monastic journey:
Son, when thou comest to the service of God, stand in justice and in fear, and prepare thy soul for temptation.Humble thy heart, and endure: incline thy ear, and receive the words of understanding: and make not haste in the time of clouds. Wait on God with patience: join thyself to God, and endure, that thy life may be increased in the latter end. Take all that shall be brought upon thee: and in thy sorrow endure, and in thy humiliation keep patience. For gold and silver are tried in the fire, but acceptable men in the furnace of humiliation. Believe God, and he will recover thee: and direct thy way, and trust in him. Keep his fear, and grow old therein. Ye that fear the Lord, wait for his mercy: and go not aside from him, lest ye fall. Ye that fear the Lord, believe him: and your reward shall not be made void. Ye that fear the Lord, hope in him: and mercy shall come to you for your delight. Ye that fear the Lord, love him, and your hearts shall be enlightened. My children behold the generations of men: and know ye that no one hath hoped in the Lord, and hath been confounded. For who hath continued in his commandment, and hath been forsaken? or who hath called upon him, and he despised him? For God is compassionate and merciful, and will forgive sins in the day of tribulation: and he is a protector to all that seek him in truth. Woe to them that are of a double heart and to wicked lips, and to the hands that do evil, and to the sinner that goeth on the earth two ways. Woe to them that are fainthearted, who believe not God: and therefore they shall not be protected by him.
Woe to them that have lost patience, and that have forsaken the right ways, and have gone aside into crooked ways. And what will they do, when the Lord shall begin to examine? They that fear the Lord, will not be incredulous to his word: and they that love him, will keep his way. They that fear the Lord, will seek after the things that are well pleasing to him: and they that love him, shall be filled with his law. They that fear the Lord, will prepare their hearts, and in his sight will sanctify their souls. They that fear the Lord, keep his Commandments, and will have patience even until his visitation, saying: If we do not penance, we shall fall into the hands of the Lord, and not into the hands of men. For according to his greatness, so also is his mercy with him.
The Journey Continues
My monastic journey continued in the light (and often in the mysterious obscurity) of the Eucharistic Face of Christ, and with the passing years I came to understand more and more that the only enduring stability of a monk is in the pierced Heart of Jesus.
There the Lord Hath Commanded Blessing
I warmly invite the readers of Vultus Christi to seek Mother Mary of St. Peter's intercession. Behold, how good and how pleasant it is for friends of the Sacred Heart of Jesus to dwell together in unity. . . . for there the Lord hath commanded blessing, and life forevermore (cf. Ps 132:1, 3).