6th day: Novena to Saint Dymphna
May 11, 2014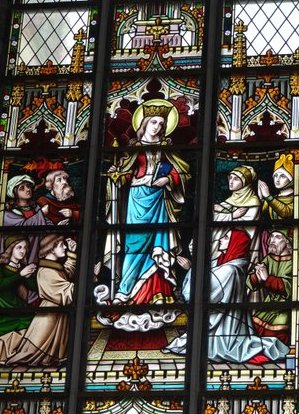 This evening at 8:00 at Silverstream Priory: Sermon with Novena Prayer and Blessing with the Relic of Saint Dymphna.
Silence, Solitude, Prayer
Speaking through the prophet Osee, God says, « Behold I will allure her, and will lead her into the wilderness: and I will speak to her heart » (Osee 2:14).  Whenever God draws a soul into a closer relationship with Himself, he attracts that soul into some measure of silence and solitude. You may be thinking, « This happens in the lives of the great hermit saints, but surely not in the lives of ordinary people. » Yes, it happens in the lives of ordinary people — husbands, and wives, and even children. » Not everyone is called to silence and solitude in the same measure or in the same way, but the call is universal nonetheless. "Come apart into a desert place," says Our Lord, "and rest a little" (Mark 6:31). There are ages and seasons in life when we count ourselves blessed to have even five minutes of quiet to ourselves. There are other ages and seasons in life when we find ourselves alone for long hours, either by choice or by circumstances.
Hidden in the Forest
Saint Dymphna was fourteen years old when she fled Ireland and settled close by Saint Martin's chapel in the forest of Flanders. Our Lord guided Saint Dymphna into a place of profound stillness, removed from the clamour and excitement of her father's court, far from the whisperings and intrigues of people contending for power, money, and pleasure. Though young, Dymphna had seen and heard enough of life. Our Lord gave her a year of silence and of rest. Father Gerebernus was with her to offer the Holy Sacrifice of the Mass. Nourished with the Bread of Life and enlightened by Father Gerebernus' teaching, Dymphna grew in holiness. Did she know that this year in the forest was to be the noviceship in preparation for her martyrdom and the courtship in preparation for her wedding to the Bridegroom of her soul?
In the Presence of God
Saint John the Baptist, the Friend of the Bridegroom, had his years hidden away in the Judean desert. Our Lord lived quite hidden and unnoticed as the carpenter's son in Nazareth. After His Baptism, the Holy Ghost drove Him into the wilderness where He fasted and prayed for forty days and forty nights. During His public life, Our Lord withdrew frequently into desert places and prayed to His Father through the whole night. After Saint Joseph's death, Our Blessed Lady lived as a widow, veiled in her solitude with God like a tabernacle in some deserted chapel.
Dymphna too had to experience what it is to be alone for God, to be alone with God, to prefer the presence of God to the company of every other friend, confidant, or lover. Even in the best of marriages, there are hours of aloneness and silence. The children grow up and leave home for lives of their own. One's spouse may be absorbed by work or other interests. How does one live this loneliness and silence fruitfully? How does one bear it without becoming cynical or bitter? Only by opening one's heart to the presence of God.
Solitude and Hospitality
Saint Dymphna, like Saint Thérèse so many centuries later, had to grow up quickly. Her allotted time on this earth was very brief. God condensed all that she needed to experience of life into fifteen years, the last of which was spent in a solitary place with nought but the song of birds to accompany her prayers and, only occasionally, the visit of someone poor, sick, hungry, or in need of shelter. Saint Dymphna teaches us the secret of being content in solitude without forsaking the duty of hospitality.
When God Prepares the Heart
Do not flee from solitude. Do not seek to escape from the few moments of quiet that may come your way in the course of a busy day. Rather treasure such moments, and savour them. God may be giving them to you to prepare you for some sacrifice, some unexpected joy, some blessing undeserved and never imagined.