3rd Day: Novena to Saint Dymphna
May 8, 2014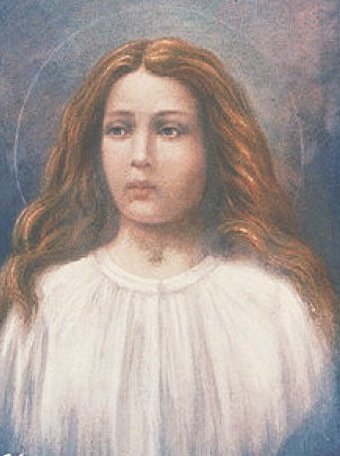 This evening at 8:00 at Silverstream Priory: Sermon with Novena Prayer and Blessing with the Relic of Saint Dymphna.
Damon
Saint Dymphna's father, the chieftain Damon is portrayed, more often than not, as a depraved monster. Hagiographers pass lightly over the fact that Damon was driven to madness by grief over the death of his wife. Damon was not a Christian. For him, death was the end, and beyond death he believed in nothing. He had no hope to live by. The situation was exactly the one that Saint Paul describes in his First Epistle to the Thessalonians:
Make no mistake, brethren, about those who have gone to their rest; you are not to lament over them, as the rest of the world does, with no hope to live by. We believe, after all, that Jesus underwent death and rose again; just so, when Jesus comes back, God will bring back those who have found rest through him. (1 Thessalonians 4:12–13)
A Man Without Hope
Damon's grief was not the healthy experience of deep sorrow at the parting of a loved companion and spouse; it was a poisonous grief, eating his heart out and leaving him open to any and all propositions, even immoral ones. All around him there were spiritual vultures, preying on his vulnerability. As a chieftain, Damon appeared strong and powerful; as a man without faith and without hope he was fragile and helpless.
And It Was Night
At some point Damon must have made a conscious decision to shut out the light of faith. I am reminded of what Saint John tells us about Judas: «He went out immediately. And it was night » (John 13:30). When Damon chose to go out into the night, his mind was darkened and, in some way, his heart — the heart of a father — turned to ice. He became blind and unfeeling.
Damon's plight is the plight of every man who, making a choice for the darkness, turns his back on the light. Every step into the darkness alienates him further from goodness, beauty, and truth, until, at length, he finds himself in a life devoid of all that his good, beautiful, and true: a life without God. Such a life is hell on earth.
Mercy in Pursuit of Misery
God, in His infinite mercy, never stops offering opportunities of conversion to those who turn away from Him. God is persistent. He so arranges things that, by means of a thousand combinations of circumstances and events, it is possible to return to Him and receive His love. At any moment, Damon could have entered into himself and said, «What you are doing, man, is madness. Stop now. It is not too late. Respect your daughter. Protect her. Take to heart her witness to God. Stop kicking against the goad. »

Forgiveness
We are not told what happened to Damon after murdering his child. I should like to think that, Dymphna's forgiveness of him, and her intercession for him were so powerful that he repented of his crime, turned to Jesus Christ, and lived out the rest of his days in peace with God. Such conversions are not impossible.  Would not Dymphna have prayed even as Jesus prayed from the Cross, «Father, forgive them, for they know not what they do «  (Luke 23:34)? Would she not have prayed as Saint Stephen did in the hour of his death: «Lord, lay not this sin to their charge » (Acts  7:59)?
Saint Maria Goretti
Saint Maria Goretti, who has much in common with Saint Dymphna, prayed for her murderer, Alessandro Serenelli and forgave him before she died of her stab wounds. Immediately after his brutal assault on Maria, Alessandro was locked up in a local prison, and then moved to a prison in Rome to await his trial. Initially, he denied his guilt, but finally, in the face of the massive evidence against him, he confessed to his crime and, because of his youth, was condemned to thirty years hard labor. When a priest called to visit him in prison, Alessandro turned on him, howling in rage, and threatening him. With the passage of time, Alessandro stopped eating; he became more and more anxious and tormented.
Alessandro's Conversion
After six years of incarceration, Alessandro, then only twenty years old, was on the very edge of complete despair. Then one night, Maria Goretti, surrounded by lilies of a heavenly brightness, appeared to him. Maria smiled at Alessandro and, in that smile, communicated to him her own pardon and the merciful pardon of God. At that moment, peace filled Alessandro's heart. His life changed. After his release from prison, he sought out Maria's mother and begged her to forgive his crime. Forty years after murdering Maria Goretti, Alessandro Serenelli attended her canonisation in Saint Peter's Basilica in Rome; it was June 24th, 1950.
The Intercession of the Saints
If Saint Dymphna is the heavenly advocate of people suffering from mental illness, from depression, anxiety, despondency, and nervous disorders, it is because she made herself her own father's advocate before the Mercy–Seat of God. There is no bitterness in the saints, no lingering resentment, no spirit of vengeance. The saints are those who, having passed over into the pure love of God, are loving towards all. It is this that makes their intercession so powerful: it is a prayer uttered out of love, in love, to Love, for «God is love » (1 John 4:7). It is love that makes our intercession powerful. A prayer uttered without love is a currency with no value.
God Is Charity
Hear, then, Saint John, the Apostle of Love, and take his message to heart:
« Every one that loveth, is born of God, and knoweth God. He that loveth not, knoweth not God: for God is charity. By this hath the charity of God appeared towards us, because God hath sent his only begotten Son into the world, that we may live by him. In this is charity: not as though we had loved God, but because he hath first loved us, and sent his Son to be a propitiation for our sins » (1 John 4: 7–10).
People the world over bear witness to graces received through the intercession of Saint Dymphna. It would seem that God has given her a special task in heaven: she befriends those suffering from depressive illness and despondency. She makes herself present to pull souls back from the brink of despair. All of this is, I think, the fruit of the love with which she forgave her father. She looked upon him with a tender pity, and she will do the same for anyone, broken in spirit, who calls upon her. Being in God, who is love, she puts love where love is wanting and, in doing this, heals minds and hearts.