The gaze beyond the lattice–work
April 5, 2014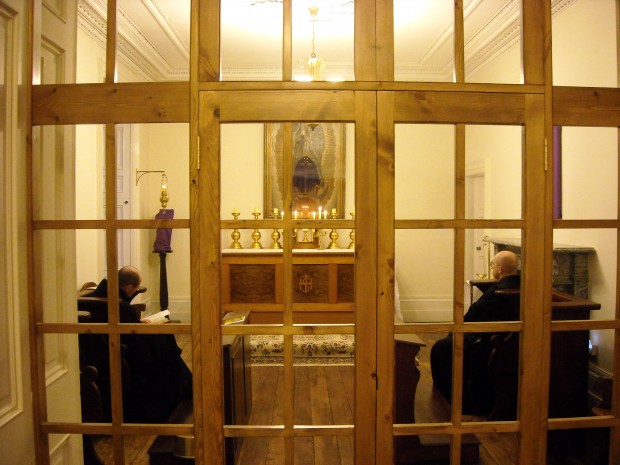 Dom Benedict composed a beautiful Collect for the blessing of the wooden screen that separates our monastic choir from the part of the Oratory that is open to the public:
Blessing of the Choir Grille
V. Our help is in the name of the Lord.
R. Who hath made heaven and earth.
Let us pray:
O God, who in the beginning didst separate the light from darkness, the sea from the dry land, and the heavens from the earth, and didst ordain that the threshold of the Holy of Holies, thy dwelling-place on earth, should be hidden behind a holy veil: vouchsafe to bl+ess and sanc+tify this grille, which we have set up for the separation of our monastic sanctuary from the realm of change and time; and grant that all the faithful who peer through this lattice-work may meet the gaze of the Beloved One, even Jesus Christ, thy Son, our Lord: who livest and reignest with thee, in the unity of the Holy Ghost, ever one God, world without end. Amen.