Praying for Gavin and Emeric
April 11, 2014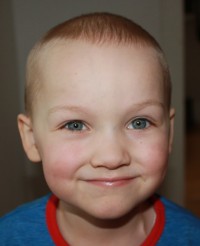 You will recall that some time ago, I asked you, dear readers of Vultus Christi to pray for our little friend, Gavin Glynn. I invite you to persevere with confidence in your prayers for Gavin, recommending him to the merciful goodness of Jesus, King of Love, through the intercession of Mother Yvonne–Aimée. You can read about Gavin's progress on his website, Gavin's Journey.
And Now for Emeric
Today, I ask you to pray also for Emeric Gruber. Emeric is the godson and nephew of Brother Peter Gruber of the Pittsburgh Oratory; Brother Peter is a good friend of Silverstream Priory. Emeric will be two years old on Good Friday. There is a prayer for both little boys at the end of this entry.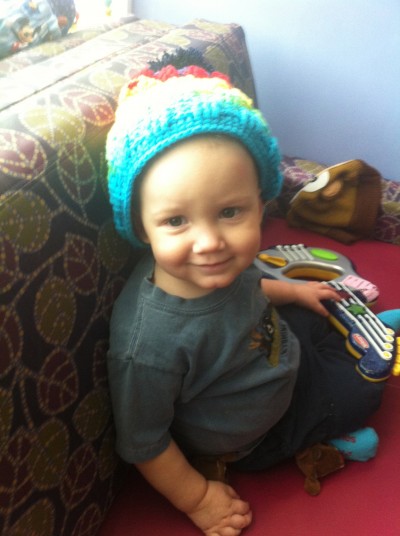 Brother Peter wrote me, "The assurance of your prayers and the prayers of your monastery will mean so much. Please feel free to share his story with whomever you are inclined. As his Godfather, I feel that I have a certain responsibility to let others know so that they too can pray for Emeric." I share Brother Peter's message concerning Emeric with all of you, trusting that it will move you to pray for this wonderful little boy.
Emeric's Story
My nephew and Godson, Emeric Gruber, has been struggling to recover from life-threatening complications following radical treatment for Tay-Sachs Disease. Emeric is just under two years old (his 2nd birthday is on Good Friday) and he is the only child of my brother and sister-in-law, Jonathan and Michele. In August, he was diagnosed with Tay-Sachs, which is a genetic metabolic disease that damages the production of an enzyme, causing the premature death of brain cells. Life expectancy for those with Emeric's form is between age 4 and 15. There is yet no established cure or treatment.

Emeric is a very special case for several reasons. The first is that they caught the disease early. In a routine eye examination this summer, they providentially came across the first indication of Tay-Sachs: cherry red spots in both eyes. This is before he had developed any major symptoms and well before Jonathan and Michele would have begun to notice that things were wrong. So when he was diagnosed, he was what they call 'asymptomatic.' In the medical community, they have never come across a child at his age with Tay-Sachs before major symptoms showed. The doctors then acted quickly to try to slow the progress of the disease before brain damage occurs. So, in October, Emeric had a bone marrow transplant following chemotherapy. This experimental treatment replaced his bone marrow with someone else's, so that his body would have the needed enzyme at least in the blood. It's unknown whether the treatment will be able to get the enzyme to his brain cells, which is their primary concern. The bone marrow transfusion worked insofar as he now produces someone else's blood in his body; only time will tell whether it will have its intended result in slowing the progression of the disease.

However, as he was recovering from the transplant in the hospital in December, he picked up a virus. The viral infection (this one is called an adenovirus) would not be a problem for most people, but for Emeric the viral infection was life-threatening since his immune system was not functional. As a result, when he first contracted the virus, the doctors did not expect him to live for more than three weeks.

It is now four months after Emeric contracted the adenovirus. These four months have been filled with high fevers, pain, discomfort, disorientation, IV's, and blood transfusions. And he still has the adenovirus infection. They have been trying to bide time until his immune system would be strong enough to fight the virus on his own. All this time, he has been receiving essentially four times the allowed amounts of the anti-viral medication. And this has been costly on his kidneys. Yet, the mini-miracle here was that Emeric's kidneys were phenomenal in their filtration ability to begin with. Four months of abnormally high doses has reduced his kidney filtration level from exceptional to a normal level. The prayers of so many have definitely been effective! They are now switching to a different (but slightly experimental) medicine that is not toxic to the kidneys, which they hope will tie him over until his immune system can handle the infection.

However, things seem to have taken a turn for the worst this past week. All week, Emeric has been suffering from panic attacks, small seizures, and general unresponsiveness. They haven't pinpointed the cause yet, but in the process, they found that he has another virus. With his immune system still not functioning, this additional virus is just one more life-threatening complication on top of other complications. And there is a concern that his altered mental state might not be reversible, as it could be in part due to the Tay-Sachs Disease.

During these six months, Jonathan and Michele have stayed at the hospital with Emeric. Emeric has proven to be a very tough kid and has incredibly kept good spirits, that is, up until his recent episodes. The ordeal is very trying for Jonathan and Michele, but they both have a strong faith, and have surely been sustained by the prayers of so many. All in all, this has been an occasion for so much grace.

I was privileged to witness Emeric's first smile. It was at the moment of his baptism just seven days after he was born. When we discovered he had Tay-Sachs in August, we knew that this had to be part of God's providential plan from the beginning. Throughout his stay in the hospital, we have been constantly amazed by his ability and strength to keep fighting and to keep smiling. There is no doubt Emeric is close to Jesus' heart. In one of his very limited interactions this past week, he was able to mumble one word, "Pray," which Jonathan and Michele took to understand that he is asking for our prayers.
Prayer to Mother Yvonne–Aimée de Jésus
Yvonne–Aimée, while yet a child
you gave your heart to Jesus,
asking Him to make you a saint, a very great saint.
Jesus looked upon you with a most tender love,
and you loved him in return
with an extraordinary love.
You sought to please Jesus in all things,
even to the point of embracing His Cross
and entering into the bitterness of His Passion.
The King of Love made you the hospitaller of His mercy,
and gave you a mother's heart, open to the sufferings of all.
He graced you with His own tenderness for souls,
and sent you often among the poor, among the sick,
and among souls in the grip of evil.
There is no human suffering to which you are not sensitive,
and no affliction of body, mind, or spirit
that does not send you swiftly to the King of Love
to appeal to Him on our behalf,
and to obtain from His Heart
graces of mercy and of healing
that surpass what we dare ask.
Mother Yvonne–Aimée,
come close now to little Gavin and little Emeric in their suffering.
Take to heart what you see
and, by your intercession with Jesus, King of Love,
obtain for His glory and for the joy of the Church on earth,
the healings we now ask of His merciful goodness.
O Jesus, King of Love, I trust in Thy merciful goodness.
O Jesus, King of Love, I trust in Thy merciful goodness.
O Jesus, King of Love, I trust in Thy merciful goodness.