Life's Troubles
April 19, 2014
I am profoundly touched by the many messages of encouragement that came to us following the events of early Good Friday morning in our guesthouse. Heartfelt thanks to all of you who have affirmed your support of Silverstream Priory. Not a few friends saw in the nocturnal burst of hot water and steam a manifestation of the Evil One's discontent with what is happening at Silverstream. A brother monk in an English abbey was kind enough to write:
Just a word to say to you and the brethren to hang in there! You must be doing something right if the Devil sees fit to try to throw you off during the Triduum. Stand up to him, strong in faith. Make do as best you can and the Lord, and the Church, will supply. I have no doubt that the Lord will provide for you, in his own good way and in his own good time.
Another dear friend in California wrote:
I also want to encourage you as others have already done on your blog to stay strong and not allow this to get the better of you.  Others have said it quite well i.e. that the evil one wants nothing more than to assault and destroy efforts to honor and praise the Lord—not to mention those committed to honoring, loving, and living for Him alone.  In just such a time, He is closer to you than ever, and your efforts to carry on and not let this incident daunt you honor Him and draw down a flood of graces for priests and for a world full of sinners in need of God's mercy.  Trust in Him and praise Him, and all will be well in a little while.
The plumbers are here again today, trying to restore heat and hot water to the monks' rooms and to the guestrooms. As soon as we can reach our insurance providers, we shall have the damage assessed and make the appropriate claims, so that things can be repaired in a timely manner.
This morning I opened, seemingly at random, the volume of Mother Mectilde's unedited letters, and came upon this one addressed to her friend Marguerite de Lorraine, the Duchess of Orleans (1613–1672). It so struck me as appropriate that I took some time to translate it today.

Mother Mectilde's allusion to "the vapours" — a quaint Victorian–sounding expression in English — may cause certain readers to smile. The term is no longer used but the reality it signifies is as prevalent today as it was in the 17th century. "The vapours" was used to designate depressive illness in women; generally speaking, the term "melancholy" was used to designate the same disease in men. The Duchess of Orleans was struggling with her own demons within as well as suffering trials and afflictions from without. These, Mother Mectilde refers to as crosses. Mother Mectilde offers wise counsel on how to cope with the things that get one down. All such things, she says, are opportunities to surrender to the Providence of God, trusting blindly in His wisdom and in His love.
You Are Shutting Down
It seems to me that you are shutting down so much, that you no longer want to soothe your heart by sharing in some little way the crosses that you are suffering without almost any respite. One doesn't give up showing compassion for so many sufferings, but it is with even more sorrow when one sees oneself incapable of giving you relief, because you close yourself up with your pain to devour it all alone in the presence of God.
The Counsel of Few Good Servants of God
I know well that this is heroic, and that great souls display their courage by overcoming life's afflictions, but however generous one may be by nature, the heart cannot protect itself from being wounded in a thousand different circumstances, and God does not forbid one to confide in another in order to bear one's burden. The Son of God allowed Simon of Cyrene to carry part of the cross, so as to diminish His pain a little. I know well that when God wills that a soul suffer, He suspends all the consolations in heaven and on earth, but I do not believe, Madame, that God wants you in so great a destitution. It is certainly permitted you to take some help in the counsel of few good servants of God. Consult them, Madame, and see, before God, if there is not some remedy for your troubles. See what is causing your troubles and what can be done to free you of them.
The One Who Crucifies Also Secretly Sustains
There are crosses which are, in no wise, good to keep, and which Providence sends us, without limiting the means by which we may seek relief [from them]. There are others which the hand of God presses upon us so sensitively and so deeply that He places the soul in the incapacity of being able to get out from under them. One must resign oneself to crosses such as these and, with the patience of Jesus Christ, suffer and die upon their wood. The One who crucifies also secretly sustains; He knows how to put to death and bring to life all at the same time.
Both the Sword and the Remedy
Abandon yourself to the unknown designs of His love, for He knows how to plunge one into hell and draw one out of it. Never will a soul, subjected to His divine operations, perish. The hand that wounds in such dispositions is rigorous and gentle, opening the wound and healing it, bringing together both the sword and the remedy. You must not trouble yourself in this trial; it is what divine love does in souls who, without reserve, want to be all transformed into Jesus Christ. Such souls must be purified and, to this end, tribulations serve as fire.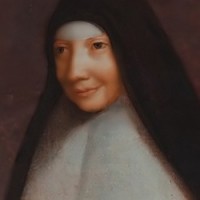 Someone to Help You
You need [while] in this crucible someone to help you bear it with courage, by a loving confidence in God and the surrender of your whole self to His good pleasure. For the rest, let this lovable Saviour act; He has no motive apart from sanctifying your soul and transforming it in His love.
God Will Sort It Out
When, however, crosses are caused and produced by temporal things, take counsel and look for the remedies. If none of these succeed, leave everything to the divine disposition and, with unshakeable faith, hope that the all–good God will infallibly sort it out, by the workings of His divine wisdom, which cannot deceive, and which acts for our good in all things, even though the human spirit is not always very persuaded of this.
Leave the Outcome to Him
We must not remain crushed under the weight of the things that afflict us. If they are turning us away from God and taking away our interior peace, we must overcome them by a holy disdain and by withdrawing our spirit into God, so as to leave to Him the outcome of such afflictions. Accept them gently and lovingly, [together with] the setbacks, the abjections, and the contradictions that come of them.  Until a soul is totally resigned to God in all that pleases Him and in the manner He wills, it is altogether impossible for that soul to have a solid inward calm. May it please God, Madame, that you should possess the One whom I wish for you. The vapours would then have no power to vex you.
How He Makes Saints
Place all things in God, and leave yourself there. He will, according to His holy will, look after everything that affects you. Embrace this blindly, and disentangle yourself gently from all things so as to attach yourself to God alone. If He turns everything upside down, you must bless him together with the holy man Job; this is how He makes saints.
He Is Operating Divinely in You
God is admirable in His works; by means of all your crosses, He is operating divinely in you; He is doing there a work worthy of Himself and of the eternal felicity that will crown all your sufferings by changing them into joy. Does it matter what we are in this world, provided that we joy eternally in God?
Rest in God Forever
Courage, then, the end will come. All created things will return into the nothingness whence they came, and you will pass over into Jesus to rest in God forever. Cujus regni non erit finis. (And of His kingdom there shall be no end.) Pardon me for putting you to the trouble of reading this scrap; it will be enough for me if it helps to relieve you for a moment. I am not worthy to serve you, even though my zeal and my tenderness would push me to do more. God will supply for the rest; this I pray with all my heart. May He give you to know, Madame, what I am to you in His love, and with profound respect.