Saint Patrick's Day Update on Our Appeal
March 17, 2014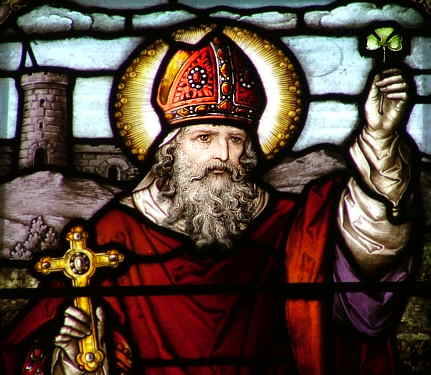 With Saint Patrick's Help
After posting an appeal for financial help yesterday, I also reached out to as many friends of Silverstream as possible, writing to them:
Over the past few days, I have been giving serious thought to the critical financial situation in which we find ourselves at Silverstream Priory. May I ask you to read my reflection on the needs that we must address, and respond to me as you see fit? Promising young vocations are knocking at our door, but the door does not belong to us, nor does the house, nor the land. The future of Silverstream Priory is at stake. On this eve of Saint Patrick's Day, you may find it in your heart to do something to re–establish monastic life in County Meath, not far from the Hill of Slane where Saint Patrick, long ago, kindled his Paschal Fire.
Many of you, I trust, will have read my letter of appeal.  You can find it here: An Urgent Appeal.
A Big Incentive
Your response to the appeal is encouraging. This morning, a donor pledged — are you ready? — €100,000.00 towards the purchase of Silverstream. This donor decided to make her gift of €100,000.00 in order to get the ball rolling. If seven more people match this donor's gift, we will be able to purchase Silverstream. There is a glimmer of hope now. Ask Saint Patrick to inspire other donors to be equally or more generous, so that the fire he kindled on the Hill of Slane may blaze up at Silverstream Priory, giving hope and joy to all who see its radiance.
Our Goal
Apart from this €100,000.00 gift, many others, in lesser amounts, have also come in today. No donation is too small, no gift insignificant. We have three hugely important saints in our liturgical calendar this week: Saint Patrick today, Saint Joseph on the 19th, and our father Saint Benedict on the 21st.  Wouldn't it be wonderful if, by the feast of Saint Benedict, we reach our goal of €725,000.000? With God, and with of Saint Joseph, the Almoner of Divine Providence, nothing is impossible.