Help enough to become great saints
February 25, 2014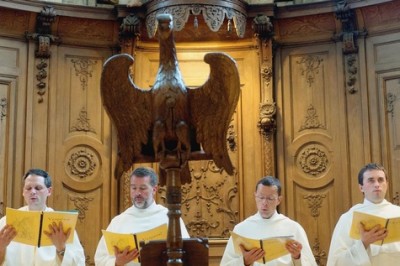 Biography of a Premonstratensian Abbot
The other day, thanks to the kind offices of Dom Stephen Morrison, O.Praem., I received a hard–to–find book that I have been wanting to read for some time. It is a biographical and theological study of a 17th century Premonstratensian abbot: Mystique et homme d'action, Épiphane Louys, abbé Prémontré d'Étival (1614–1682). Written by Jean–Marc Vaillant , it appeared as part of the Biblioteca Analectorum Praemonstratensium (Averbode) 2008.
Great Friendships in God
Abbot Louys' friendship with Catherine–Mectilde de Bar would have been akin to other more famous spiritual friendships of the 17th century: that of Vincent de Paul and Louise de Marillac, of Francis de Sales and of Jeanne–Françoise de Chantal, of Jean–Jacques Olier and Catherine de Langeac.
A Wide Circle of Friends
Mother Mectilde's circle of male friends included besides Jean de Bernières and several other notable laymen, Benedictine monks of the Congregation of Saint–Maur, Premonstratensians, Cistercians, Cordeliers (Franciscan Friars), Tiercelin Penitents (Franciscans of the Third Order Regular), Carmelite Fathers, Capuchins, Lazarists, and Sulpicians. Mectilde de Bar was not narrow–minded. (Let us not rashly assume that the conspicuous absence of Jesuits means anything in particular!)
Mectilde de Bar: A Valiant Woman
Mectilde de Bar was no shrinking violet when it came to engaging with the men of her day. She maintained her dignity, her exquisite sense of decorum and, at the same time, was not afraid of confronting her own humanity and the humanity of others on the terrain — or should I say battlefield? — of real life. Far from being a pious dreamer lost to this world and time, Mother Mectilde was, like Saint Teresa of Avila, a contemplative fully engaged in the messiness of life. Rarely, if ever, did things go as she hoped they would. Mectilde de Bar persevered in her Benedictine and Eucharistic vocation, quietly trusting God in the midst of war, famine, poverty, sickness, pillage, harassment from a rejected suitor, insecure housing, constant travel, vexing lawsuits, calumny, an attempted house invasion by the agents of a fake princess, and insidious detractions. God sent Abbot Épiphane Louys into her life to support her, defend her interests, and deepen her attraction to a fully Eucharistic life of adoration and reparation.
A Saintly Protagonist
Born in 1614, the same year as Catherine–Mectilde de Bar, Épiphane (born Nicolas) Louys, was also, like her, a native of the Lorraine. Their peregrinations through a war–torn France led them both, at about the same time, to Paris. Early in 1664, Abbot Louys called on Mother Mectilde to give her news of her community in the Lorraine. A few months later, he appears as the protagonist in the drama surrounding the foundation of a monastery of perpetual adoration in Toul; the city's notables are all opposed to it. Abbot Louys winning arguments prevail. He installs in the new monastery an image of Our Lady of Benoistevaux, a sanctuary in the care of the Premonstratensians. On 8 December 1664, Abbot Épiphane himself exposes the Blessed Sacrament in the monastery of Toul, thereby inaugurating the new observance.
On 7 July 1665, Mother Mectilde expresses her esteem of Abbot Louys in a letter to a nun of Rambervillers.  She writes:
Otherwise, I feel real joy in learning of the graces and blessings that Our Lord is dispensing to your holy community by means of Monsieur d'Étival. I thank God with all my heart for this, and for this worthy prelate possessed of so ardent a charity that he wins every heart for Jesus Christ. It is for you, my dear Mother, a singular consolation to have such a director, one animated by the spirit of Jesus Christ in so holy a way, and who does our Mothers and Sisters so much good. Here you have help enough to become great saints.  Divine Providence has given you a treasure. I pray God to keep him for you and for us. I beg you to recommend me to his holy prayers, in offering him my most humble respects. Our Mothers in Toul sent me word that we would soon have the honour of seeing him in Paris; should that happen, it will be an overflow of joy for us. I rejoice in this cherished hope. I cannot admire enough the marvelous effects wrought by God by means of his ministry in your holy community. We shall have news of this from himself if we have the honour of seeing him.
In 1666, Abbot Louys witnesses the union of the monastery of Rambervillers with the Institute of the Benedictines of Perpetual Adoration of the Most Holy Sacrament. The abbot of Étival inaugurates exposition of the Blessed Sacrament on the Thursday of Easter week; he blesses the little monstrances that the religious will henceforth wear on their monastic habit.
In the beginning of 1669, Abbot Louys and Mother Mectilde travel together to the court of the Duke of Lorraine, where, in spite of the war, he receives them both with the greatest respect. Presumably, they treat of the aggregation of the monastery of Our Lady of Consolation in Nancy to Mother Mectilde's Institute. This aggregation is, in fact, sealed by a solemn exposition of the Blessed Sacrament at which Abbot Louys presided on 13 April 1669.
The eminent services of Abbot Épiphane Louys to the Benedictines of Perpetual Adoration of the Most Holy Sacrament are such that Mother Mectilde was able to write concerning him: "I am obliged to him infinitely more than it would be possible for me to say."
The Spiritual Father
The deeper part of Epiphane Louys' influence on Mother Mectilde's budding institute was not in his appearances at ceremonies nor in his interventions with various authorities on her behalf; it lay hidden in the secrets of the spiritual direction that he dispensed either, in person, by word or in writing. Thus was Mother Mectilde able to write to a dying Mother Dorothée Heurelle:
I say nothing particular to you, because I think that Divine Providence will have brought Monsieur the abbot of Étival to your side to give you all the helps of which your soul may have need. Until we meet in God, dear Mother. Until we go to God in God, it is there that we must lose ourselves.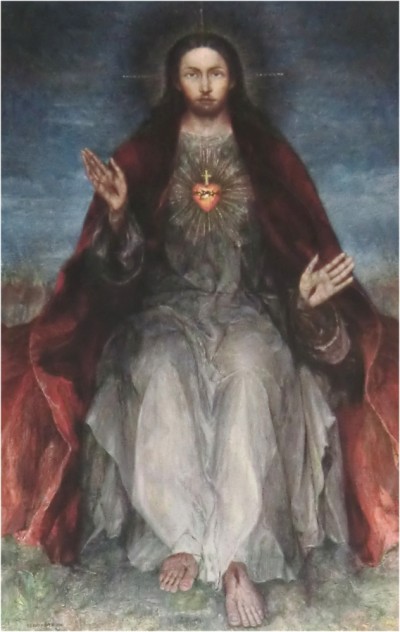 Consolers of the Hidden God
Épiphane Louys wrote much on the subjects of reparation and adoration. For the Premonstratensian abbot, adoration approaches consolation.  One adores in order to console the hidden Christ, even as little Blessed Francisco of Fatima used to say. Abbot Louys wishes that the Most Holy Sacrament never be left alone; he wants to see an uninterrupted succession of adorers before the tabernacle to make up for the negligence of what he calls "a great part of Christianity."
Victimhood and Reparation
He understands victimhood as a way of making up to God the lack of justice shown Him by men, the want of piety, and the want of love. Here we are not far from the message of Christ to Saint Margaret Mary in the Octave of Corpus Christi, 1675: "Behold the Heart which has so loved men that it has spared nothing but has been poured out totally and consumed as proof of its love; and for gratitude I receive from the greater part only ingratitude, by their acts of irreverence and sacrilege and by the coldness and the contempt they have for me in this Sacrament of love."
Adoration of the Lamb
Speaking of adoration, Abbot Louys says: "Honour Him, then, praise Him, adore Him with all the effort of your powers both interior and exterior". When he describes the Benedictines in adoration before the Blessed Sacrament, he says: "They are altogether taken up with honouring this same Lamb on His throne at the altar, by movements of the purest charity, adoration, and praise.
God Infinitely Lovable and Worthy of All Love
For Épiphane Louys, reparation and adoration cannot be separated from an inner conformity to the Victim Christ. For the Premonstratensian abbot, conformity to Christ consists in reducing oneself to an entire identification with the Will of God, so as to be, or not to be, according to His good pleasure. He pushes himself to the point of a pure love, a disinterested love. He expresses this, as do many saints of the École française by declaring that he loves God and will continue to love Him not because of the eternal reward of heaven that God has prepared for those who love Him, but only because God is God and, therefore, worthy of all love. He says: "The assurance of an eternity of glory will not make me walk on with any greater firmness; and when You will have revealed to me my loss (i.e., damnation), I shall not desist, not even for a moment, from serving You". This way of expressing love for God shocks contemporary sensibilities. Not everyone grasps it immediately. Épiphane Louys, and with him many others of the great century of mysticism in France, want to say that they do not love God for what they hope to get from Him, but only because He is infinitely lovable, and worthy of all love. This is something with which no Christian can possibly disagree.