Visit Me by Night
January 11, 2014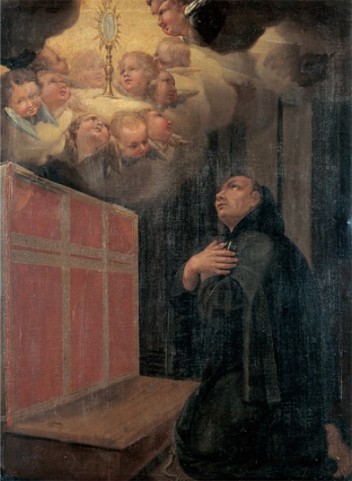 While praying before the Most Holy Sacrament at night:
A great work of love is being done here, one that proceeds directly from My Eucharistic Heart to glorify My Father and to redeem the world, for the work of redemption is continued in the Sacrament of My Body and Blood until the end of time. . . .
I am here [in the Most Blessed Sacrament] for you and for the whole world. Take your place here before Me, and abide before My Face, close to My Heart that is all love.
It is no little thing for a poor human creature of Mine
to prefer My Eucharistic Love to an hour of sleep in the night. Only in heaven will you know the worth of an hour so spent.
Come to Me, then. Visit Me, and remain with Me by night, and I will work for you, and with you, and through you by day.
By nocturnal adoration you will obtain from My Heart things which cannot be obtained from Me in any other way, especially the liberation of souls from the influence and oppression of the powers of darkness.
More souls are saved and liberated by adoration made during the night than by any other form of prayer: this is the pray that unites you most closely to My own nights passed entirely in prayer during My life on earth.
Come to Me, then, by night, and you shall experience My power and My presence at your side during the day. Ask of Me whatsoever you will by coming to Me at night, and you will experience My merciful help at break of day.
I love with a love of predilection those whom I call to be with Me during the hours of the night.
The prayer of adoration at night has the power and efficacy of that prayer made with fasting that I recommended to My apostles as the means of expelling demons from the souls whom they torture and oppress. For this reason, the demons fear and hate adoration made at night, while the Angels rejoice over it, and place themselves at the service of the soul who desires to do it.
From In Sinu Iesu, The Journal of A Priest