Keep Watch with Jesus Christ
January 23, 2014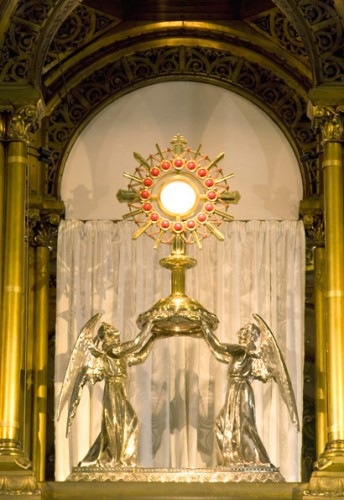 Two years ago I translated, in its entirety, a splendid text of Mother Mectilde de Bar entitled "On the Solemnity of Thursday." In it, she pours out her soul in a torrent of amazement and thanksgiving and adoration. She sets forth why, in her particular Benedictine observance, Thursday is celebrated as a weekly return to the Cenacle where Our Lord instituted the Sacrament of His Love, and as a weekly festival of Corpus Christi. Catherine-Mectilde de Bar is, without any doubt, the most Eucharistic soul in what was a Eucharistic century par excellence, a century of saints surpassing all others, the great century of France's mystic invasion, and the full flowering of the Council of Trent's renewal of the Church in holiness. Here, again today, is an excerpt from "On the Solemnity of Thursday".
Self–Emptying in His Presence
When we are before the Most Holy Sacrament, we must not be content merely to adore Him with lip-service; we need to lower ourselves into a profound emptying out of self, and recognize that we are nothing, that we are less than nothing and, in this disposition, offer to the spotless Lamb who immolates Himself for the salvation of the world not only a sacrifice of adoration and of thanksgiving, but again a sacrifice of submission, of abandonment, and of consecration. Let us adhere to His divine will, detach ourselves from creatures, and renounce all human consolation, so as to life in Jesus only, and only for Jesus.
At the Feet of Our Divine Master
We must never lose sight of our holy tabernacles: it is there that we find our strength and our virtue. If human infirmity and affairs allowed, we should pass our whole life at the feet of our divine Master; at least let us go there as often as possible, and quit so many futile occupations that rob us of precious time claimed for what we owe the love of a God.
To Live with Jesus
Far from us be distaste [for prayer], negligence, and frivolity. Alas! Is it possible that it should be burdensome for us to converse with our Sovereign Lord? Where is one better than close to one's Father, to one's Spouse, to one's all? To live with Jesus, is this not to begin to live on earth the life that we are called to live in heaven? Ah! Can we say that we have faith if we complain of the length of time that we spend before the Most Holy Sacrament?
Imitate the Saints
What, however, does one see in the world, and perhaps even among us? Poor creatures, fragile nothings, worms of the earth to whom it costs to spend a half hour with the King of heaven and of earth. People consecrate days and nights to vain conversations, to futile entertainments, and always find too long the moments given to a God who forgets Himself for love of us. O heavens, be astonished! My Saviour, pardon them, or they know not what they do. Happy, says the Prophet, are those who dwell in Your house, O Lord, and who praise you unceasingly. The saints understand this truth; also, how many there are who spent their days and nights with God, and who complained all the same of the rapid passage of time. So do the saints act and think, because they are quickened by a lively faith: let us have their faith, and we will think and act as they did.
Pure Faith
All Christians ought to be in perpetual adoration before the Son of God in the Sacrament of the Altar. It is to make up for their coldness and indifference that the Institute was established. Let us carry out fervently so glorious a function and make of the altar our delights. Let our spirit and our body be bound thereto like two victims under the mastery of a pure and simple faith. If we are without taste for it, without light, without sensible consolation, we can, by the obscurity of our senses, render homage to this God who is hidden and brought to nothing. Let us abide before Him with patience, humility, and abandonment. Always it is for us a great honour to be able to keep watch with Jesus Christ.
Reparation
If nearly all Christians are ungrateful towards this mystery of love, we, at least, will not be and we will recognize the gift of God. One can say that the Eternal Father gives us, in our Institute, all that is most august of what He has; that He makes us the depositors and guardians of His most precious treasures. He gives us His divine Son, in whom He has placed all His good pleasure. This infinite gift, He gave first of all to men, and they failed to recognize it. He sought souls who would know how to appreciate its value, and He chose us. May Jesus find abundantly in us the glory and the delight that others refuse Him elsewhere! May we, by our ardour, worthily repair for the coldness and impiety of so many others. Weep without ceasing over their ingratitude, and ask our heavenly Father to take pity on those who profane His divine Son. Even if the humiliations He endures in the Most Holy Sacrament of the Eucharist had occurred but one time, we should want to groan all our life long to make reparation for them. They are renewed every day; yes, every day, and in an infinity of places, Jesus Christ is the object of the most cutting outrages, of the most horrible sacrileges. What shall we do at the sight of so many crimes? My God, we ought to die of sorrow.. Ah, at least, I will consecrate to You the rest of my life to repair, as best I can, Your glory, and to obtain of You that these cruel indignities to which You are exposed, at last come to an end.