O Jesus, Roi d'Amour, j'ai confiance en ta miséricordieuse bonté.
July 16, 2013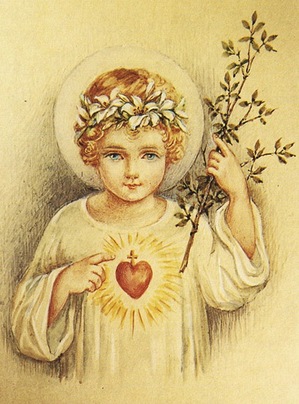 On 113th anniversary of the birth of Yvonne Beauvais (16 July 1901), the future Mother Yvonne-Aimée de Jésus, I want, once again, to recommend to the readers of Vultus Christi the little invocation that Our Lord revealed to her at Malestroit in 1922.
The picture to the right is her own work. Some judge it sentimental and too sweet. It has been, nonetheless, an invitation to confidence and hope for the little and the childlike. Our Lord Himself told Yvonne-Aimée to depict him as a little Child, a King of Love whom no one would fear to approach. A crown of lilies rests upon His Head, for He is the King of Virgins and the Restorer of innocence to those who give Him the burden of their sins. In His right hand He holds the olive branch that signifies healing and peace, and with His other hand, He points to His Sacred Heart, all aglow with merciful love.
As for the little invocation, for countless souls it is a healing balm, a fountain of living water in the heart, a inextinguishable flame in the darkness. Pray it today: O Jesus, King of Love, I put my trust in Thy loving mercy.
Those who know me
have a boundless confidence in my mercy,
and trust me to resolve even the most difficult situations
with a love that is at once tender and mighty.
Pray to me with confidence then,
for I am the King of Love, and I want to be recognized as such.
I rule in souls, not by coercion, but by my most sweet love.
I rule as a Child King,
with gentleness and with an affection that is wholly divine.
I am not a tyrant, nor will I force my rule upon anyone.
I am the Child King who comes in the guise of a beggar,
seeking the hospitality of one heart after another.
To those who welcome my rule,
I impart warmth and light,
food and drink,
a glorious raiment,
and a share in my kingdom forever.
Make me known as the King of Love,
as the little poor One who waits to be admitted into your company,
and welcomed into the midst of you,
there to rule, not by might, but humbly and with an infinite compassion.
If souls knew my kingship for what it is,
they would submit to me in an instant,
and I, in response, would fill them with happiness in my presence.
Love me, then,
and allow me to love you with my Royal Heart.
It is a great thing to be loved by the Heart of a King,
and I am the King of all that is, that was, and that will be.
My Heart is yours.
Give me your heart in return.
Thus will our friendship be sealed in heaven and on earth.
From In Sinu Iesu, the Journal of a Priest