Saint Dymphna
May 14, 2013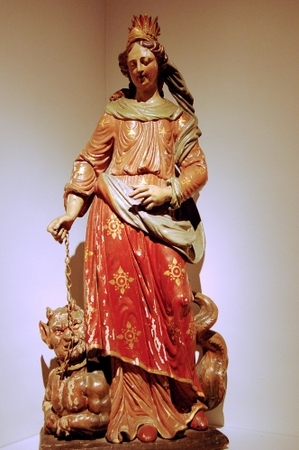 May 15th is the feast of Saint Dymphna. Here at Silverstream Priory, we are blessed to have and to venerate a first class relic of Saint Dymphna. Saint Dymphna is the patron saint of those who suffer from mental illnesses, emotional maladjustment, nervous disorders, and epilepsy. She is also the patron saint of runaways, and of the victims of incest and other sexual abuse.

The Lily of Fire
Ireland has long been called the ISLE OF SAINTS. Among the holy sons and daughters of Ireland is the virgin Saint Dymphna, who, on account of her purity and blazing love for Christ, even unto martyrdom, is referred to as the "Lily of Fire". The records of her life and martyrdom are sparse, but Saint Dymphna's countless miracles attest to the power of her glorious intercession in heaven.
A Christian Child
Born in the 7th century, when Ireland was almost universally Catholic, Dymphna was the child of a minor king, a pagan named Oriel and a devout Christian mother remarkable both for her piety and beauty. Dymphna was, like her mother, lovely in every way; tenderness and and attention surrounded her from birth. Baptized by the saintly priest Gerebran, little Dymphna learned her letters along with the truths of the faith. When still young, Dymphna, like so many other Irish girls filled with love for Christ, both before and after her, chose Him for her Divine Bridegroom, consecrating her virginity to Him and to His Blessed Mother by a vow of chastity.
Mother's Death
The unexpected death of Dymphna's mother plunged her into sorrow. Faith in Christ and in His promises of eternal life was Dymphna's only comfort in the grief of her immense loss.
 Flight from Incest
Dymphna's father, driven to a kind of madness by the death of his wife, sought to force Dymphna into an incestuous relationship with himself. Horrified at the suggestion, Dymphna fled Ireland in the company of the priest Gerebran.
Belgium
With all speed, therefore, she set out for the continent, accompanied by the priest Gerebranus, the court jester and his wife. After a favorable passage, they arrived on the coast near the present city of Antwerp. Having stopped for a short rest, they resumed their journey and came to a little village named Gheel. Here they were hospitably received and began to make plans for establishing their future abode at this place.
Martyrdom of Saint Gerebran, Priest
The king, having discovered Dymphna's flight, set out in search of the fugitives. After some time, they were traced to Belgium and their place of refuge was located. At first, Dymphna's father tried to persuade her to return with him, but when the priest Gerebranus rebuked him for his wicked intentions, the king gave orders that Gerebranus should be put to death. The king's men laid violent hands upon the priest and, with one blow of the steel, his head was severed from his shoulders. Thus did another glorious martyr enter the kingdom of heaven in triumph.
Martyrdom of Saint Dymphna, Virgin
Further attempts on the part of Dymphna's father to induce her to return with him proved fruitless. Infuriated by Dymphna's resistance, her father drew his sword and beheaded his own child. Thus did Dymphna win the double crown of virginity and martyrdom in the fifteenth year of her age, on the fifteenth day of May, between 620 and 640, now kept as her feastday.
Discovery of the Relics
The records of Dymphna's life and death say that the bodies of the two martyred saints lay on the ground until the inhabitants of Gheel removed them to a cave for burial. After several years, the Christian villagers, recalling their holy deaths, decided to give the bodies a more suitable burial. Great was their astonishment upon finding two beautiful tombs, carved from white stone, as if by the hands of angels. When the coffin of Saint Dymphna was opened,  there was found on her breast a red tile bearing the inscription: "Here lies the holy virgin and martyr, Dymphna." The remains of the saint were placed in a small church. Later necessity obliged the erection of the magnificent "Church of St. Dymphna," which now stands on the site where the bodies were first buried.
Miracles and cures of people afflicted with melancholy, anxiety, and other psychological pathologies and and emotional maladjustments began to occur in continually increasing numbers. Gradually St. Dymphna's fame as patroness of those who suffer from mental and emotional illnesses spread from country to country. More and more afflicted persons came in pilgrimage to Saint Dymphna to seek her intercession and to be blessed with her relics. The remarkable cures that occurred caused the Irish saint's fame to spread abroad.
The Miracle of Gheel
At first the sick pilgrims were lodged in a hostel adjacent to the church. Gradually, the families of Gheel welcomed the mentally ill into their own homes until, at length, Gheel became a town world-famous for its charitable care of the insane and mentally afflicted. Canonesses Regular of St. Augustine opened a hospital at Gheel; patients, released from the hospital, were placed in local families, where they were helped to lead a comparatively normal life.  After generations of experience, the people of Gheel have developed clinical and spiritual skills in dealing with their charges. Their Christ–like love for the afflicted members of society continues to the present day.
Forward in Hope
Renowned psychiatrists testify that a surprisingly large number of patients could leave mental institutions if only they could be assured of a loving reception in families, such as the people of Gheel have offered for centuries.