Letter to Our Oblates
April 13, 2013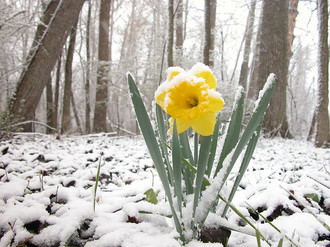 Holy and Glorious Pascha 2013
My dear sons and daughters,
I have not written to you in some time, but you are nonetheless in my heart and in my prayer. With Saint Paul, I say, "I long to see you, that I may impart unto you some spiritual grace, to strengthen you: that is to say, that I may be comforted together in you, by that which is common to us both, your faith and mine" (Romans 1:11-12); and again, with the same Apostle, "I give thanks to my God in every remembrance of you, always in all my prayers making supplication for you all, with joy," (Philippians 1:3-4).
We have come through a harsh Irish winter and, at long last, are emerging into spring. The principal hardship here was the cold. We had some heat in the small wing that we are occupying temporarily, but there was no heat at all — apart from one hearth that we strove to keep ablaze with logs — in the big house, where we have our temporary Oratory, sacristy, kitchen, refectory, and library.
During Holy Lent the cold seemed to intensify. Perhaps it was, rather, that, by that time, we were worn down and frozen to the bone anyway, in spite of hundreds of good hot cups of tea. Winter — and this year's early Lent — brought their retinue of illnesses with them. We were not spared, "but in all these things we overcome, because of him that hath loved us." (Romans 8:37).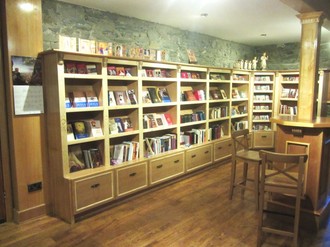 The big accomplishment this winter was the opening of The Gatehouse, our bookshop. It is a lovely place to browse among an excellent array of Catholic books, and to have a cup of tea and a scone, as well.
The current project is the renovation of the monastic guesthouse. There will be, when the work is completed, six beautiful rooms with en suite facilities; a little chapel or the exclusive use of our retreatants and guests; a reading room; kitchen; and dining area. Two of the rooms are very nearly ready. It is heartening to see the work going forward, thanks to the donations that have come in from near and far.
I know that on Sunday — Good Shepherd Sunday in the traditional liturgy — you will be completing your year long introductory study of the Holy Rule by reflecting on Chapters 72 and 73. I thought I might offer you something in the way of a commentary on these two chapters, which, in some way, sum up and condense into a few memorable paragraphs, all that Saint Benedict wrote in chapters 1 through 71.
CHAPTER LXXII. Of the good zeal which Monks ought to have
As there is an evil zeal of bitterness, which separateth from God, and leads to hell, so there is a good zeal, which keepeth us from vice, and leadeth to God and to life everlasting. Let monks, therefore, exert this zeal with most fervent love; that is, "in honour preferring one another."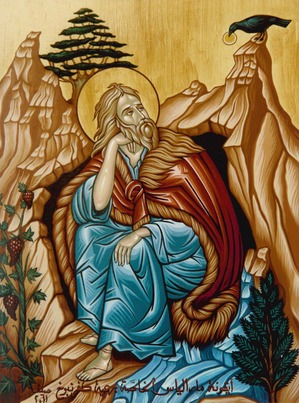 Zeal is a blazing virtue. It can be a powerful charism given from above to warm even the coldest hearts with the fire of divine love, or it can be a sulphurous emanation from below, imbuing everything with its acrid stench. A good zeal uses strength wisely, with gentleness and patience. An evil zeal of bitterness is harsh, overbearing, quick to judge and to condemn. A good zeal understands that "the sabbath is made for man, not man for the sabbath" (Mark 2:27); whereas an evil zeal of bitterness uses the letter of the law as a cudgel, and tying up burdens too heavy for men to bear, loads them upon the backs of the little, the broken, and the weak (cf. Matthew 23:4).
We see the glory of a good zeal in the prophet Saint Elijah: "And the angel of the Lord came again the second time, and touched him, and said to him: Arise, eat: for thou hast yet a great way to go. And he arose, and ate, and drank, and walked in the strength of that food forty days and forty nights, unto the mount of God, Horeb. And when he was come thither, he abode in a cave: and behold the word of the Lord came unto him, and he said to him: What dost thou here, Elias? [10] And he answered: With zeal have I been zealous for the Lord God of hosts" (1 Kings 19:7-10). The zeal of Elijah came to him with the mysterious food provided him from heaven, a figure of the Most Holy Eucharist. It disposed him to receive the Word of God, and to hear it. A good zeal never sets a man at odds with the Word of God, nor with the teachings of the Church. It is empowering — yes– but the power of a good zeal is deployed in the little, the lowly, and the weak.
I find the best description of a good zeal in Saint Matthew's gospel; it is, of course, taken from Isaiah 42:3: "The bruised reed he shall not break: and smoking flax he shall not extinguish" (Matthew 12:20). A good zeal pursues virtue, rejoices in excellence, recognizes beauty, and delights in perfection, but all of this without, in any way, marching over others roughshod to produce these things, or to enforce them, or to attain them.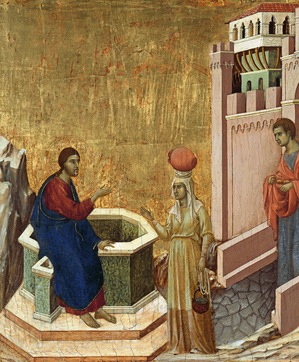 In my now long monastic life I have known the poison of an evil zeal of bitterness. It stinks of pharisaism. It is the panoply of those who would uphold the letter of the law at any price, even if it means pushing souls over the edge into an abyss of despair. How easy it is to fall into the deception of priding oneself on one's virtue, on one's spotless record of spiritual achievement, or on one's scrupulous attention to the minutest rubric, while looking at others with a sneer of disdain.
It is in no way Benedictine to think oneself justified in beating up others verbally so as to coerce them into conformity with one's own notion of what is virtuous. Saint Benedict would have us, instead, practice a humble patience. Every virtue has its hour. There are souls who have striven for the better part of a lifetime to acquire patience, or sobriety, or chastity, or temperance; then, when they least expected it, and after having failed to attain it, even over decades, the very virtue that seemed impossible was, as it were, dropped gently into their soul.
Precocious virtues of the self-help variety are extremely dangerous: the patience that makes one condescending to poor wretches tossed on the waves of their emotions; the sobriety that makes one peer into the lives of others from the height of one's own puritanical posing; the chastity that makes the lily-white (be they preserved or reconstituted therein) as prideful as demons; the temperance that takes pleasure in pointing out — in all charity, mind you — that another is excessively self-indulgent, excessively addicted to his pleasures, excessively wanting in mortification, or poverty, or separation from the world.

Let them most patiently endure one another's infirmities, whether of body or of mind. Let them vie with one another in obedience. Let no one follow what he thinketh good for himself, but rather what seemeth good for another.
The Rule of Saint Benedict is a little way for little souls. The patient endurance of the infirmities of another — especially if that other is one's spouse, or child, or co-worker, or close friend — is, at the end of the day, more precious in the eyes of God than fasting, marathons of vocal prayer, and pilgrimages. Saint Benedict is a realist; he knows that monasteries (and oblate households) are made up of people with infirmities of body and, yes, of mind. The word infirmity is related to instability, to the lack of balance and steadiness. To be "infirm" is to be out of balance, unsure, prone to fall. Life with infirm people is unsettling. Saint Benedict tells us how we are to live with the infirmities of others: "Let no one follow what he thinketh good for himself, but rather what seemeth good for another."

Let them cherish fraternal charity with chaste love, fear God, love their Abbot with sincere and humble affection, and prefer nothing whatever to Christ. And may He bring us all alike to life everlasting.
Saint Benedict speaks very little of chastity in the Holy Rule. When he does, it is in the most refreshingly positive way. There are no dire prohibitions, no threats, no creepy insinuations. In Chapter 4, Saint Benedict sums up his teaching on chastity in two words: Castitatem amare, that is, To love chastity. Now, one can love rightly only what is lovable, desirable, beautiful, true, joy-giving, healthful, and good. Saint Benedict presents chastity as something worth loving. Why? Because the man who loves chastity, will discover it as the gift of God that makes one capable of receiving the Gift of God.
The true Benedictine, be he monk or oblate, is not frightened by friendship. He is wise enough to distinguish infatuations from fraternal charity, and prudent enough to steer clear of the poisonous counterfeits of fraternal love that leave one feeling possessed and unfree. At the same time, he is not afraid of the noble risk of loving another. He understands the particular sacramentality of every friendship that comes from Christ and leads to Christ. Love and friendship are, of course, very messy affairs. One rarely, if ever, perseveres in a love, a friendship, a marriage, without bearing the scars to show for it. Saint Francesca of Rome and her darling husband Lorenzo never — according to the hagiographers — had a single quarrel. That would be extraordinary and exceptional, I think.
There is something terribly sad about the monk who arrives at the end of his life without ever having loved someone. This sad ending is not what Saint Benedict intends. Saint Benedict would have us love wisely, freely, chastely, and sincerely. There is no merit in keeping one's heart in a kind of deep-freeze for fear that, somewhere and sometime, it might feel something for someone. This is not virtue; it is, at best neurotic, at worst, inhuman. One does not vow never to be a lover; one vows rather to love sincerely and humbly, preferring nothing to Christ Himself, the Lover of Mankind who yearns to draw each of us into His Heart.

CHAPTER LXXIII. That the whole observance of Perfection is not set down in this Rule
We have written this Rule, in order that, by observing it in Monasteries, we may shew ourselves to have some degree of goodness of life, and a beginning of holiness.
Some degree of goodness of life and a beginning of holiness: that is all that Saint Benedict proposes in the Holy Rule. One understands, I think, why one will find all the saints of the little way — among them Saint Thérèse, Dom Léhodey, Saint Francis de Sales, and Mother Mectilde de Bar — so much in symphony with the Rule of Saint Benedict. At the same time, could there be a better program for family life, or for priestly life in the parish, than some degree of goodness of life and a beginning of holiness?
But for him who would hasten to the perfection of religion, there are the teachings of the holy Fathers, the following whereof bringeth a man to the height of perfection. For what page or what word is there in the divinely inspired books of the Old and New Testaments, that is not a most unerring rule for human life? Or what book of the holy Catholic Fathers doth not loudly proclaim how we may by a straight course reach our Creator? Moreover, the Conferences of the Fathers, their Institutes and their Lives, and the Rule of our holy Father Basil – what are these but the instruments whereby well-living and obedient monks attain to virtue? But to us, who are slothful and negligent and of evil lives, they are cause for shame and confusion.
Saint Benedict never intended that the Holy Rule should clip one's spiritual wings. He exhorts the soul eager for more to repair to the Fathers of the Church, and to the divinely inspired books of the Old and New Testaments. Why does he mention the reading of the Fathers before the reading of Sacred Scripture itself? He does this because only the Fathers (and the liturgy they shaped and enriched) can prepare one to read Sacred Scripture rightly, that is, through Catholic eyes, in order to receive the word in an ecclesial heart, a heart that beats in unison with the whole Church. Saint Benedict mentions, in particular, the grand old monastic classics: Saint John Cassian, the lives of the Desert Fathers, and the monastic teachings of Saint Basil.

Whoever, therefore, thou art that hasteneth to thy heavenly country, fulfil by the help of Christ this least of Rules which we have written for beginners; and then at length thou shalt arrive, under God's protection, at the lofty summits of doctrine and virtue of which we have spoken above
This least of Rules which we have written for beginners on the way to heaven: thus does Saint Benedict modestly describe the fruit of a lifetime, the work that, even today, contains the essence of his charism, just as a sealed jar contains a precious fragrance in its purest form. The Rule cannot be fulfilled, nor is it fulfilling, except by the help of Christ. "Abide in me," says the Lord, "and I in you. As the branch cannot bear fruit of itself, unless it abide in the vine, so neither can you, unless you abide in me. I am the vine: you the branches: he that abideth in me, and I in him, the same beareth much fruit: for without me you can do nothing." (John 15:4-5). The Rule of Saint Benedict is, paradoxically, the means to and the fruit of an intimate union with Christ. I have always understood it so. Blessed Abbot Marmion's trilogy sums it up: Christ alone is the ideal of the monk: Christ in His mysteries, Christ, the life of the soul. Saint Benedict's secret is no different than that of the Apostle: "For me, to live is Christ" (Philippians 1:21). This the life of the monk; this is the life of the oblate. It is your life and mine.
With my loving blessing,
Father Prior