Where are the relics of Saint Antony?
January 17, 2013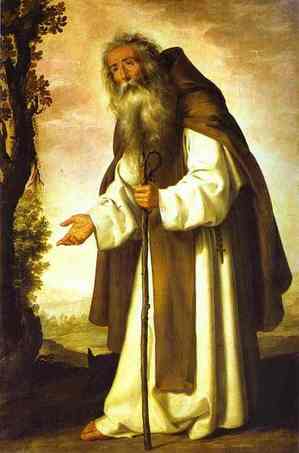 In 1979, while visiting the Abbey of Chambarand in France, the chaplain, Dom Irénée, was kind enough to drive Father Jacob and me to the magnificent Abbey of Saint-Antoine, a holy place hidden in the heart of the Isère. Yes, the relics of Saint Antony of Egypt are in France! The abbey, with its church in flamboyant gothic, was built in 1297 to receive the relics of the Father of Monks. In 1777 the abbey was made over to the Order of the Knights of Malta, and in 1896 it was entrusted to Dom Adrien Gréa and his fledgling Canons Regular of the Immaculate Conception. What I remember best of that visit thirty-two years ago was stopping to pray before the altar containing the relics of Saint Antony. Never would I have imagined the possibility of such a grace!

Here are some of the Proper Texts for the Mass of Saint Antony, Abbot:

Collect
O God, who bestowed on the blessed abbot Antony
the grace of serving you in the desert by a strange and wonderful way of life,
grant that, through his intercession, we may renounce ourselves
and love you always above all things.
Through our Lord Jesus Christ, your Son,
who lives and reigns with you in the unity of the Holy Spirit,
God forever and ever.
General Intercessions
That the Church in East and West may be blessed
with a new generation of God-seeking men and women,
hungry for the living Word of God
and courageous in spiritual combat,
to the Lord we pray, Christ hear us. R. Christ, graciously hear us.
That the leaders of nations
may be assisted in their efforts to secure a just and lasting peace
by the prayer and penance
of those called to a life hidden with Christ in God,
to the Lord we pray, Christ hear us. R. Christ, graciously hear us.
That, by the intercession of Saint Antony,
the grieving may go away rejoicing,
the angry turned to kindness,
those grown slack strengthened,
and those troubled by doubts pacified,
to the Lord we pray, Christ hear us. R. Christ, graciously hear us.
That we who have assembled to listen to the Word
may, like Saint Antony, rejoice to confess the presence of Christ
and be transformed by His all-powerful and life-giving Spirit,
to the Lord we pray, Christ hear us. R. Christ, graciously hear us.
Collect at the General Intercessions
O God, who by Your Holy Spirit,
so opened the ears of your servant Antony
to the Gospel proclaimed in midst of Your Church,
that nothing of its saving message escaped him,
mercifully grant that we, like him,
may listen attentively to Your Word,
treasure it in quiet hearts,
and pray without ceasing
to withstand the temptations of the evil one
and to give You glory
in the solitude of hearts made pure by Your grace.
Through Christ our Lord.