The Inscrutable Ways of Divine Providence
September 1, 2012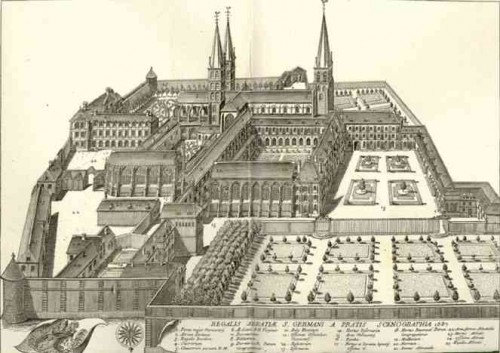 This old engraving shows the Abbey of Saint-Germain-des-Prés, Paris. It was on the territory of the abbey that Mother Mectilde de Bar found a home for her community in a former house of ill repute in 1651.
Called to Caen

Just when Catherine de Sainte-Mectilde thought she was about to enjoy a respite of stability at Saint-Maur in Paris with her little group of Benedictine refugees from Lorraine, she was asked to take on yet another formidable task. The Benedictine community of Notre-Dame-du-Bon-Secours in Caen was in crisis. The six choir nuns and two lay sisters who composed the community were, to put it plainly, an ignorant lot. The prioress forbade all reading, and judged that one's crucifix could take the place of books. The community was severely dysfunctional.
A Three Year Interval
The secular patron of this sorry monastery, Madame the Marquise of Mouÿ, insisted that Mother Catherine de Sainte-Mectilde accept a three-year term as prioress to restore balance, and peace, and order to the community in Caen; in exchange, she promised financial support for the restoration of the monastery in Rambervillers, to which Catherine de Sainte-Mectilde still belonged by virtue of her Benedictine profession. Mother Bernardine, the prioress of Rambervillers, agreed to the arrangement, provided that Catherine de Sainte-Mectilde give in writing a promise not to forsake the monastery of her profession. When Mother Mectilde (as she was often called, leaving off the first part of her name) arrived at Caen, she found a community that was divided and hostile. With firmness, and with an extraordinary gentleness, she succeeded in winning over even the most recalcitrant old ladies among them. After three years, they did not want to let her go.
Return to Rambervillers and Flight to Paris

On 28 August 1650, Mectilde returned to Rambervillers, the monastery of her profession, hoping to disappear, at last, into the silence and hiddenness of an ordinary Benedictine life. Thanks to the generous financial support of the Marquise de Mouÿ, the house at Rambervillers was flourishing but, before long, the region around it again became a battlefield. The situation was worse than when the Swedes invaded. On 1 March 1651, Mother Mectilde, together with four young Sisters, left for Saint-Maur-des-Fossés in Paris, while six senior nuns remained at Ramerbervillers with Mother Bernardine.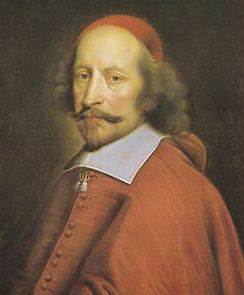 Adoration in a Former House of Ill Repute

Mectilde arrived in Paris to find it in the midst of the revolt of the Fronde, and the complexities of the Franco-Spanish War. Louis XIV was on the throne, and the detested Cardinal Mazarin (see image) was his chief minister. Given the civil unrest in the capital, there was no way she and her charges could make their way to Saint-Maur-des-Fossés. They stopped to hear Holy Mass at Saint-Nicholas-des-Champs. There, Madame Butin, a pious parishioner recognized them as religious and offered them hospitality in her own home. A few days later, Mother Mectilde learned that the community of Saint-Maur-des-Fossés had taken refuge in a "hospice" in the rue du Bac of the faubourg Saint-Germain, and joined them there. This "hospice" was nothing other than . . . a former house of prostitution. It was in this house that the Institute of the Benedictines of the Perpetual Adoration of the Most Holy Sacrament would be born. How like God!
To be continued.