Christ in the Psalms
August 28, 2012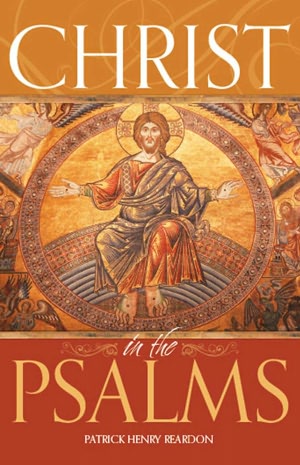 Christ in the Psalms, by Patrick Henry Reardon
Sheila and Charles Michie, (Oblate Sister and Brother Thérèse and Paul), our monastery's beloved senior Oblates in Tulsa, recently wrote me and asked if I might say something about two books that I recommended to our Novice Oblates as part of their formative reading. Although it has taken me more than a fortnight to get to my desk to do this, I am very happy to do so. The two books in question belong on every Oblate's bookshelf. Today, I will present the first of the two.
The Psalter: A Benedictine's Daily Bread
The Psalter is a Benedictine's daily bread. The Psalter accompanies a monk — and by extension, an Oblate — through all of life, day by day, and hour by hour. The 150 Psalms of David were inspired by the Holy Ghost and entrusted to the children of Israel in view of the day when the Word made flesh would stand in need of a human language of prayer in order to express in words — with rhythm, and inner music, and accent, and poetry — the mystery of His ineffable dialogue with the Father from all eternity.
Prayer of Christ and of the Church
These same Psalms, that Jesus learned from Saint Joseph, from His Virgin Mother, and in the village synagogue, accompanied Him throughout His earthly life until, from the altar of the Cross, He used them as the final expression of His filial and priestly prayer to the Father. The Church, being Christ's bride and the mother of God's children by adoption, took up the Psalter, and made it her own. By means of the sacred liturgy, she teaches it to her children, from generation to generation, thus transmitting to souls, as if by a sacrament, the prayer of Christ to the Father, uttered in the Holy Ghost.
The Face of Christ in the Psalms
Behold he standeth behind our wall, looking through the windows, looking through the lattices. Behold my beloved speaketh to me: Arise, make haste, my love, my dove, my beautiful one, and come. (Canticle 2:9-10)
In what ways is the Psalter a kind of sacrament of Christ? First of all, the prophetic character of the psalms allows us to catch glimpses of the adorable Face of Christ in His mysteries. One cannot pray the psalms without seeing, at least from time to time, the Face of Jesus appearing, all radiant, through the lattice-work of the text.
The Voice of Christ in the Psalms
The Lord hath said to me: Thou art my son, this day have I begotten thee. (Psalm 2:7)
Secondly, the Psalms allow us to hear the voice of Christ as He pours out His Sacred Heart to the Father in prayer. Like the Our Father, the Psalter is Our Lord's answer to the request of His disciples, "Lord, teach us how to pray."
Christ in His Mysteries
They have dug my hands and feet. They have numbered all my bones. And they have looked and stared upon me. [19] They parted my garments amongst them; and upon my vesture they cast lots. (Psalm 21:18-19)
I rose up and am still with thee. (Psalm 138:18)
God is ascended with jubilee, and the Lord with the sound of trumpet. (Psalm 46:6)
Thirdly, the Psalms reveal Christ in His mysteries. Nowhere is this more apparent than in the choice of the Psalms that the Church makes in the celebration of the seasons and festivals of the liturgical year.
The Psalms: Communion with the Prayer of Christ
Finally, the Psalms are the species under which those who pray them receive a real holy communion with Our Lord in the mystery of His prayer to the Father. To pray the psalms, especially in the Divine Office, is to receive the prayer of Christ. The holy communion o the Psalms sustains one all through life. The Psalter is, in its own way, a manna given to sustain us in the exodus of our passage from this world to the Father. At the hour of death, the same Psalms will, God willing, accompany us out of time and into eternity.
A Book to Keep Close at Hand
For all of these reasons, and for many others besides, Father Patrick Henry Reardon's book, Christ in the Psalms, is a resource for all who make the Psalms their prayer, and find their prayer in the Psalms.
Father Reardon's approach is simple, practical, and profound. He takes each of the 150 Psalms in turn, and shows us Christ in it. In one Psalm after another, he helps us recognize the features of the Face of Christ, hear His voice, and enter into His prayer.
Christ in the Psalms is not a book that one reads once and then relegates to an out of the way shelf to collect dust. It is a tool to be used daily. Monks and Oblates will refer to it again and again to deepen their participation in the prayer of the Church. Priests and deacons will find it especially helpful in the preparation of homilies. I regret that, for copyright reasons, I am unable to reproduce a sampling of the book here. Father Reardon's book is a worthwhile investment. You will want to keep it close at hand, alongside your breviary, your missal, and your Bible.