Four days in France
July 9, 2012
Clean Mountain Air
Yes, I am spending four days in a little mountain village in Franche Comté, not far from the border of Switzerland. The Benedictine nuns of the new monastery of Sainte-Anne-de-Montmahoux invited me to participate, together with other close friends, in the inauguration of their community on the feast of Our Father Saint Benedict. The green here rivals that of Ireland, and the air is very pure. Brother Benedict and Mark C. are keeping things going back at Silverstream Priory; they will celebrate the feast of Saint Benedict with our hermit neighbour, Father David J.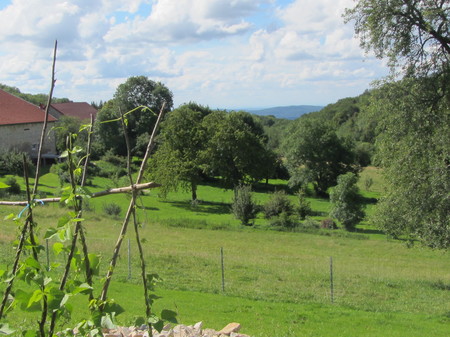 Sustainable Communities
Here is a view from the monastery garden. The Sisters grow all their own vegetables and preserve them for the winter. The Sisters here believe, and I heartily concur, that the future of monastic life lies in family size communities (5 to 18 members) that are sustainable and capable of maintaining a quality of human life and of simple living that in larger communities is difficult to keep.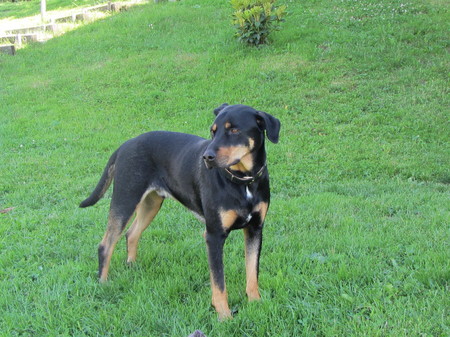 God's Splendid Creatures
And this splendid creature of the Good God is Pamplemousse. He is 2 years old and would make a great companion for Hilda back at Silverstream Priory. A dog contributes much to the quality of community life, not the least of which is the indispensable craich (an Irish word meaning fun and good times). Abba Xanthios said, "A dog is better than I am, for he has love and he does not judge."