The Holy Father on Eucharistic Adoration
December 22, 2011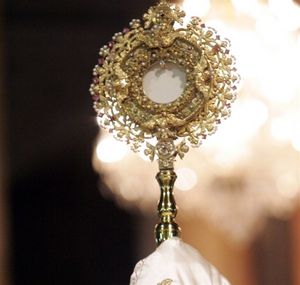 This morning Pope Benedict XVI addressed the Roman Curia. In the course of the exchange of Christmas greetings, His Holiness spoke of the experience of Eucharistic Adoration at World Youth Day.
Silence Before the Lord
A third element, that has an increasingly natural and central place in World Youth Days and in the spirituality that arises from them, is adoration. I still look back to that unforgettable moment during my visit to the United Kingdom, when tens of thousands of predominantly young people in Hyde Park responded in eloquent silence to the Lord's sacramental presence, in adoration.
Physical Presence of the Risen Christ
The same thing happened again on a smaller scale in Zagreb and then again in Madrid, after the thunderstorm which almost ruined the whole night vigil through the failure of the microphones. God is indeed ever-present. But again, the physical presence of the risen Christ is something different, something new. The risen Lord enters into our midst. And then we can do no other than say, with Saint Thomas: my Lord and my God!
An Act of Faith
Adoration is primarily an act of faith – the act of faith as such. God is not just some possible or impossible hypothesis concerning the origin of all things. He is present. And if he is present, then I bow down before him. Then my intellect and will and heart open up towards him and from him.
Adoration Determines My Life
In the risen Christ, the incarnate God is present, who suffered for us because he loves us. We enter this certainty of God's tangible love for us with love in our own hearts. This is adoration, and this then determines my life. Only thus can I celebrate the Eucharist correctly and receive the body of the Lord rightly.