Live in us as Thou livest in the Sacred Host
July 21, 2011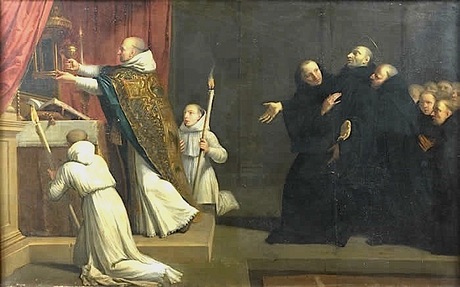 Death Is Not Improvised
Inspired by the insights of Mother Mectilde de Bar (1614-1698), I continue to reflect on the Eucharistic death of Saint Benedict. One can only die as one has lived. Death is not improvised. A Eucharistic death reveals the secret of a Eucharistic life.
At the School of the Tabernacle
The hidden Christ, the silent Christ, the humble Christ of the Tabernacle models the virtues of the Rule of Saint Benedict in the most astonishing way, and communicates those same virtues to those who linger in His company. Far from being a baroque adornment detracting from some mythical primitive Benedictine sobriety, Eucharistic adoration is the wellspring of the holiness that Saint Benedict describes in his Rule.
Eucharistic Adoration is the school of hiddenness,
— of silence,
— of solitude,
— of humility,
— of obedience,
— of servanthood,
— of an abiding love that calls no attention to itself,
— of ceaseless prayer to the Father,
— of the Work of God,
— of compassion for sinners,
— of burning love for souls,
— of gentleness towards the weak,
— of Divine Hospitality,
— of monastic perfection.
Continue, therefore, to look at what Jesus Christ does in the adorable Sacrament; consider how He has no aim outside of the glory of God, His Father, and how He forgets what is advantageous for Himself. This is shown by the fact that the wicked, and sometimes even animals, do with Him as they please, and that often His dwelling in churches is entirely without beauty, if not to say insulting. Behold, He is completely abandoned, having no one to keep Him company, or only rarely. . . . You see therefore that He gives no thought to Himself and has become a Victim in the Eucharistic Mystery only, in fact, to be immolated to His Father and to offer to the Father in every soul that receives Him in Holy Communion the infinite homage and adoration that the soul owes to the Majesty of God and cannot offer Him of herself, because of her own unworthiness and because of her very limited creaturely capacity. (Mother Mectilde du Saint-Sacrement)
Jesus, Jesus, Jesus,
unite us to Thy hidden life in the Sacrament of Thy Love.
Unite us to Thy Eucharistic silence.
Unite us to Thy Eucharistic solitude.
Unite us to Thy Eucharistic humility.
Unite us to Thy Eucharistic obedience.
Unite us to Thy glorification of the Father.
Unite us to Thy merciful love for souls.
Live in us as Thou livest in the Sacred Host.