A Little Boy and the Statue He Loved
September 27, 2010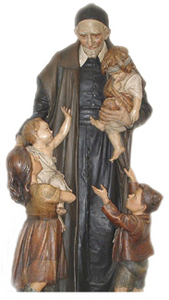 Michael Dennis Kirby
March 20, 1959 — November 25, 1998
Michael's Statue
When I was growing up, there was a statue of Saint Vincent de Paul in the bedroom of my younger brother Michael, and it was his statue.
Little Michael had shortened Saint Vincent de Paul's rather long name to "Saint-Vincent-de." He met "Saint Vincent-de" when he was taken to the Hospital of Saint Raphael in New Haven, Connecticut for a surgical procedure on his arm. He couldn't have been more than five years old at the time. Saint Raphael's was staffed by the Sisters of Charity of Saint Elizabeth (Convent Station, NJ), spiritual daughters of Saint Vincent.
The Saint Who Loved Children
A lifesize statue of Saint Vincent de Paul figured prominently in the hospital. The statue depicted him with three poor children; one child was in his arms and the two others were huddled in the folds of his cloak. For some reason, little Michael was very taken with this saint who loved children, and wanted to have a statue of his own.
Mom and Dad found exactly the right statue at the Saint Thomas More Book Shop on Chapel Street in New Haven, and bought it for him. For many years "Saint Vincent-de" watched over Michael from atop a chest of drawers, becoming chipped and battered, but no less loved.
How did a seventeenth century French priest become a comforting presence in the life of a little boy in New Haven, Connecticut? There were, of course, the obvious mediations: the Hospital of Saint Raphael and the impressive statue. But none of this would have happened had Saint Vincent de Paul not opened his heart to the Word of God, to the Charity of Jesus Christ, and to the voices of the little and the poor.
Images of the Saints
How important a Catholic work it is to make images of the saints available to little children. Holy Images — what Adé Béthune, following Saint Leo the Great, called "sacred signs" — can powerfully influence their lives, and stimulate their imaginations to pursue the good, the true, and the beautiful. Every little boy should have his favourite saint, and an image of him (or her) close at hand.