Our Lady of Pontmain & A Week of Blessings
January 16, 2010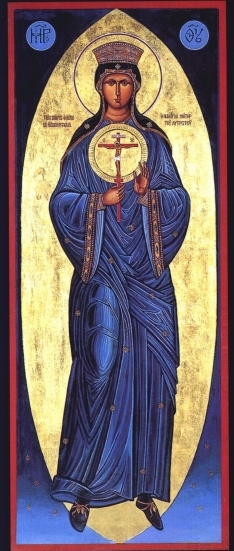 The Week in Review
This has been a week of blessings upon blessings. With the generous help of many friends, we completed the move to the new Cenacle of the Eucharistic Face of Jesus. Our first concern was to prepare the monastic Oratory. It is lovely in every way. On January 12th, I offered the first Holy Mass in the Oratory, and reserved the Most Blessed Sacrament. That same night, I had the first hour of adoration in the new house.
Love Crucified in Tulsa
Father Jordi Rivero, pastor of Saint Timothy's Church in Miami, Florida and three Mothers of the Cross, Lourdes, Tessie, and Mary, belonging to the Community of Love Crucified arrived on Wednesday the 13th, the Feast of the Baptism of the Lord in the traditional calendar. That same evening more than twenty Spiritual Mothers of Priests of the Diocese of Tulsa came to the Cenacle for a time of prayer for priests, Holy Mass, a potluck supper, and talks by Father Jordi and Lourdes Pinto. LIsten to their magnificent talks here!
Day of Recollection for Priests of the Diocese of Tulsa
On Thursday, Father Jordi and Lourdes spoke to Bishop Slattery and a group of priests of the Diocese of Tulsa. Father Paul Eichoff welcomed us at Saint Cecilia's Parish in Claremore, Oklahoma. After the conferences, followed by Vespers and Benediction of the Most Blessed Sacrament, the ladies of Saint Cecilia's Parish provided us with a delicious supper.
Thank You
I am profoundly grateful to the Spiritual Mothers of Priests of the Diocese of Tulsa, and to other friends here, for all they have done to facilitate the opening of the new Cenacle of the Eucharistic Face of Jesus. As soon as possible, I will try to post some photos of the new house and Oratory.
January 17th is the feast of Our Lady of Pontmain. See what I wrote about Pontmain in 2008 here. During the apparition at Pontmain, the faithful sang the Inviolata, an 11th century prose to the Blessed Virgin Mary:
INVIOLATA, integra, et casta es Maria,
quae es effecta fulgida caeli porta.
INVIOLATE, spotless and pure art thou,
O Mary Who wast made the radiant gate of the King.
O Mater alma Christi carissima,
suscipe pia laudum praeconia.
Holy mother of Christ most dear,
receive our devout hymn and praise.
Te nunc flagitant devota corda et ora,
nostra ut pura pectora sint et corpora.
Our hearts and tongues now ask of thee
that our souls and bodies may be pure.
Tu per precata dulcisona,
nobis concedas veniam per saecula.
By thy sweet sounding prayers
obtain for us forgiveness forever.
O benigna! O Regina! O Maria,
quae sola inviolata permansisti.
O gracious queen, O Mary,
who alone among women art inviolate.