Maria, Rosa Mystica
December 8, 2008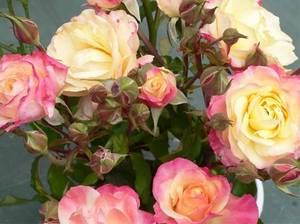 Prayer, Reparation, Penance for Priests
Sixty-one years ago, in the spring of 1947 the Blessed Virgin Mary allegedly appeared to Pierina Gilli, a nurse, in the chapel of the hospital of Montichiari, Italy. The Mother of God, it seems, asked for prayer for the sanctification of priests and consecrated souls. Signorina Gilli relates having seen Our Lady's Immaculate Heart pierced by three swords: 1) the unworthy celebration of Holy Mass and reception of Holy Communion; 2) apostasy from the priestly state and the consecrated life; and 3) betrayal of the Faith. Our Lady appealed for three practices: prayer, reparation, and penance.
It must be stated clearly, however, that the alleged apparitions at Montichiari do not enjoy the approval of the Church. The pertinent 2013 decree of the Bishop of Brescia stipulates:
At Località Fontanelle must be valorised and defended solely a Marian and baptismal worship: therefore, any reference must be avoided to apparitions, messages or other presumed supernatural events which, directly or indirectly, could lead the faithful to believe that the judgement of the Church about the so-called apparitions or other extraordinary events at Località Fontanelle, in time, has been modified in a positive way by the Holy See.
An Hour of Grace
This being said, it is alleged that the Mother of God appeared eleven times to Pierina. On December 8, 1947 she is said to have requested that an Hour of Grace be observed every December 8th from noon until one o'clock. "This Hour of Grace," she is reported to have said, "will produce great and numerous conversions. Hardened and cold hearts resembling this marble will be touched by divine Grace, and they will become faithful to Our Lord in loyal love." Our Lady allegedly further recommended that at the beginning of this Hour of Grace we pray Psalm 50, the Miserere, three times, with arms extended. In the discernment of so-called private revelations, one of the key criteria is whether or not they harmonize with the sacred liturgy of the Church, her lex credendi or rule of belief. The recitation of the Miserere, requested by Our Lady corresponds perfectly to the petition that we make in today's liturgical Collect:
O God, who by the Immaculate Conception of Thy Virgin
prepared a worthy dwelling for Thy Son
and, foreseeing His death on the Cross,
preserved her from all stain;
grant that we too, by her intercession,
may come into Thy presence with pure hearts.
Through our Lord Jesus Christ, your Son,
who lives and reigns with Thee, in the unity of the Holy Spirit,
God, forever and ever.
In the Miserere, we pray:
Have mercy on me, O God, as thou art ever rich in mercy;
in the abundance of thy compassion, blot out the record of my misdeeds.
Wash me clean, cleaner yet, from my guilt,
purge me of my sin,
the guilt which I freely acknowledge,
the sin which is never lost to my sight.
And then:
Sprinkle me with a wand of hyssop, and I shall be clean;
washed, I shall be whiter than snow;
tidings send me of good news and rejoicing,
and the body that lies in the dust shall thrill with pride.
Turn thy eyes away from my sins,
blot out the record of my guilt;
my God, bring a clean heart to birth within me;
breathe new life, true life, into my being.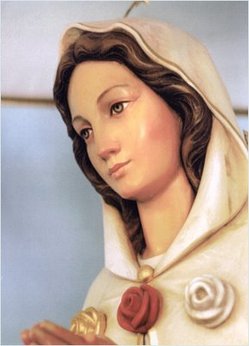 Finally, Our Lady chose to reveal herself at Montichiari under the ancient title of Mystical Rose, Rosa Mystica. Listen to what the Venerable Servant of God John Henry Cardinal Newman wrote concerning this title:
MARY is the most beautiful flower that ever was seen in the spiritual world. It is by the power of God's grace that from this barren and desolate earth there have ever sprung up at all flowers of holiness and glory. And Mary is the Queen of them. She is the Queen of spiritual flowers; and therefore she is called the Rose, for the rose is fitly called of all flowers the most beautiful.
But moreover, she is the Mystical, or hidden Rose; for mystical means hidden. How is she now "hidden" from us more than are other saints? What means this singular appellation, which we apply to her specially? The answer to this question introduces us to a third reason for believing in the reunion of her sacred body to her soul, and its assumption into heaven soon after her death, instead of its lingering in the grave until the General Resurrection at the last day.
It is this:–if her body was not taken into heaven, where is it? how comes it that it is hidden from us? why do we not hear of her tomb as being here or there? why are not pilgrimages made to it? why are not relics producible of her, as of the saints in general? Is it not even a natural instinct which makes us reverent towards the places where our dead are buried? We bury our great men honourably.
St. Peter speaks of the sepulchre of David as known in his day, though he had died many hundred years before. When our Lord's body was taken down from the Cross, He was placed in an honourable tomb. Such too had been the honour already paid to St. John Baptist, his tomb being spoken of by St. Mark as generally known. Christians from the earliest times went from other countries to Jerusalem to see the holy places. And, when the time of persecution was over, they paid still more attention to the bodies of the Saints, as of St. Stephen, St. Mark, St. Barnabas, St. Peter, St. Paul, and other Apostles and Martyrs. These were transported to great cities, and portions of them sent to this place or that. Thus, from the first to this day it has been a great feature and characteristic of the Church to be most tender and reverent towards the bodies of the Saints.
Now, if there was anyone who more than all would be preciously taken care of, it would be Our Lady. Why then do we hear nothing of the Blessed Virgin's body and its separate relics? Why is she thus the hidden Rose? Is it conceivable that they who had been so reverent and careful of the bodies of the Saints and Martyrs should neglect her–her who was the Queen of Martyrs and the Queen of Saints, who was the very Mother of our Lord? It is impossible. Why then is she thus the hidden Rose? Plainly because that sacred body is in heaven, not on earth.