"22 Anni di Messa"
November 16, 2008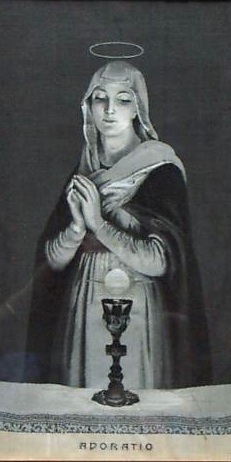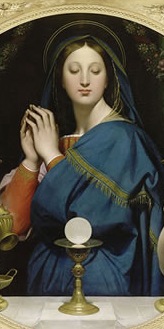 Measuring Time Eucharistically

The Italian expression for one's anniversary of ordination to the priesthood is so many years "di Messa". Today I am giving thanks to Our Lord Jesus Christ for 22 "years of Mass." I find the Italian way of saying it very beautiful: the life of a priest is measured eucharistically. What matters, above all else, is his time before the altar, offering the Holy Sacrifice of the Mass.
An Unexpected Gift
Yesterday, after I spoke on spiritual maternity in favour of priests to a rather large group of Catholic ladies, one of them approached me saying that she felt compelled to give me a woven image of the Blessed Virgin Mary adoring the Most Holy Eucharist that had been entrusted to her. She drove to her home to get the image and returned with it in less than a half hour. Woven in black and white silk, and beautifully framed, it was produced by the Maison Neyret Frères early in the last century. At the bottom of the picture is a single word: Adoratio.
The woven image is an interpretation of the Vierge à l'hostie painted by Jean-Auguste-Dominique Ingres in 1841. One can see the original painting in the Pushkin Museum of Fine Art, in Moscow.
That this particular image should be given me for the Cenacle of the Eucharistic Face of Jesus on the eve of begining my 23rd year as a priest is significant, encouraging me in my "vocation within a vocation" to adore the Blessed Sacrament on behalf of all priests everywhere.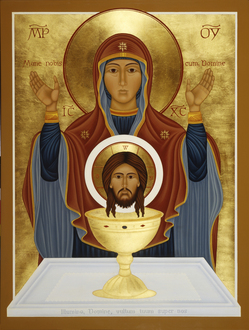 In Solitude and Adoration
I celebrated my 22 anni di Messa in solitude and adoration, adding at Holy Mass the orations provided "for the priest himself" on this occasion:
Collect
Almighty and merciful God,
listen graciously to my humble prayers.
Not for any deserts of my own,
but because Thy mercy knows no bounds,
Thou hast appointed me to serve Thy heavenly mysteries.
Make me a worthy minister of Thy sacred altars,
and let the words I utter
be hallowed and ratified by Thee.
Through our Lord.
Secret
By virtue of this sacrament, Lord,
wash away the sins that stain my soul,
and grant that Thy grace may render me worthy
to fulfil the duties of my priestly office.
Through our Lord.
Postcommunion
Almighty, everlasting God,
by whose will, I, a sinner,
serve at Thy sacred altars and extol the power of Thy Holy Name,
have mercy,
and through this sacramental rite forgive my sins,
making me fit to serve Thy majesty.
Through our Lord.