Saint Katherine Drexel
March 3, 2008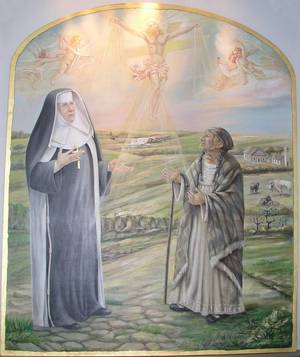 Mother Drexel's Sweetest Joy
"My sweetest joy is to be in the presence of Jesus in the Holy Sacrament. I beg that when obliged to withdraw in body, I may leave my heart before the Holy Sacrament. How I would miss Our Lord if He were to be away from me by His presence in the Blessed Sacrament!" (Saint Katherine Drexel)
Preaching in Tulsa
On this feast of Saint Katherine Drexel (1858–1955), I returned from Oklahoma where I had the Laetare Sunday joy of preaching a Day of Recollection to deacons, candidates, and aspirants of the Diocese of Tulsa. The whole experience left me with an impression of a Church alive with the desire for holiness. I am profoundly grateful to His Excellency, Bishop Edward Slattery, and to Monsignor Patrick Brankin, a reader of Vultus Christi, for the opportunity they gave me to offer something to the Church they serve and love with such fidelity and zeal. Saint Katherine Drexel was a friend of the Church in Oklahoma.