All Hope of Life and of Virtue
January 8, 2008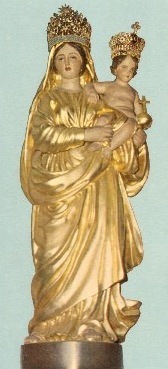 My good friend, Monsignor A.B.C. reminds me that, in the Archdiocese of New Orleans, today is the feast of Our Lady of Prompt Succour. For the Litany of Our Lady of Prompt Succour, go here. My 1956 edition of the Missale Romanum gives January 15th as the day of the feast (B. Mariae Virginis a Prompto Succursu, Patronae Praecipuae Novae Aureliae et Provinciae Ecclesiastice) and provides a Proper Mass. The Collect is as follows:
Clementissime Jesu, qui divitias misericordiae tuae in sinu Matris Mariae collocasti: concede propitius; ut ejus patrocinio a cunctis malis mentis et corporis liberemur. Qui vivis.
Most clement Jesus, Who hast placed the riches of Thy mercy in the bosom of Thy Mother Mary: graciously grant that, by her protection, we may be delivered from every evil of mind and of body. Who livest and reignest.
The First Lesson is Ecclesiasticus 24: 23–31:
As the vine I have brought forth a pleasant odour:
and my flowers are the fruit of honour and riches.
I am the mother of fair love, and of fear, and of knowledge, and of holy hope.
In me is all grace of the way and of the truth, in me is all hope of life and of virtue.
Come over to me, all ye that desire me,
and be filled with my fruits.
For my spirit is sweet above honey,
and my inheritance above honey and the honeycomb.
My memory is unto everlasting generations.
They that eat me, shall yet hunger:
and they that drink me, shall yet thirst.
He that hearkeneth to me, shall not be confounded:
and they that work by me, shall not sin.
They that explain me shall have life everlasting.
All these things are the book of life,
and the covenant of the most High, and the knowledge of truth.
The Gospel is John 2: 1-11, the Wedding Feast at Cana.