About Those ABC Antiphons
August 14, 2007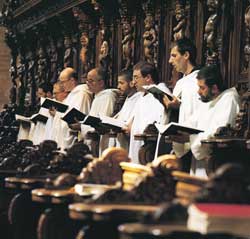 The full set of nine Gospel Antiphons for the Magnificat I, the Benedictus, and the Magnificat II of the Sundays Throughout the Year appear for the first time in the 1985 edition of the Liturgia Horarum with the a decree from the Congregation for Divine Worship that says, among other things, the following:
"Novae antiphonae ad Benedictus et ad Magnificat Evangelio, ex quo depromuntur, conformes in dominicis et sollemnitatibus plerumque sunt inductae."
That may explain why these antiphons appear neither in the American nor Irish/UK editions of the Liturgy of the Hours. All the same, the texts have been available for 27 years. One would think that by now someone would have included them in the various vernacular editions.