Mon cher Théophane
November 23, 2006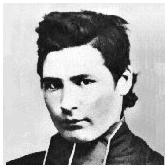 I have some personal reasons for being very fond of Saint Théophane Vénard. Many years ago when I was serving as Master of Novices, I had in my care a Vietnamese novice who had taken the name of Marie–Théophane. While in France to preach a retreat I had the opportunity to stop at the Missions Étrangères de Paris. I asked if it might be possible to obtain a first–class relic of Saint Théophane for my young confrère. The kind priest who welcomed me was a retired missionary. He radiated a gentle, sturdy holiness. He explained that no relics were available. "But," he said, "we do have here in this glass case the soutane worn by Saint Théophane when he was beheaded." With that, he unlocked the case, pulled scissors out of his pocket and cut off a generous piece of the black soutane. "Take this to your petit frère vietnamien," he said. I was astonished. And tears came to my eyes. You can imagine Frère Marie–Théophane's joy when he received the precious relic.
The second thing that moves me is Théophane's utter fidelity to the Divine Office, even in the most trying conditions. Any priest who has difficulty being faithful to the Liturgy of the Hours should invoke Saint Théophane Vénard. Right up until his martyrdom, even while imprisoned in a bamboo cage, he prayed his breviary, the only book that remained in his possession.
The third and last thing I want to mention is that in 1860, the year before his death, with his bishop's permission, Saint Théophane offered himself to God as a victim for the Church in Tonkin. He offered himself by the hands of the Blessed Virgin Mary, consecrating himself to her according to the formula of Saint Louis Grignion de Montfort. That, it seems to me, is the perfection of the eucharistic and priestly life: total identification with Christ, the immolated Lamb. It is not fashionable in some circles to speak of "victimhood." It makes the learned and the clever sniff and grimace. Tant pis! One who approaches the altar day after day "in spirit and in truth" will, if he surrenders to the Mystery and allows himself to be formed by the Blessed Virgin, realize in his own flesh not only the priesthood of Christ, but also His victimhood. This mystical identification with Christ Priest and Victim is the secret of all sacerdotal fecundity.