The Terrible and Glorious Passion
September 23, 2006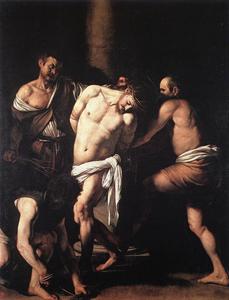 O grande Passion,
O profondes plaies,
O effusion de Sang,
O mort soufferte dans toutes les amertumes,
donnez–nous la vie!
O great Passion,
O deep wounds,
O outpouring of Blood,
O death suffered in every bitterness,
give us life!
TWENTY–FIFTH SUNDAY OF THE YEAR B
Wisdom 2:12, 17:20
Psalm 54:1-2, 3, 4, 6
James 3:16—4:3
Mark 9:30-37
A Walking Retreat
Did you recognize yourself in today's gospel? I know that I did. It was something of a shock. I recognized myself not in Jesus, nor in the little child that He took into His arms, but in those who walked with Him, not understanding what He said, and afraid to ask Him about it. "He was teaching His disciples, saying to them, 'The Son of Man will be delivered into the hands of men, and they will kill Him; and when He is killed, after three days He will rise.' But they did not understand the saying, and they were afraid to ask Him" (Mk 9:31-32).
Jesus and His followers are passing through Galilee. Jesus wants to go unnoticed by the population so as to devote himself to those nearest to Him. He wants to use the journey through Galilee to teach His disciples, to draw them closer to himself. It is a kind of "walking retreat."
Communion in Solitude
Every relationship, if it is to thrive, needs these times of communion in solitude, of withdrawal from the thousand things that solicit one's attention, energy, affection, and commitment. Marriages need this. So too do friendships. The relationship with God in prayer needs this. The life of discipleship, my own journey with Jesus, and yours, requires that, again and again, we refocus on "the one thing necessary" (Lk 10:42). Unless it is cultivated deliberately and with care, the best of relationships disintegrates. A broken relationship leaves the heart lacerated and bitter. Again, this is true of marriages, of friendships, and of the relationship with God. One sometimes hears talk of "low maintenance" relationships. It seems to me a contradiction. There is no such thing. We care for the things we love, and we love the things for which we care.
The Terrible and Glorious Passion
Jesus seeks to be alone with His disciples because it is urgent that He impress upon their minds and hearts the terrible and glorious reality of His passion, death, and resurrection. The Book of Wisdom foretells the sufferings of Jesus: with revilement and torture He, the Just One, will be put to the test to have proof of His gentleness and make trial of His forbearance. He will be condemned to a shameful death (Wis 2:19-20). As the little band walks through Galilee, Jesus speaks of all of this. "The Son of Man will be delivered into the hands of men, and they will kill Him; and when He is killed, after three days He will rise" (Mk 9:31).
Asking the Questions
The disciples hear, but do they listen? Jesus speaks, but somehow His words elude them. "They did not understand the saying" (Mk 9:32). They were familiar with the Scriptures. They knew Wisdom's portrait of the mysterious figure of the righteous: the Son of God, tested with insult and torture, tried, and condemned to a shameful death (Wis 2:18-20). They knew Isaiah's Suffering Servant of the Lord. And yet, when He walked with them in Galilee, when He poured out His heart to them as they went, they failed to recognize Him. Were they distracted? Were they absorbed in their own reveries and wishes, or were they simply obtuse?
Of itself, their failure to listen and to understand is not irreparable. The real tragedy is that they knew they didn't grasp the Master's message, and "they were afraid to ask Him" (Mk 9:32). This is where I recognized myself. "They were afraid to ask Him" (Mk 9:32)? This, perhaps, is where you too saw yourselves coming into focus. How often have you been afraid to bring your questions to Christ?
Jesus wants us to ask Him the questions that rise in our hearts, even if, to us, they appear insignificant, embarrassing, or provocative. In this regard, we do well to look at the spontaneity and simplicity of the child. Children, especially those of a certain age, will, with the most disarming candour, ask every question that comes to mind. Unless we are willing to question Jesus on the things that matter most, our relationship with Him will stagnate, our walk with Him will deteriorate into mere routine.
The Holy Sacrifice of the Mass
Sunday after Sunday, day after day, we celebrate the terrible and glorious mystery that is the Holy Sacrifice of the Mass, the actualization here and now of the very mysteries prefigured in today's passage from the Book of Wisdom, and prophesied by Christ in today's gospel: death and resurrection. One can have the benefit of Holy Mass every day and fail to listen, to understand, to grow from the experience. One can be a "practicing Catholic" — or even a respectable Benedictine — and yet remain stuck in the routine of a religion grown stagnant and cold.
Coming Together and Going Apart
For all of us, both inside the monastery and out, the Christian life is, not only about "coming together" to worship. It is also about "going apart." "When you pray, go into your room and shut the door and pray to your Father in secret; and your Father who sees in secret will reward you" (Mt 6:6). The "coming together" of liturgical worship and the "going apart" of solitary prayer are equally important. In fact, the quality of our coming together is directly proportionate to the quality of our time apart with Christ in solitude. Similarly, the quality of our time apart is directly proportionate to the quality of our coming together for the liturgy of the Church. Intrinsic to every Christian life, as to every relationship, is the balance of solitude with communion, the harmonization of "time together" with "time apart."
In every celebration of the sacred liturgy, Christ speaks, not in the sepulchral tones of an irretrievable past, but in the warm and resonant tones of one who lives, of one truly present, and standing in our midst. In every solitary moment, in those precious bits of silence that we learn to recognize and to treasure by day and by night, we are given the opportunity to ask Christ the questions that rise in our hearts. It is a good thing to question Jesus concerning the things we don't understand, to articulate the doubts and fears that haunt us. It is a better thing to hear Him speak the answer. The best thing of all is to hold His word — the answer given — deep in the heart, allowing it to sprout, to grow, to blossom and, in time, to bear fruit. "Blessed those who hear the Word of God and keep it" (Lk 11:28).
Christ: The Question and the Answer
Paradoxically, the Holy Sacrifice of the Mass sums up the questions and doubts of every human heart, and contains, at the same time, the answer to them all. "Ask, then, and it will be given to you; seek and you will find" (Mt 7:7). The crucified and risen Christ of the Holy Mass, is He not every man and woman's question hurled Godward, even as He is the Word of God uttered in response to every man and woman? The question is uttered from the Cross in the throes of death; the answer is given in the splendour of life bursting from the tomb.
Every question is a kind of hunger; every doubt a thirst deep within. And so, in the wonderful plan of God, the answer is contained and given in the Bread that is broken, in the Chalice poured out. Bring then to the altar the hunger of every question, the thirst of every doubt. And from the altar, eat, drink, and be satisfied.