Saints Cosmas and Damian, Martyrs
September 25, 2006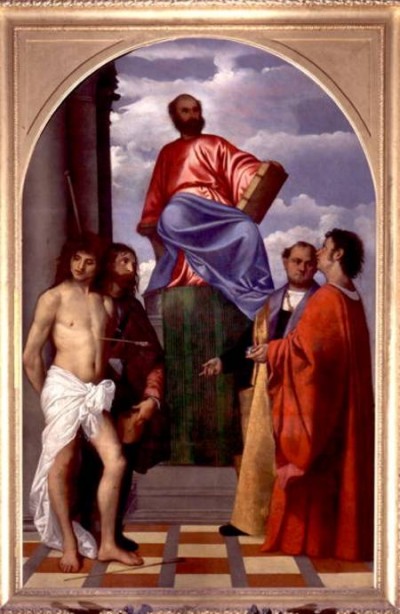 In an altar retable painted in thanksgiving for the end of the plague that devastated Venice in 1510, Titian shows (lower left) Saints Cosmas and Damian, the holy physician martyrs together with (lower right) Saints Roch and Sebastian. Enthroned above them is Saint Mark the Evangelist, patron of Venice. While Saint Roch and Saint Sebastian represent the sick and wounded, Saints Cosmas and Damian represent those who minister the healing power of Christ.
Collect
May the venerable memory
of Thy saints Cosmas and Damian magnify Thee, O Lord, for in Thine ineffable providence, Thou hast bestowed upon them eternal glory and upon us the richness of Thy succour. Through our Lord Jesus Christ, Thy Son, who liveth and reigneth with Thee in the unity of the Holy Ghost, one God, forever and ever.